I recently made these pumpkin chocolate chip cookies and asked if you'd like me to share the recipe. I didn't get a resounding reply, but enough that I'm going to post the recipe today. Even if you didn't ask for it, I know you'll be glad you've got it!!
It's that time of year – everything pumpkin is coming out. I've never been a big pumpkin fan, but as I've started making these things for Tim, I've found it isn't so bad. Not sure I can handle pumpkin pie yet, but I'm getting closer. 😉
Including chocolate definitely helps because what isn't good with chocolate????
Things to consider
The recipe says you can use either light or dark brown sugar. I've always made them with dark brown sugar, primarily because I have some I need to use. But I also have to assume it gives them a deeper flavor.
I also suggest that you mix together the two sugars before adding the melted butter. This helps eliminate those pesky brown sugar lumps. Get the sugars as "smooth" as you can before adding the butter and it will be much easier.
I said this would make 22 cookies, but that depends entirely on how big you make them. Tim says he prefers to have them smaller, so when I ended up with 22, they were small, maybe three bites each. If you like bigger cookies, be prepared for a lot fewer. You can always double the recipe!!
I haven't frozen any (they are eaten too fast) but the original recipe says they freeze great, both as dough and baked cookies. Maybe another great reason to double the recipe!!
This recipe only uses 6 T. of pumpkin puree, so you'll have plenty left over. It's a good time to use that extra pumpkin to make pumpkin bread. That freezes very well too!!
You can't forget the extra chips on top. Add those as soon as the cookies come out of the oven and they'll sink right in. You simply can't have enough chocolate!!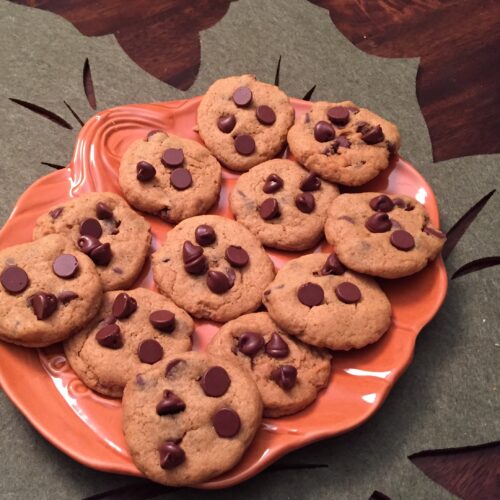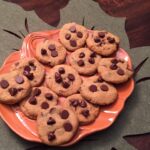 Chewy Pumpkin Chocolate Chip Cookies
Super easy to make and it's amazing how great pumpkin and chocolate taste together. Yum!!
Ingredients
1/2

c.

unsalted butter

(melted & slightly cooled)

1/4

c.

packed brown sugar

(light or dark)

1/2

c.

granulated sugar

1

t.

vanilla extract

6

T.

pumpkin puree

(see Note 1 below)

1 1/2

c.

flour

1/4

t.

salt

1/4

t.

baking powder

1/4

t.

baking soda

1 1/2

t.

cinnamon

3/4

t.

pumpkin spice

(see Note 2 below)

1/2

c.

semi-sweet chocolate chips

(plus a few extra for the tops)
Instructions
Whisk the melted butter, brown sugar, and granulated sugar together in a medium bowl until no brown sugar lumps remain.

Whisk in the vanilla and blotted pumpkin until smooth. Set aside.

Whisk the flour, salt, baking powder, baking soda, cinnamon and pumpkin spice together in a large bowl.

Pour the wet ingredients into the dry ingredients and mix together with a large spoon or rubber spatula. (The dough will be very soft.)

Fold in 1/2 c. semi-sweet chocolate chips.

Cover the dough and chill for 30 minutes or up to 3 days. Chilling is mandatory.

Preheat oven to 350F and line two large baking sheets with parchment paper or silicone baking mats.

Remove dough from the refrigerator and roll into small balls, about 1.5 T. of dough each. (I use a small cookie scoop.)

Place on the baking sheets and slightly flatten the tops of the dough balls. (If you don't, the cookies may not spread.)

Bake for 10-12 minutes or until the edges appear set. The cookies will look very soft in the center. If you find your cookies didn't spread much, flatten them out when you take them out of the oven.

Place a few chocolate chips on the tops of the warm cookies, if desired.

Cool cookies on the baking sheets for at least 10 minutes before transferring to a wire rack to cool completely.
Recipe Notes
Note 1 – Pumpkin puree:  Squeeze as much of the moisture out of the pumpkin puree as you can before adding it to the cookie dough.  Paper towels work great for this.  This produces a less cakey cookie.  Measure the 6 T. after the pumpkin has been blotted.
Note 2 – You can purchase pumpkin spice but you can also make your own.  For instructions, see this post.  It's super easy and you can make up a batch to keep for later.
You can make the cookie dough up to 3 days ahead and keep it in the refrigerator.  Allow it to come to room temperature, then continue with step 7.  Baked cookies freeze well for up to 3 months.  Unbaked cookie dough balls freeze well up to 3 months.  Bake frozen cookie dough balls for an extra minute, no need to thaw.
Original recipe from: www.sallysbakingaddiction.com
www.retiredintrovert.com