I discovered this chicken pasta recipe years ago in the Cooking Light magazine.  I love that magazine and have found several great recipes in it.  Once I get it each month, I go through it and tear out the recipes that look good to me.  Over time, I'll pull out my stash and pick something new to try.  This one is a keeper.
It's so easy to make yet tastes like something you'd find in a fine dining restaurant.  I've always kidded that this is equal to or better than anything I can get at Biaggi's.
I've made three minor adjustments, which I've noted in the recipe.
1 – the first time I made this, I didn't notice it said "ground" fennel and just assumed it meant fennel seed, which is what I had on hand.  I think that was a good mistake to make!!  I've never made it any other way.  I assume I get a stronger fennel taste this way.  Maybe I'll try it with ground fennel sometime just to compare.
2 – it's so much easier to find parmesan cheese instead of Parmigiano-Reggiano.  Plus, it's a lot cheaper!!
3 – the original recipe calls for chicken breast tenders but I usually use chicken breast.  I've found no benefit to using the tenders.
Don't forget to use the fresh basil at the end.  It definitely makes the dish.  I grow my own basil in the summer, which makes it much easier to use.  But it's also become easier to find in the grocery store.  It's worth getting.
You can use any small pasta, but I've always made it with penne.
I also have to warn you – the recipe says it makes 4 servings.  In my mind, it makes MUCH more than that.  I always have lots of leftovers, which is actually a nice problem to have.  Then I can enjoy it more than once!!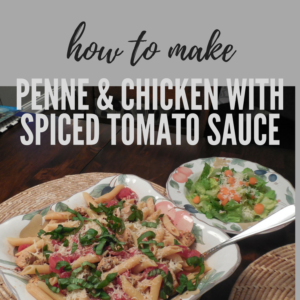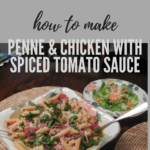 Penne and Chicken with Spiced Tomato Sauce
This is so simple to make yet it tastes fantastic. You can't get anything better than this at your favorite Italian restaurant.
Servings
4
1.5 cup servings
Ingredients
1

t.

ground fennel seed

(I use fennel seed, not ground)

1

t.

dried basil

1/2

t.

salt

1/2

t.

ground coriander

1/4

t.

black pepper

1

lb.

chicken breast

(cut into 1 inch pieces)

1

T.

olive oil

4

cloves

garlic, minced

4

c.

canned diced tomatoes, undrained

(I use 2 cans of petite diced tomatoes)

1

c.

white wine

(you can use water or chicken broth as well)

8

oz.

uncooked penne pasta

1/4

c.

freshly grated Parmigiano-Reggiano cheese

(I use parmesan cheese)

1/4

c.

chopped fresh basil
Instructions
Combine first 5 ingredients in a small bowl; rub over the chicken pieces.

Heat oil in a large skillet over medium-high heat.

Add chicken; cook 4 minutes, turning once, or until chicken is cooked through. (I like my chicken to get a nice brown color on it.)

Remove from skillet; cover and set aside.

Reduce heat to medium. Add garlic and saute until garlic is soft (not long).

Add tomatoes and wine, scraping pan to loosen the brown bits.

Bring to a boil. Reduce heat and simmer 15 minutes.

Add chicken and simmer 5 minutes.

Cook pasta according to package directions, omitting salt and fat. Drain.

Toss pasta with sauce in a large bowl. Sprinkle with parmesan cheese and chopped basil.
Recipe Notes
Recipe from Cooking Light
www.retiredintrovert.com