A couple weeks ago, I posted about the three pillow covers I made.  I mentioned I was also going to create a matching table runner for our coffee table.  Well, I finished it.
And I think it turned out pretty great!!   (Just don't look too closely.)
My goal was to use the same colors in the table runner, so it would coordinate with the pillows in our family room downstairs.  And I accomplished my goal.
Simple pattern
I found a very simple pattern, but could have just as easily made it without a pattern.  I liked the fact that the pattern produced a skinny table runner.  I wasn't looking for something big.
All I did was cut 40 1.5 inch by 5 inch strips out of the colors included in the pillows.  I made some of the white strips narrower to add some interest.  However, I wonder if I really cut more than 40 strips as my finished length was 37 inches while the pattern said it should be 31 inches.  (I never have counted them since I finished.)  Now that it's on our table, I'm glad I made this "mistake".  It's really the perfect length.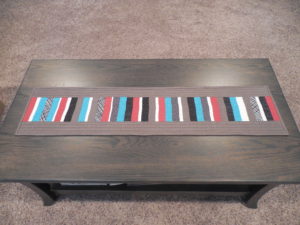 Finishing the table runner
Once I randomly sewed all the strips together, I simply cut two border strips, 2.5 inches wide, based on my 37 inch length measurement.  Maybe the pattern's author knew the length would vary when she didn't have you cut the border strips until after the colored strips were sewn together.  🙂
As usual, the quilting took the longest.  Instead of quilting the entire runner with quarter inch lines, I decided to do half inch lines on the gray border strips.  I did this to save some time, but in the end, I thought it looked better anyway.
What's next?
My next sewing project is still something for me.  Do any of you wear aprons when you cook or bake?  I typically do (I'm kinda messy).
I saw an apron pattern a while ago that I really liked.  It doesn't tie but simply slips over your head and crosses in the back.  And it's reversible.  I searched and searched for a free pattern, but it's one of those I ended up purchasing.
I'm excited to make it and I think about it every time I grab my current apron.  I found fabric on Sunday, washed it on Monday, and will cut it out later this week.  I can't wait to share it with you!!!  More importantly, I can't wait to wear it!
And can you believe I haven't picked up a book for two weeks?  I must get some reading done this week.  I miss it but there have just been too many things to do!!!  What life.  😉