This is the third of three muffin recipes I use a lot.  As previously mentioned, I make these three kinds for the Gathering of the Goddesses.  However, I've also started making lemon blueberry scones, and I'll provide that recipe soon.  They've also become a favorite.
If you haven't already, check out the other two muffins:  Blueberry-Cinnamon Burst Muffins and Banana Chocolate Chip Muffins.
These are super easy to make and as with all my muffins, they freeze very well.
This is a great time of year to make these, as you'll soon be able to find fresh cranberries in the produce section of your grocery store.  I always buy multiple bags of them, as the cranberries themselves freeze very well and then I have some even in the middle of summer.  (They can actually be hard to find other times of the year, even in the frozen foods.)  If you freeze them, you can thaw the cranberries first but I usually chop them straight from the freezer.
I've chosen to make mine without the walnuts, as I'm not a fan of nuts in baked goods.  But don't let that scare you away from using them.  If you do, I'd like to know what you think.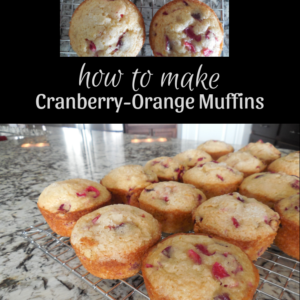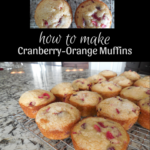 Cranberry-Orange Muffins
If you love the combination of cranberry and orange, you must make these muffins. They have just the right balance of the two flavors and a touch of sweetness with the sugar on top. Yum!! Make a batch now and freeze some for later. You'll be glad you did.
Ingredients
2

c.

all purpose flour

(about 9 ounces)

1

c.

sugar

divided

1 1/2

t.

baking powder

1

t.

salt

1/2

t.

baking soda

2

t.

grated orange rind

3/4

c.

orange juice

(I'd say this takes a couple of oranges, just to be sure)

1/4

c.

canola oil

1

large

egg

lightly beaten

2

c.

coarsely chopped fresh cranberries

(about 8 ounces)

1/3

c.

chopped walnuts, toasted

(optional)
Instructions
Preheat oven to 400º.

Lightly spoon flour into dry measuring cups and level with a knife.

Measure 1 c. of sugar and from that remove 1 T. and set it aside.

Combine flour, remaining sugar, baking powder, salt, baking soda in a large bowl. Make a well in the center of the mixture.

Combine orange rind, orange juice, oil, and egg in a small bowl, stirring well with a whisk.

Add to flour mixture, stirring just until moist.

Fold in cranberries and walnuts (if using).

Coat 16 muffin cups with cooking spray.

Spoon the batter into the 16 cups.

Sprinkle each muffin evenly with the reserved sugar.

Bake at 400º for 15 minutes or until the muffins spring back when touched lightly in the center.

Carefully remove each muffin by running a knife or spatula around the outer edge of each cup. Place them on a wire rack to cool.
Recipe Notes
Nutrition Information: (per one muffin)
169 calories, 5.6 g fat, 2.5 g protein, 27.9 g carbs, 1.3 g fiber, 2.4 mg cholesterol, 1 mg iron, 236 mg sodium, 35 mg calcium
Recipe from:  Cooking Light
www.retiredintrovert.com