It's been a while since I've shared a recipe and since I recently made these lemon blueberry scones, it seemed like a good time to post this.
This is another of the items I bake for our girls' weekend – see Friends for Life. I've already shared the muffin recipes: Banana Chocolate Chip (my favorite), Blueberry Cinnamon Burst, and Cranberry Orange. This past week, however, I only made the scones and the banana chocolate chip muffins. (I even left some of each at home for Tim!!)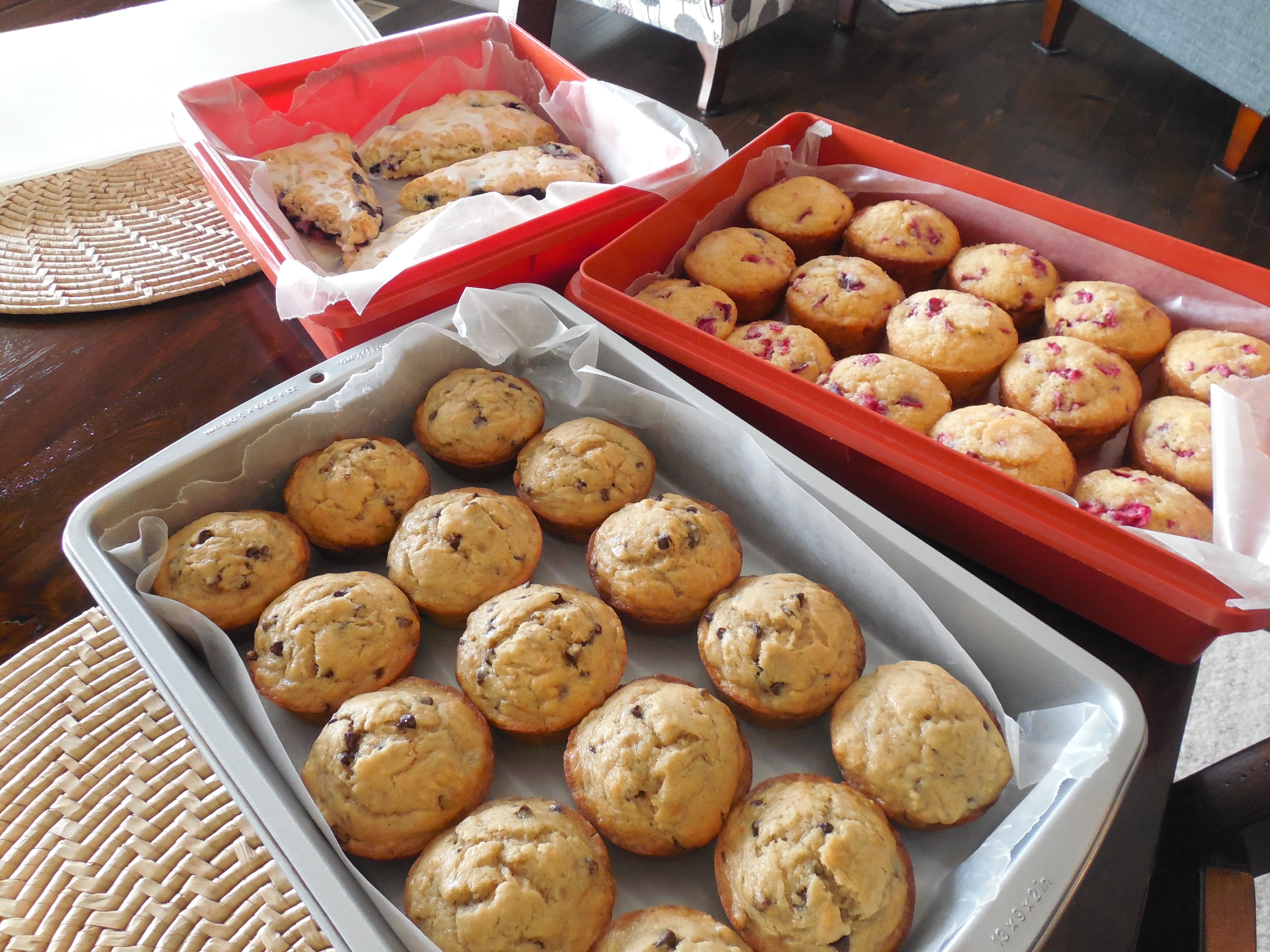 Scones are easy to make
For some reason, I always thought scones were challenging. They aren't. They are super easy and quick to make. No mixer needed, no chilling the dough before cutting, and no special ingredients.
I fell in love with this recipe because of the combination of blueberry and lemon. The glaze is made with lemon juice, but by including lemon zest in the scones themselves you get even more lemon flavor. And I'm not typically a big lemon fan.
What to know
The recipe calls for grated unsalted butter which is the easiest to achieve with frozen butter. You might be able to also do this by cutting your butter into very small pieces. But grating isn't that difficult. I use a box grater.
I typically use fresh blueberries when I make these this time of year. How can you not? But I've also used blueberries I've frozen and both work great. Actually, the frozen ones don't get as smashed as fresh.
When you get to the point of adding the blueberries, I mix the dough a little with a rubber spatula but finish with my hands. It's just easier to incorporate the blueberries evenly and ensure all the ingredients are thoroughly mixed in.
The scones will increase in size when baking. I always think I'm creating smaller pieces but then I'm surprised at how large they come out. The recipe says to cut your dough into 8 slices. That's WAY too few, unless you want gigantic scones. When I made these last week, I cut out 12 slices, and even that was too many. I think I'll try 16 pieces next time.
I don't usually place mine on the baking sheet 2 inches apart, as you'll see in the picture below. A few may touch as they bake, but that doesn't ruin them. I like to be able to get all of them on one baking sheet. However, if I do cut the dough into 16 slices, I may have to bake them in two batches.
Start out baking them for 20 minutes. My scones are typically done by then. And you don't want to overbake them. Just make sure they're a nice golden brown on top.
Give these blueberry scones a try. They'll be a hit!!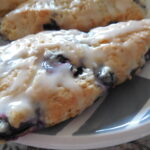 Glazed Lemon Blueberry Scones
These scones are easy to make and blueberry and lemon are the perfect combination of flavors.
Servings
8
scones (or more)
Ingredients
2

c.

all purpose flour

(plus more for hands and work surface)

6

T.

granulated sugar

(may increase if blueberries are tart)

2 1/2

t.

baking powder

1/2

t.

salt

1

large

lemon, zested

1/2

c.

unsalted butter, frozen

1/2

c.

heavy cream

1

large

egg

1

t.

vanilla extract

1

c.

blueberries

(fresh or frozen)
Glaze
1

c.

powdered sugar

2-3

T.

fresh lemon juice
Instructions
Preheat oven to 400. Adjust baking rack to the middle-low position.

LIne a large baking sheet with parchment paper or a silicone baking mat.

In a large bowl, whisk the flour, sugar, baking powder, salt, and lemon zest.

Grate the frozen butter and toss into the flour mixture. Combine it with a pastry cutter, a fork, or your fingers until the mixture resembles coarse meal.

In a small bowl, whisk the cream, egg, and vanilla together.

Drizzle it over the flour mixture and then toss the mixture together with a rubber spatula until everything appears moistened.

Slowly and gently fold in the blueberries. Try your best not to overwork the dough at any point. (I've found my dough to be a little dry, making it challenging to incorporate the blueberries, but do your best.)

Work the dough into a ball with floured hands and transfer to a floured surface.

Press into an 8″ disk and cut into 8 equal wedges with a very sharp knife, a pizza cutter, or any other cutting tool. (I sometimes cut it into more pieces to make smaller scones.)

Place scones at least 2″ apart on the prepared baking sheet.

Bake for 20-25 minutes or until lightly golden and cooked through.

Remove from the oven and allow to cool for a few minutes.

To make the glaze, whisk together the powdered sugar and 2 T. of the lemon juice until smooth. Add more juice if needed to think it out.

Drizzle the glaze over the scones right before serving. However, they keep well so you can add the glaze as soon as you'd like.
Recipe Notes
Leftover scones keep well at room temperature for 2 extra days.  They also freeze well.  Thaw overnight in the fridge and heat up before serving.
Recipe from sallysbakingaddiction.com
www.retiredintrovert.com