My mom subscribed to People Magazine and it now comes to my dad once a week. He always puts them in my pile, which is basically everything he gets in the mail. I usually read through the current issue when we visit him on Tuesdays and while he and Tim play cribbage. I recently discovered this recipe towards the end and decided it was worth a try.
We like chicken fajitas, so why not this? I decided to bring it along with us to Florida and it was the first meal we made here. It's great and I will definitely make it again. The only downside (for making it here) was it required a lot of spices, which of course, we had to buy. In my weekly Snowbird update, I'll let you know how all those spices saved the day!!
For some reason, it seems chicken breasts are now packaged in threes. Normally, I would have bought two packages and frozen two breasts. But here, I didn't want the extra. So, we made just three (and shared one later in the week for a meal). I did, however, use all the same amounts of veggies and spices and while we did have some extra, the veggies were yummy served alongside the breasts. You can never have too many peppers and onions, right?
As I mentioned in my last Snowbird update, the kitchen is pretty well stocked. And while there are lots of knives, I had a hard time finding a sharp one!! I shouldn't be surprised; I've experienced that before in a rental condo. Note: Add knives to the list of things to bring next year.
I also mentioned I didn't have a grater for the cheese, and while the zester worked in a pinch, it wasn't ideal. I think we'll have to make this again just so I can grate some cheese with our new grater!! Anyway, it was challenging getting enough of the cheese inside, but I managed.
We did not use any of the optional ingredients for serving, although I would definitely like avocado and cilantro. In fact, sometime, I might try putting cilantro in the breast when I'm stuffing it.
If you like chicken fajitas but would like them served in a different way, give this a try. No tortillas needed!!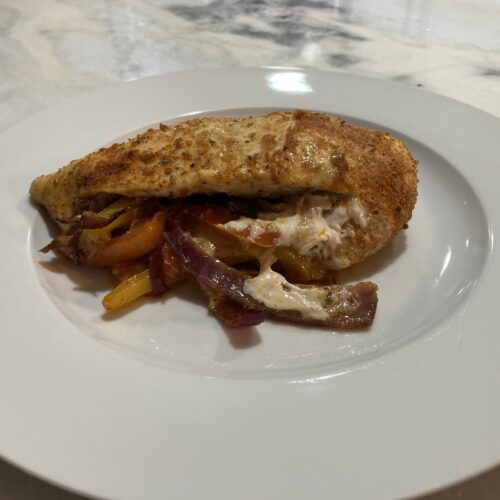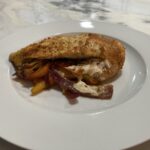 Fajita Stuffed Chicken Breasts
If you like chicken fajitas, you'll love this version. Easy to make and so good!!
Ingredients
2

t.

onion powder

1

t.

garlic powder

1

t.

ground cumin

3/4

t.

salt

1/2

t.

dried oregano

1/2

t.

paprika

1/2

t.

black pepper

1/4

t.

cayenne pepper

2

T.

olive oil

3

multicolored bell peppers, thinly sliced

1

small

red onion, thinly sliced

2

t.

olive oil

4

8 oz.

boneless, skinless chicken breasts

1/2

c.

shredded pepper Jack cheese

Avocado, Greek yogurt, chopped cilantro

Optional, for serving
Instructions
Combine onion powder, garlic powder, cumin, salt, oregano, paprika, black and cayenne peppers.

Heat 2 T. olive oil in a large ovenproof skillet over medium.

Add bell peppers, onion and 1 T. of the seasoning mixture.

Cook, stirring often, until vegetables soften, 8-10 minutes.

Slice into the side of each chicken breast to form a large pocket, being careful not to cut through.

Coat chicken with 2 t. olive oil and remaining seasoning mixture.

Stuff chicken evenly with vegetable mixture and shredded cheese.

Place chicken in skillet and put in the oven.

Bake until cooked through and chicken registers 165 degrees in the thickest portion, 25-30 minutes.

Serve with avocado, yogurt and cilantro (if wanted),
Recipe Notes
Recipe originally in People Magazine.
www.retiredintrovert.com