Since we're only going to be here for five weeks, I didn't think it would be too much to write about each week. So, believe it or not, we're already at the end of week one.
I'm going to focus my posts on five categories: vacation vs. life, routine, day trips, walking, eating.
Vacation vs. life
I told Tim before we left that I wanted this to feel like just a relocation of our normal life. That was primarily in the context of eating out. We can't follow our normal vacation plan of eating out every night. Not only would it be expensive, but we would eat way too much and all the wrong things.
Also, when you're somewhere that long, you can't constantly be in vacation mode. Can you? We're settling in and doing many of the things we'd normally do – walking/running in the mornings, mostly on our own in the afternoons (although this first week has been less of that), cooking most nights, watching TV and working on our individual projects in the evening, and reading before bed.
In week one, it can't help but feel more like a vacation. We're getting used to everything and discovering the condo as well as the area. Yes, we've been to Indian Shores many times, but this is a different condo and farther up the road than where we usually stay.
Come on though. Is this view normal life?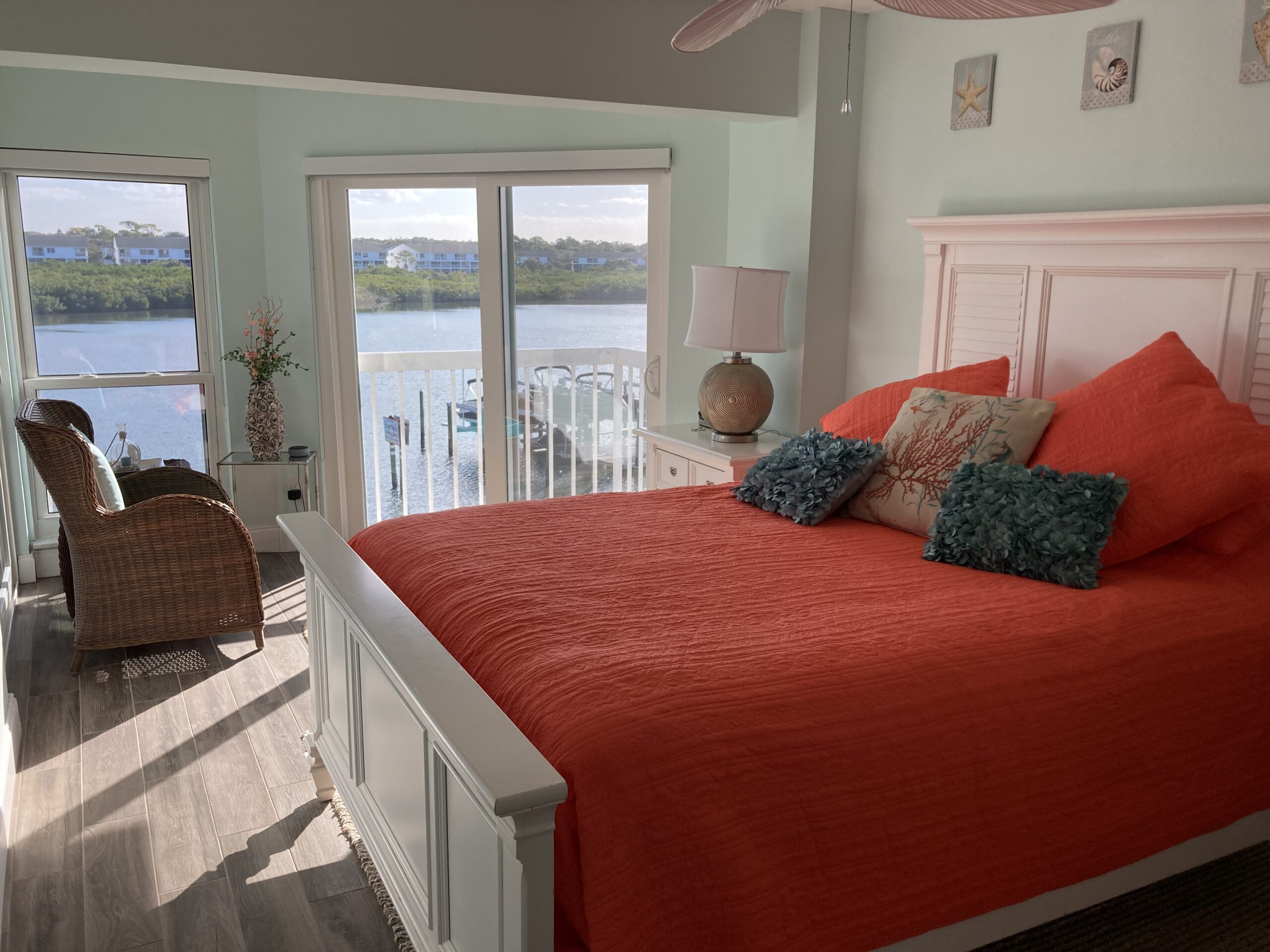 But so far, so good. How is this for normal – I'm doing laundry while I write this and Tim's watching football!!
Routine
It's been easy to maintain aspects of our normal routine. We tend to get up late (although if you translate it to central time, we're getting up earlier than we do at home), I spend time on my iPad, we eat breakfast, we take our walks/runs, we eat lunch.
We've done a couple of things this week that will become part of our snowbird routine. Tim has been fishing and I finally got to the pool today. For Florida, it's been cool, but today was glorious.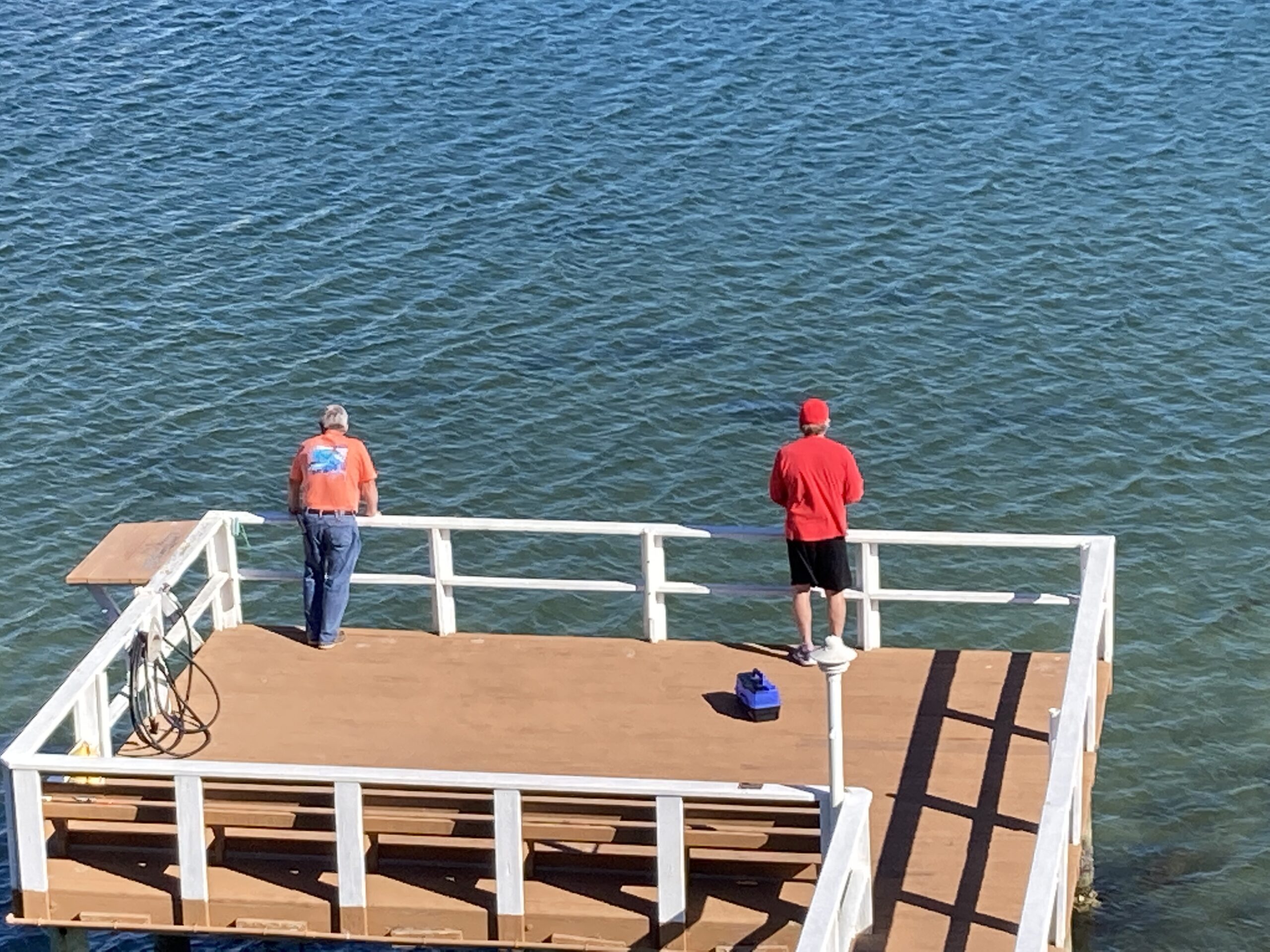 Funny thing, I met a guy at the pool from Iowa. Four people there and two of us from Iowa!!
The forecast for the next week isn't that great. Rain tomorrow and then cooler temps, maybe not even getting to 60 one day. Guess we'll either be doing our indoor activities or driving somewhere.
Day Trips
We decided we'd like to take one day trip a week while we're here. They aren't necessarily whole-day trips, but something we'd like to do that requires a little bit of driving.
This week was pretty minor, hardly even qualifying as a "trip", but we are counting it!! We went to St. Petersburg.
I wanted to go to a Joann Fabrics store to get some supplies for the one cardmaking project I will do here and Tim wanted to see Tropicana Field. We lucked out since the day after we were there, the parking lot became a COVID testing site!! We also drove by Al Lang Stadium, which used to be the place for Cardinals spring training.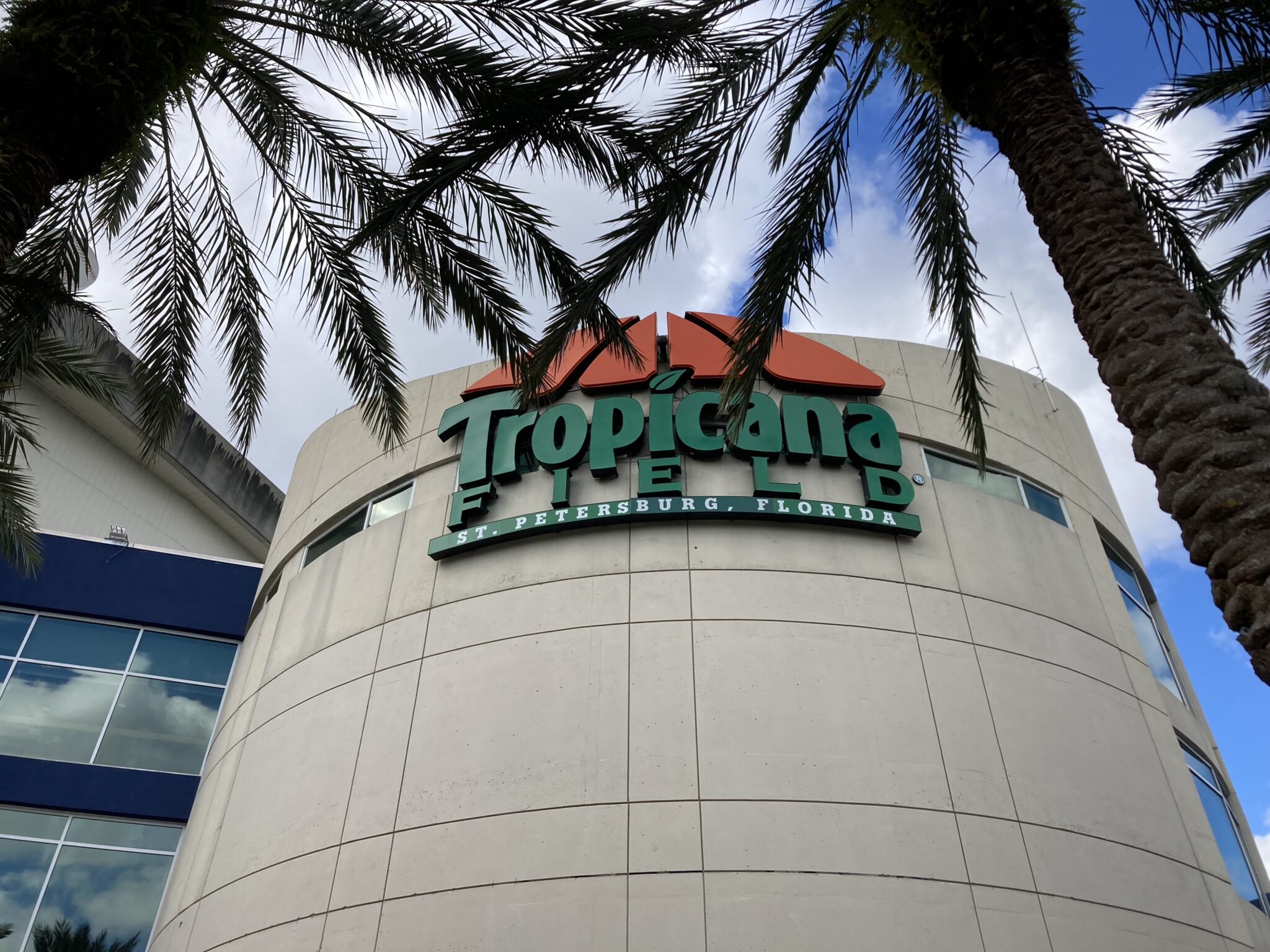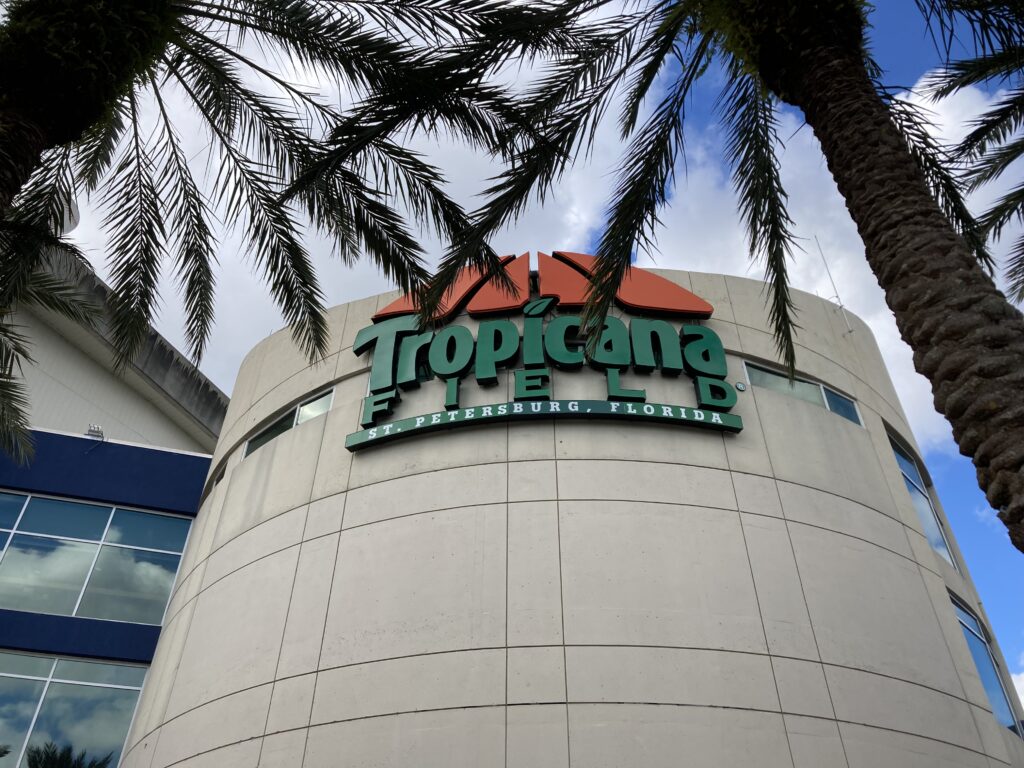 Walking
It took me a few days to feel settled but I finally started walking. The first time, Tim and I walked to the Indian Rocks Beach post office in the afternoon, about a 2.75 round trip walk. It's fun to walk by things I normally only drive by. It's so much easier to notice things.
Thursday, Friday, and today, I walked in the mornings. I've been gradually increasing my distance (and pace) with a three-mile walk today. Did I tell you today was glorious? Little cool but great for walking.
My only complaint is I don't have a lot of variety. All I can do is go up and down Gulf Blvd. Tim runs half on Gulf Blvd and ends on the beach. I love to walk on the beach, but not in my good shoes. So, I hope next week I might have a few beach walk days, weather permitting. If it's a little cool here, it's going to be a lot cooler along the beach.
Eating
We've eaten out two nights since we got here and plan to get pizza tonight. That's normal for us.
We ate out our first night at one of our favorite places (Keegan's) and used a gift certificate we got for Christmas. The second place wasn't the one we originally chose. When we got there, we discovered it was closed for remodeling and wouldn't be open again until the next day. So, we had to make a quick decision and picked TJ's Italian Cafe. I can get lobster ravioli there, although it wasn't as good as I remembered.
Another of our favorites is also closed for remodeling. Their sign says they'll reopen in 4-6 weeks. The problem is, when did that time period begin? We're crossing our fingers it will be open before we leave.
We also decided to limit ourselves to one night a week at our favorite ice cream place – Candy Kitchen. We went last night. Yum!!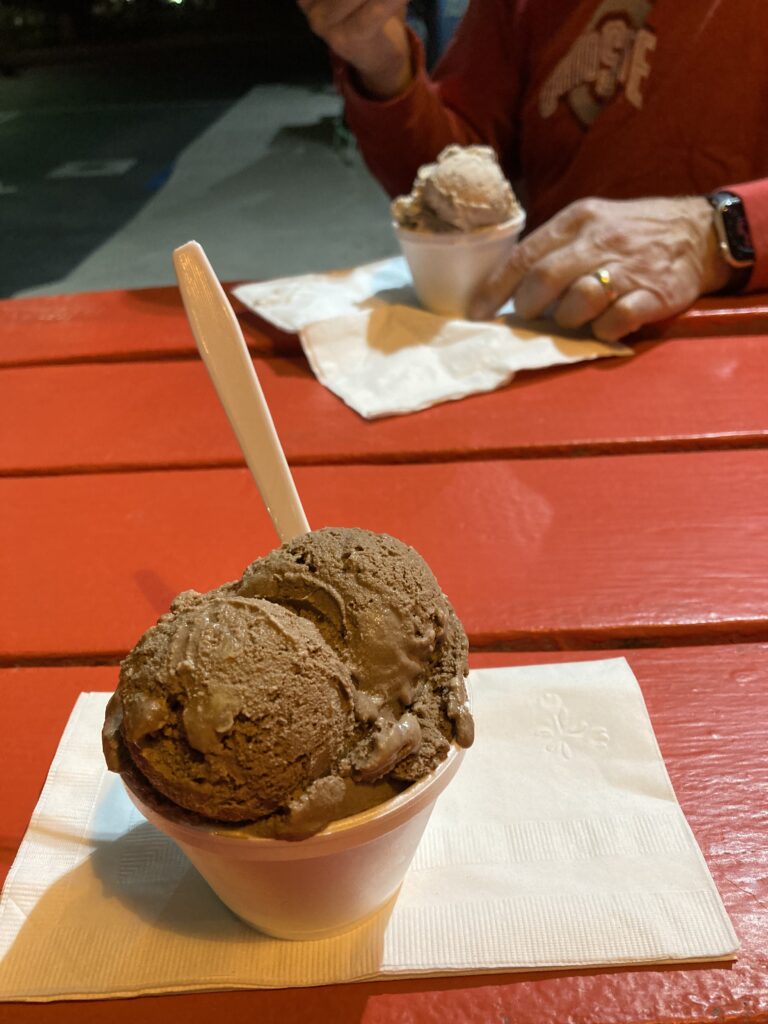 Tonight is Joto's Pizza while we watch football.
Extra
I did finally start working on a project at night – knitting. I've finished all the components of the cardigan sweater, and now need to sew them together and do a little more finishing. I feel good about that.
While the condo is very well equipped, we found we needed to add a few things. We plan to have chili tomorrow and there's no ladle here. I also needed to grate some cheese but all I could find was a zester. Worked in a pinch, but now it's been replaced. I don't even know if I'll need to grate cheese again, but if so, I'm prepared!!
I think next year, I'd like to bring a few clocks. The only clock here is on a kitchen wall. Nothing in the bedroom, living room, or bathrooms. Maybe I'm not supposed to care what time it is!!
Goodbye to week one and on to week two!!