Tim's birthday is in November and I always ask him what he'd like for a birthday treat. Last year, he wanted German Chocolate cake. This year, he decided he'd like it in the form of a brownie. Why not?
So, he found me a recipe to use. I love trying new recipes!!
I'm so in love with my brownie recipe, it was tough not to make it instead of this one. But my usual recipe is pretty chocolaty and rich and I'm glad I didn't use it because I think this one goes much better with the sweet german chocolate frosting.
The brownie part is pretty easy but make sure you don't get impatient when incorporating the butter. You definitely want to mix until it's smooth but even with softened butter, it takes a while to get all the pieces smoothed out. Just let your mixer do the work. (You may not need a mixer for this recipe, but I used one and I'm glad I did.)
The brownie batter will remind you more of a cake than a brownie, but it definitely bakes up as a brownie.
The frosting might seem intimidating but it's actually quite simple to make. I just noticed the recipe calls for "sweetened" coconut, but I always use "unsweetened". I think you're fine either way. Even with the unsweetened coconut, the frosting was plenty sweet!!
It's best to spread the frosting with an offset spatula. And there isn't a lot of frosting so you'll end up with just a thin layer. But don't worry; you'll have enough of that gooey sweetness.
I love these brownies and I'm not even a coconut fan!! They will definitely be added as a favorite in my recipe binder.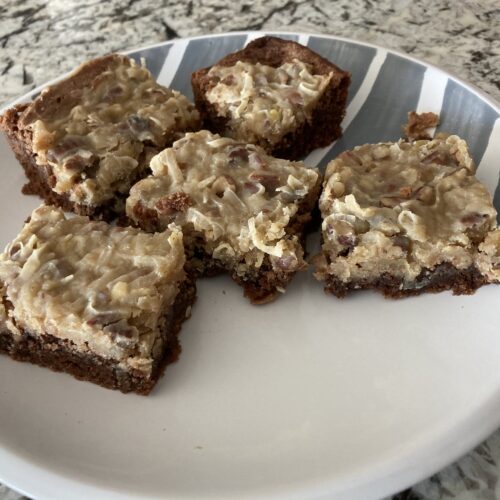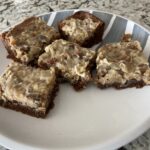 German Chocolate Brownies
These brownies are much easier to make than a German Chocolate cake but just as good. You don't even have to like coconut to fall in love with these.
Ingredients
Brownies
1/3

c.

unsweetened cocoa powder

1/2

c.

vegetable or canola oil

1/2

c.

butter

(softened)

2

c.

granulated sugar

4

large

eggs

2

t.

vanilla extract

1 1/2

c.

flour

1

t.

salt
German Chocolate Frosting
1/4

c.

light brown sugar

1/4

c.

granulated sugar

1/4

c.

butter

2

egg yolks

1/3

c.

evaporated milk

2

t.

vanilla extract

1/2

c.

chopped pecans

1/2

c.

shredded sweetened coconut
Instructions
Brownies
Grease a 9×13 pan with non-stick cooking spray. (I use a metal cake pan.)

In a large mixing bowl, pour the oil over the cocoa powder and mix.

Add the softened butter and mix until smooth.

Add sugar and mix for 1 minute.

Add eggs, one at a time, mixing after each addition.

Add flour and salt and stir to combine.

Pour batter into the prepared pan.

Bake for 30-40 minutes or until a toothpick inserted into the center comes out clean.

Remove from oven and cool completely before frosting.
German Chocolate Frosting
In a medium saucepan, add brown sugar, granulated sugar, butter, egg yolks, and evaporated milk.

Stir to combine and bring the mixture to a low boil over medium heat.

Stir constantly for several minutes until the mixture begins to thicken.

Remove from heat and stir in the vanilla, nuts, and the coconut.

Allow it to cool completely.

Cover the cooled brownies with a layer of the frosting. (It will be a thin layer.)
Recipe Notes
Original recipe from www.tastesbetterfromscratch.com
www.retiredintrovert.com