Tim and I haven't taken a summer vacation for three years, courtesy of the pandemic. Our trip this year was planned a year ago and revolved around the World Track Championships in Eugene, Oregon. Tickets were purchased, hotel reservations made, and we just waited for July 15, 2022, to finally get here.
Since there are so many things to talk about, I've decided not to try and cram it all into one post. My intent is not to provide a play-by-play of our trip, but a summary of the highlights. Unfortunately, even that can't be short.
Driving
We put 4,659 miles over 15 days on my Murano. Probably more like 12 days since we didn't drive for three days when visiting my cousin. We saw parts of the USA I've never seen before; some I'd like to see again, while some, not so much. But overall, it was a fabulous drive.
It took us three days to get to Eugene, taking us through Nebraska, Wyoming, Utah, Idaho, and Oregon. Whole days were spent in Nebraska, Wyoming, and Oregon, while Utah and Idaho, especially Utah, were just blips in our day. Our longest day was the second day, from Cheyenne, Wyoming to Boise, Idaho. And I must tell you, southern Wyoming is not very exciting (sorry, anyone who might live there).
It took us longer (five days) to get home after leaving Sequim, Washington. That was because we made more stops than we did on the way to Eugene. We had planned to stop at Yellowstone Park for a couple of days, but when flooding closed roads in June, we decided not to stop there. I know, it's open again, but we wanted to make sure there were no restrictions affecting our visit. We'll go again sometime.
Tim did all the driving, not because I won't drive, but because he prefers driving. I'm OK with that. I spent most of my time knitting, watching the beautiful scenery, and logging things in my travel journal. It's funny how you forget little details so quickly!! Oh, and I took pictures. Almost all of my pictures, such as the one at the top of this post, were taken through the windshield. We'd try and clean it off each time we got gas, so there weren't quite so many bug guts to try and shoot pictures through!!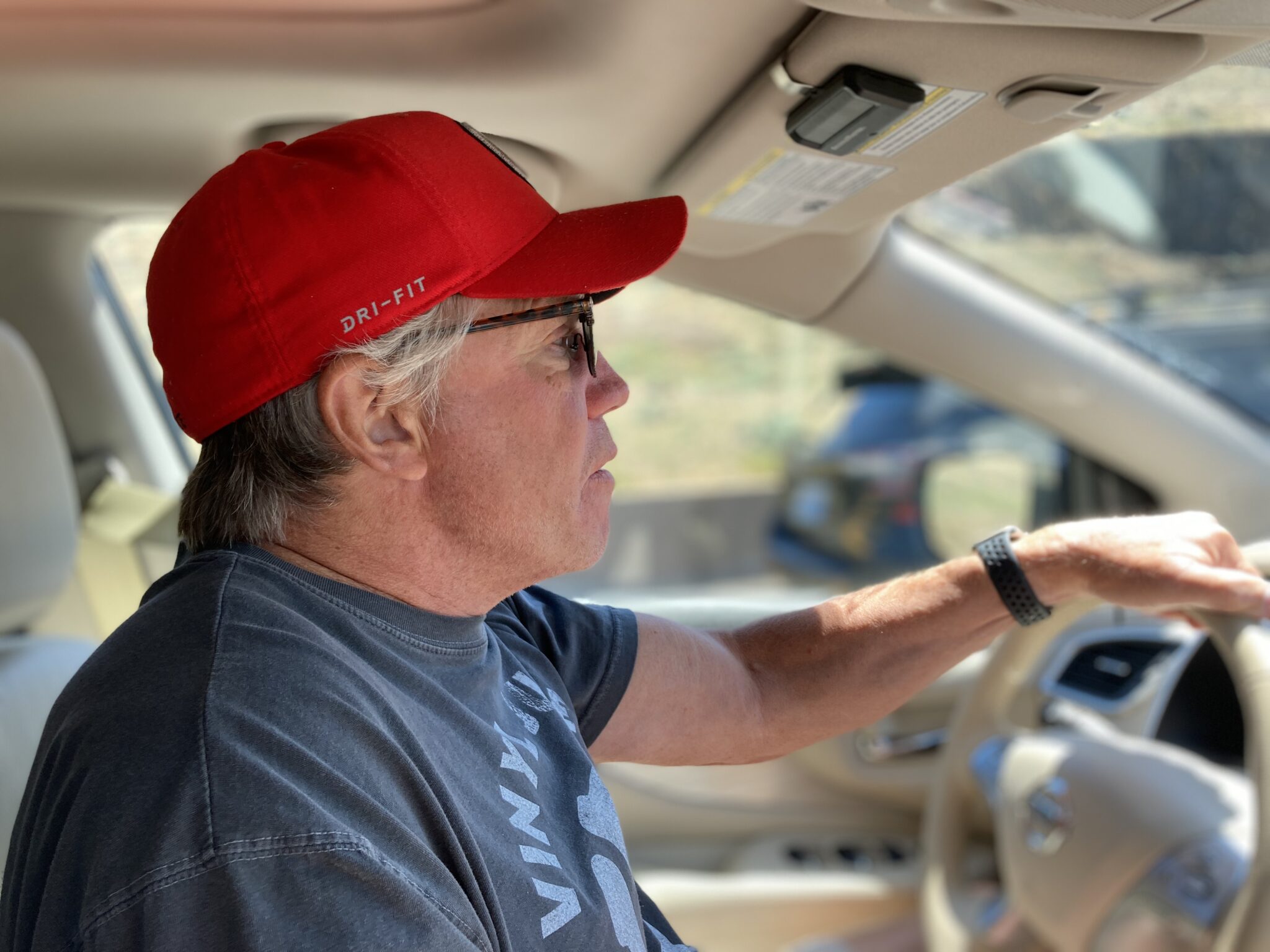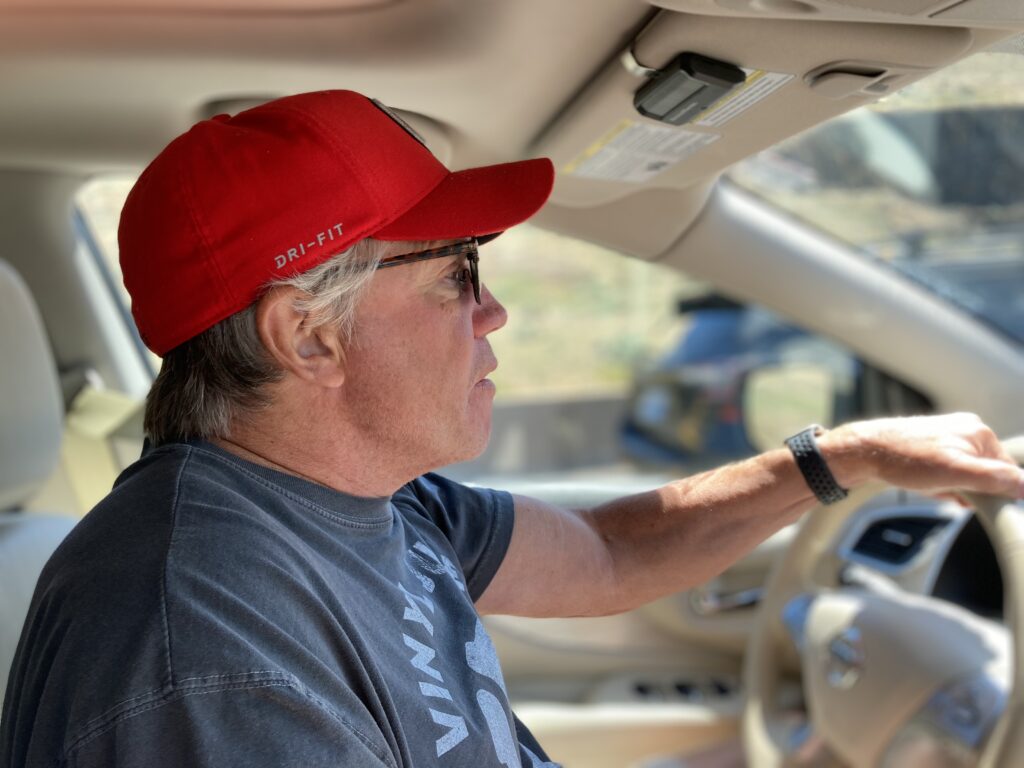 Along the Way
We primarily drove on five interstate highways: I80, I84, I5, I90, and I29. I took a picture at one of the rest stops of the sign telling us about the establishment of the interstate highway system. I've always known it was started by Dwight Eisenhower, who was President when I was born. I also remember when it wasn't completed. Maybe there are still stretches that aren't complete? I just know that I35 ended close to where we lived in north central Iowa in the 60s.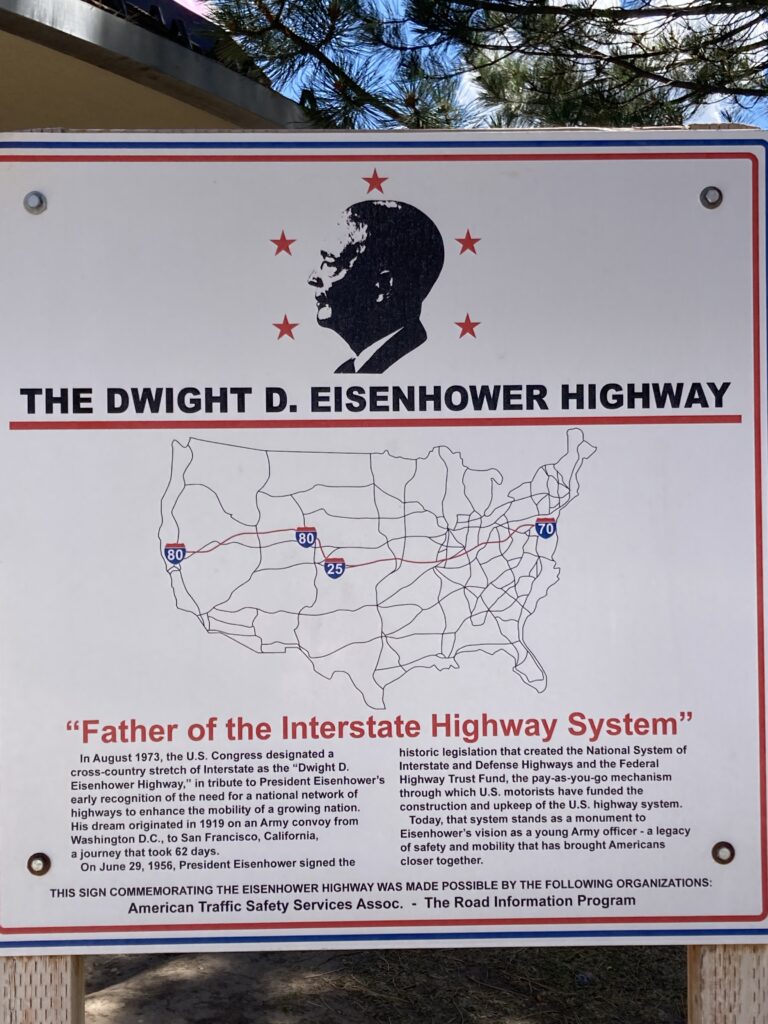 With our Florida drive last winter, we started stopping at the rest areas/welcome centers as we entered a different state to get a road map. I love looking at these maps because you can see the bigger picture so much better than you can on your phone. We found, however, that a lot of rest areas were not providing these maps. No maps for Utah and Idaho, and only got Montana in Custer, South Dakota.
We hit the jackpot in Oregon, just after we left Boise, Idaho. There was a very nice welcome center and an equally nice woman working in it. We chatted after I asked her for a map and because we were heading towards the track championships, she offered free t-shirts, pins, and stickers all related to the meet and Oregon track in general. For those that may not know, Eugene and Hayward Field are considered track heaven.
We decided that Iowa definitely has the best rest areas. Most in other states were not well kept. Some even had porta-potties outside. Actually, one of the gas stations we stopped at had them too, probably because there weren't many stops along this road and there was high demand for the restrooms!!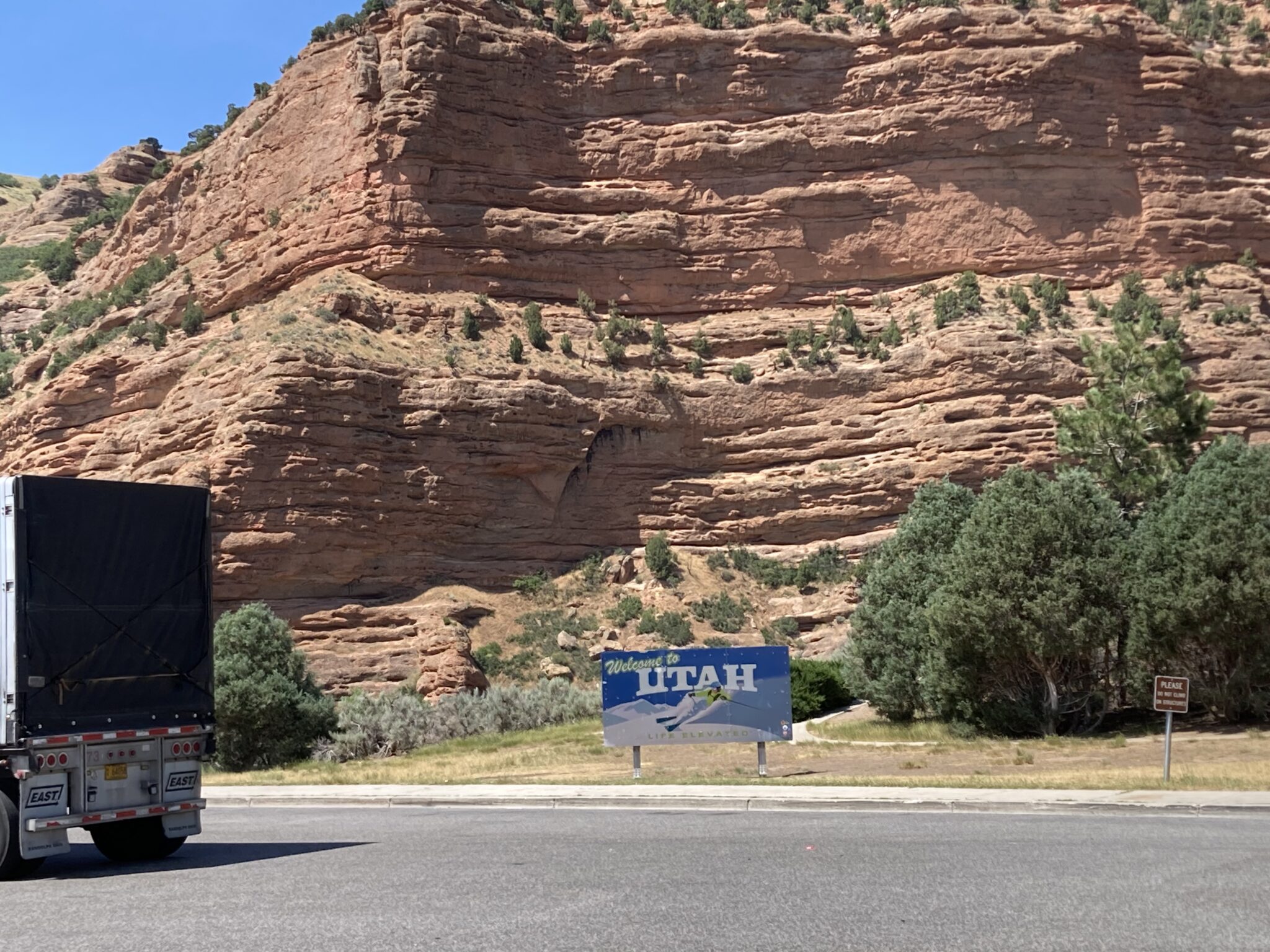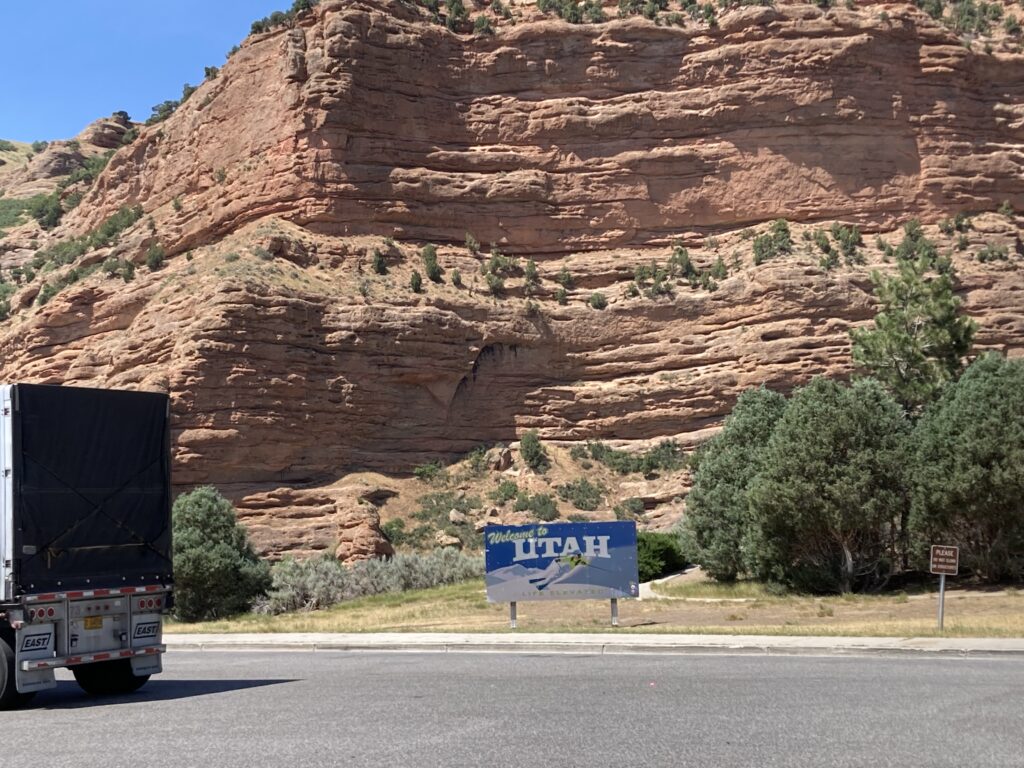 I kept track of gas prices as we filled up – 17 times in total. The most we paid was $5.59 in Cottage Grove, Oregon. The lowest amount was $4.19 in Mitchell, South Dakota. We definitely noticed a trend, however, as prices were generally dropping as we headed home. And did you know there are no self-service gas stations in Oregon? It's illegal.
Fun Facts
You notice and learn about things when driving that you never see when flying. For example, we crossed the Continental Divide three times – twice going out, and once coming back. I've always heard about it, but I don't think I ever truly understood what it meant. Do you?
Here's a picture. Basically, it separates the watersheds of the Pacific Ocean from those of the Atlantic Ocean. And did you know there is more than one?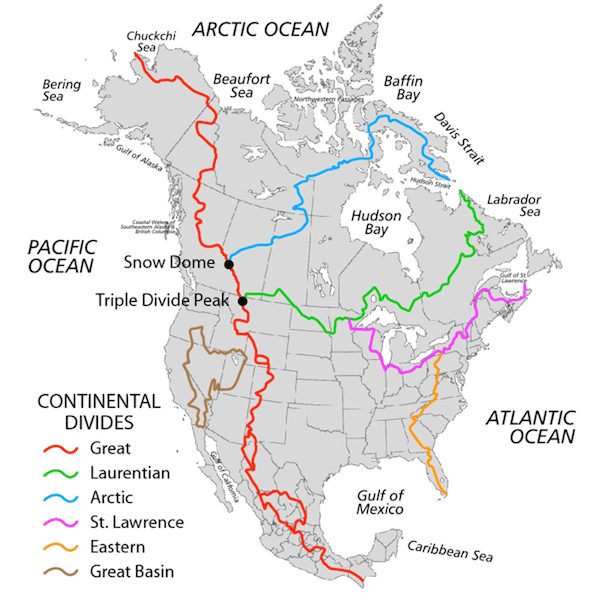 We hit the highest elevation on all of I80 (8,340 ft) just east of Laramie, Wyoming.
Twice from Boise to Eugene, we crossed the 45th parallel, which is the halfway point between the equator and the North Pole. This is considered interesting because, during the summer, the sun is visible about 16 hours a day, while it's about half that in the winter. Do you find that interesting???
Across the street from our hotel in Cottage Grove, Oregon, there's a restaurant called Vintage Inn. We ate there our first night. As I sat there, facing the counter and the window into the kitchen, I thought it looked very familiar. I started looking around some more and even checked out both sides. As we were leaving, I asked our waitress if this restaurant had been something else before Vintage Inn. She said yes, it used to be a Country Kitchen. How funny because I worked in a Country Kitchen for two summers during college!! I knew it was familiar. (Too bad I didn't take any pictures.)
Next time
In Part 2, I'll cover more about the track meet and other sites along our journey, as well as our three-day stay with my cousin and his wife in Sequim, Washington. Hope you enjoy hearing about our trip. And who knows, maybe there will have to be a Part 3!!