Last month, I published Part 1 of How I Spent My Summer Vacation. So of course, there needs to be a Part 2. Part 1 focused on the trip west: things we learned along the way and the roads we traveled. This post will cover the World Track Championships and our time in Oregon. There will need to be a Part 3 to cover the last part of our trip. Just too much to tell!!
Eugene, Oregon
Our goal destination as we traveled west was Eugene, Oregon, home of the University of Oregon and Hayward Field, the most well-known track facility in the United States, maybe even the world. We didn't stay in Eugene, however. Even though we made our reservations a year earlier, finding a hotel in Eugene was impossible. So we stayed in Cottage Grove, about 20 minutes south of Eugene. It worked out great and it was an easy drive each day to Eugene.
On our first day, we set out for the 5th Street Market, hoping to find local shopping and restaurants before we headed to the shuttle location. This was an adventure!! We set everything up in the car's navigation system, but Eugene has so many one-way streets and since Tim couldn't react quickly enough to make some of the turns, the system keep recalculating and we got more and more confused.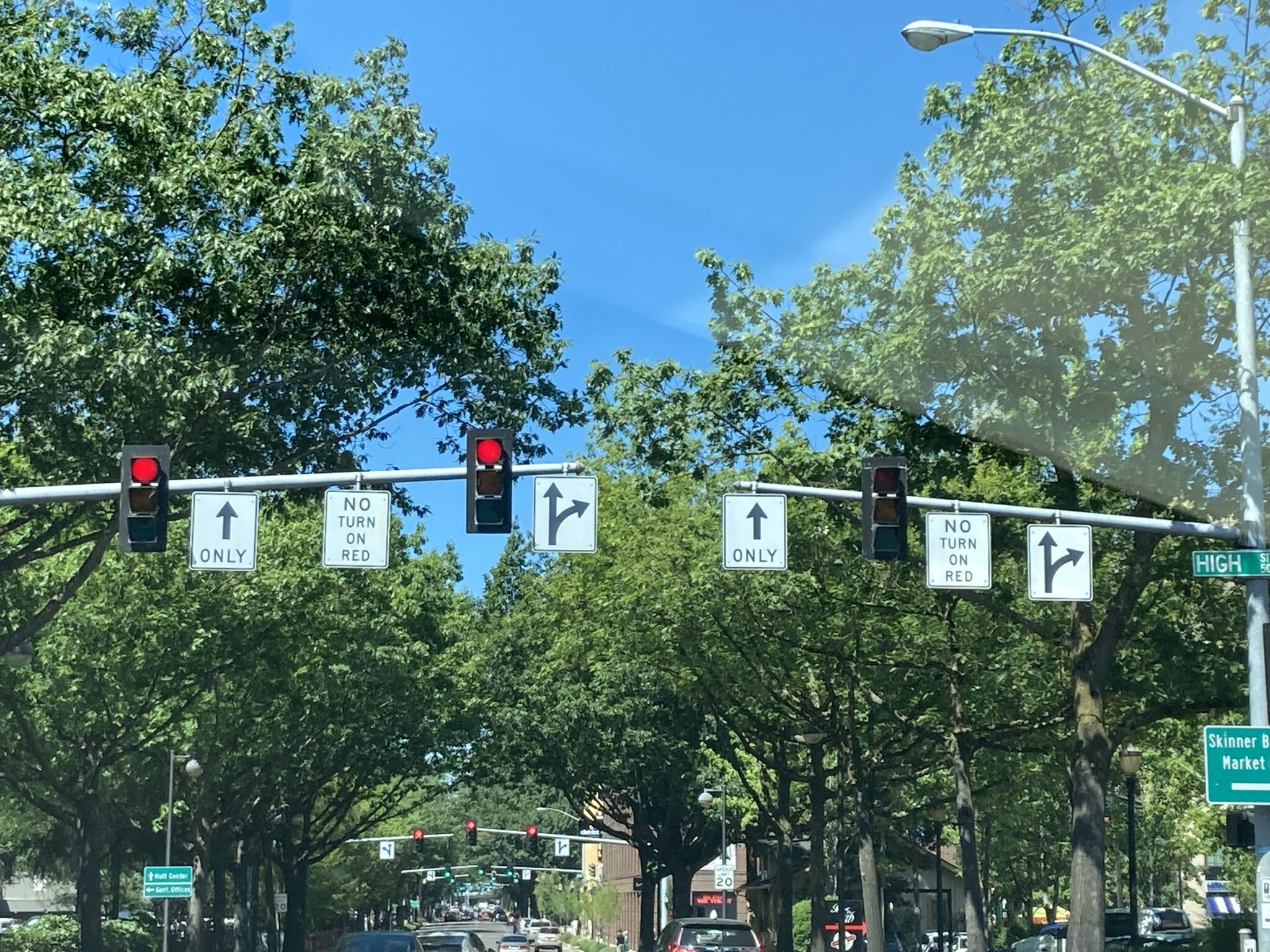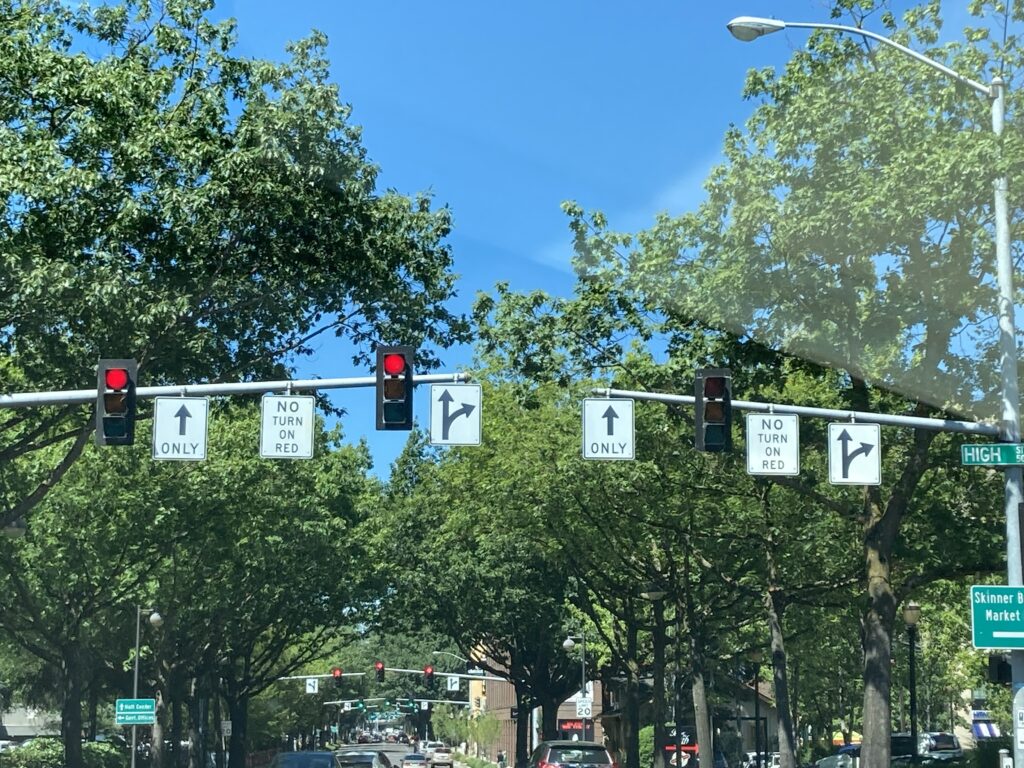 We finally found a parking ramp and parked, even though we had a little bit of a walk to our destination. I found the shopping disappointing but we did have a nice lunch!!
If you've followed track and field for a long time, you've heard of Steve Prefontaine. He was a top runner at the University of Oregon and had a bright future until he crashed his car and died. The rock he hit has become an informal memorial and a highly visited site in Eugene. We had to check it out.
I was surprised that it was in the middle of a residential area. The streets were a little windy and there are lots of trees and it didn't seem like a spot where you could drive too fast. (Although I believe he was under the influence at the time.) There were several people there and we had to park up the hill and walk.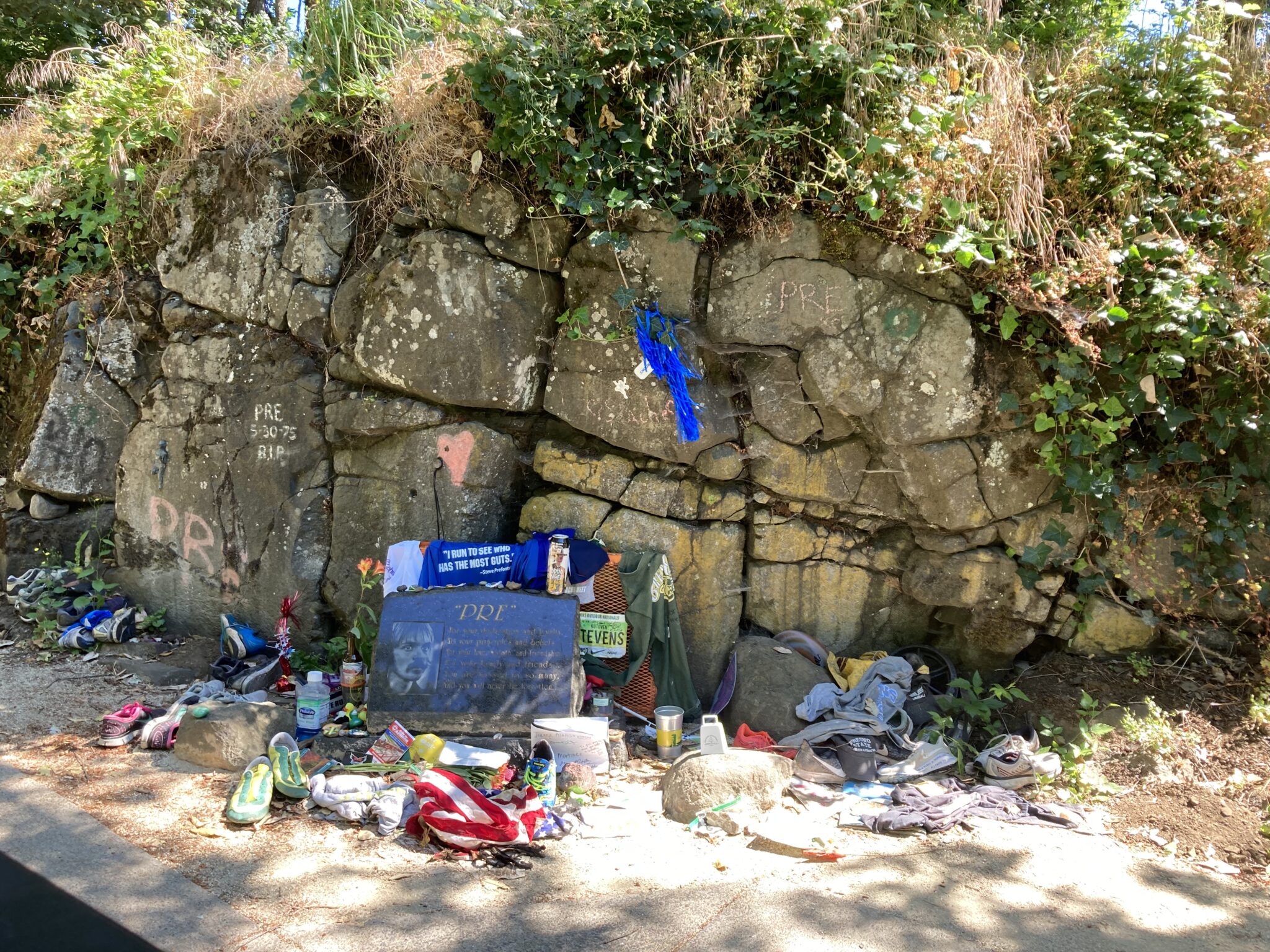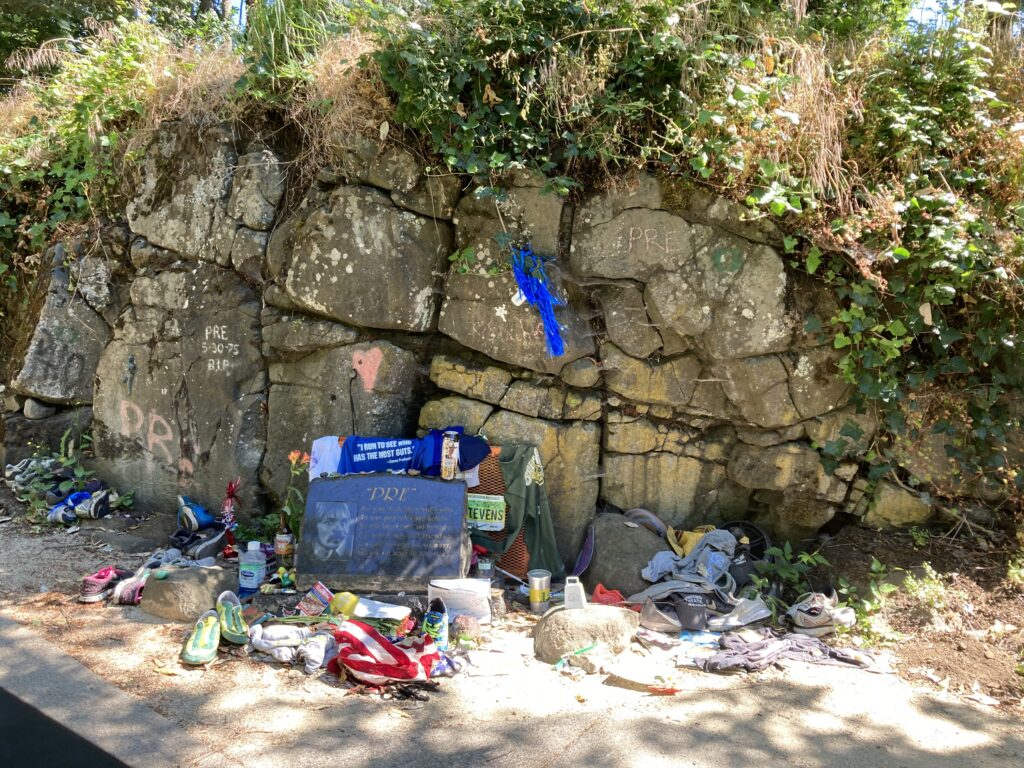 World Track Championships
We had tickets to three "night" sessions, two starting around 5:00 PM and one at about 3:15 PM. Most sessions were finished around 8:00 PM. Not surprisingly, getting to the championships would not be simple, but the way we did it turned out to be quite easy. I've never seen a shuttle from a parking lot to a stadium operate so efficiently. These people knew what they were doing!!
We planned to be there each day when the gates opened, which was an hour and a half prior to the first event. Of course, we had to buy souvenirs but it was also fun just to walk around and check things out. They didn't sell water at the meet and we were told to bring a refillable water bottle. They had water stations all throughout so the first thing we did each day was to fill our bottles.
It's a pretty impressive place. It was fun to see things we'd only seen on TV before. I loved the fact that we each had a nice seat and didn't have to sit on hard bleachers!!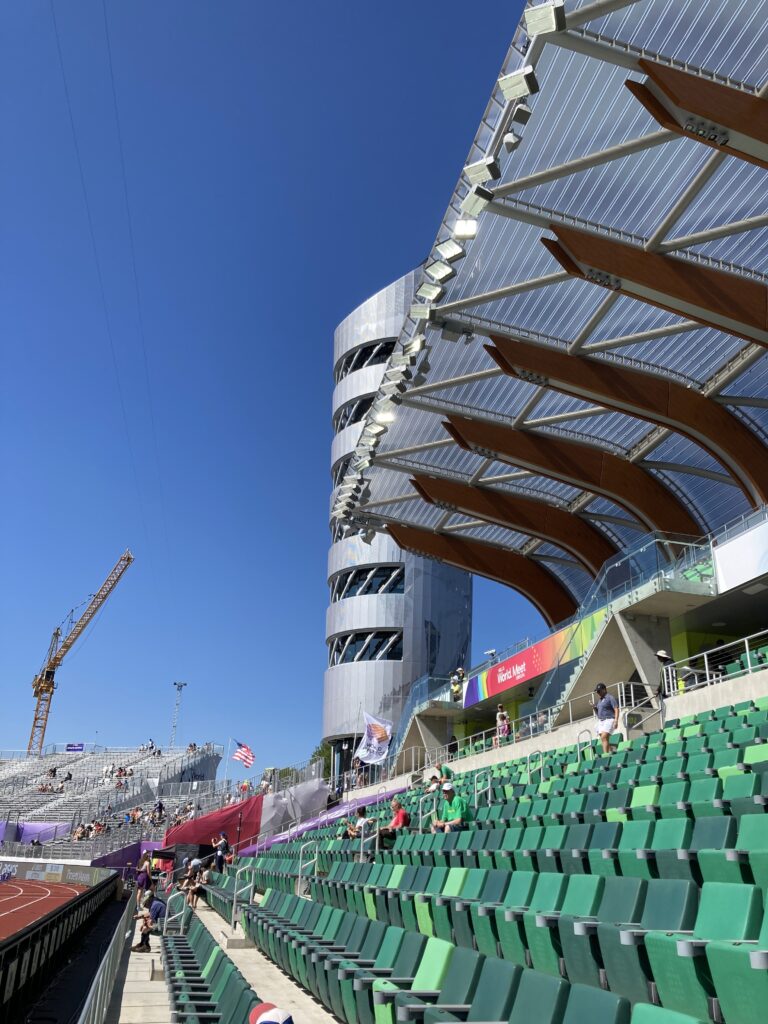 Our seats were on the east side so we weren't by the finish line. But we were close to several field events so we were able to focus a little on those in addition to the running events. For the discus throw and javelin, they had a unique way of getting the equipment back to the competitors. They used this cute little remote control vehicle. On the second day, Big Foot (the track meet's mascot) appeared to be driving the little van. If you look closely, you can see the opening behind him that holds the discus and javelin.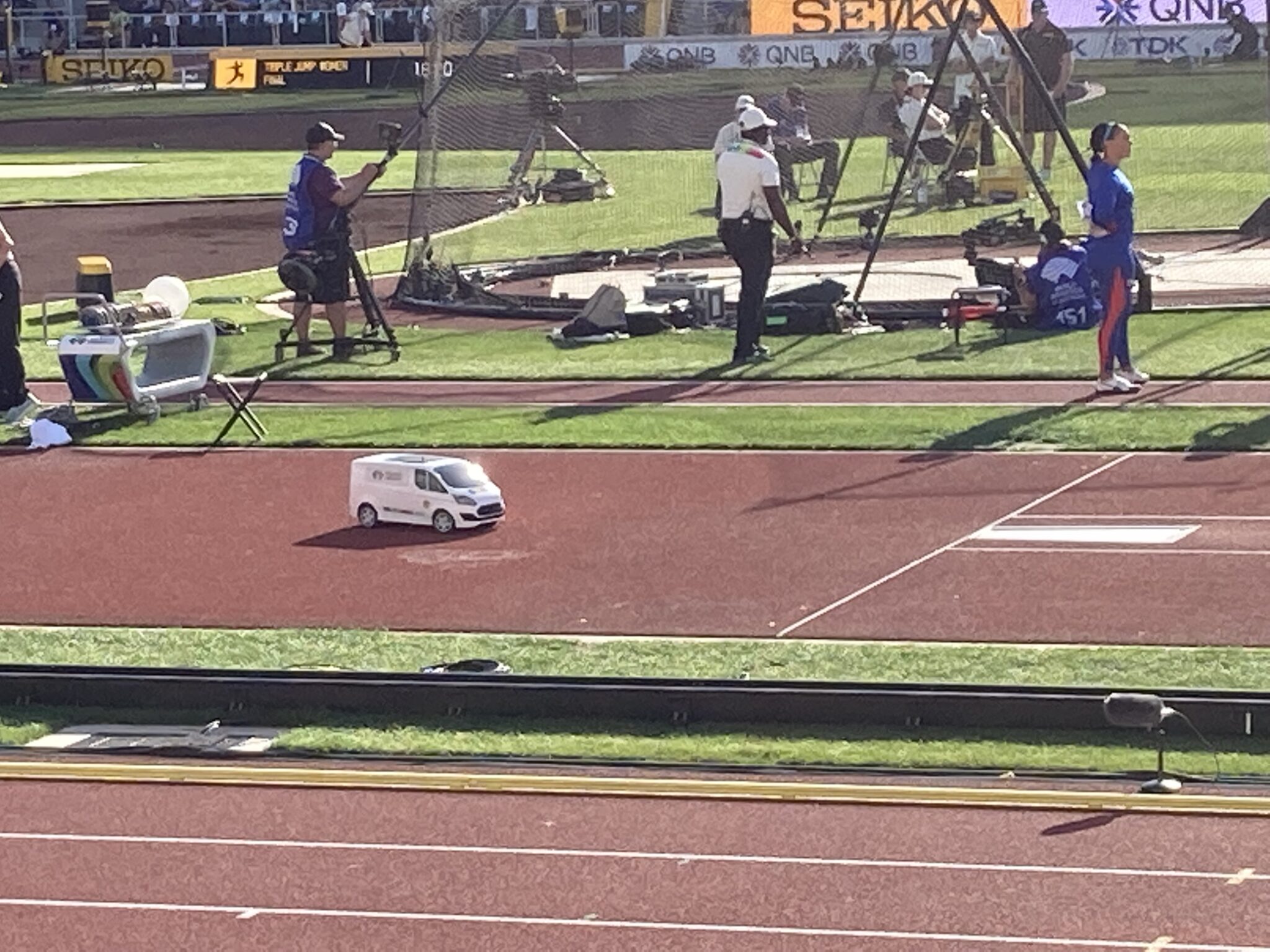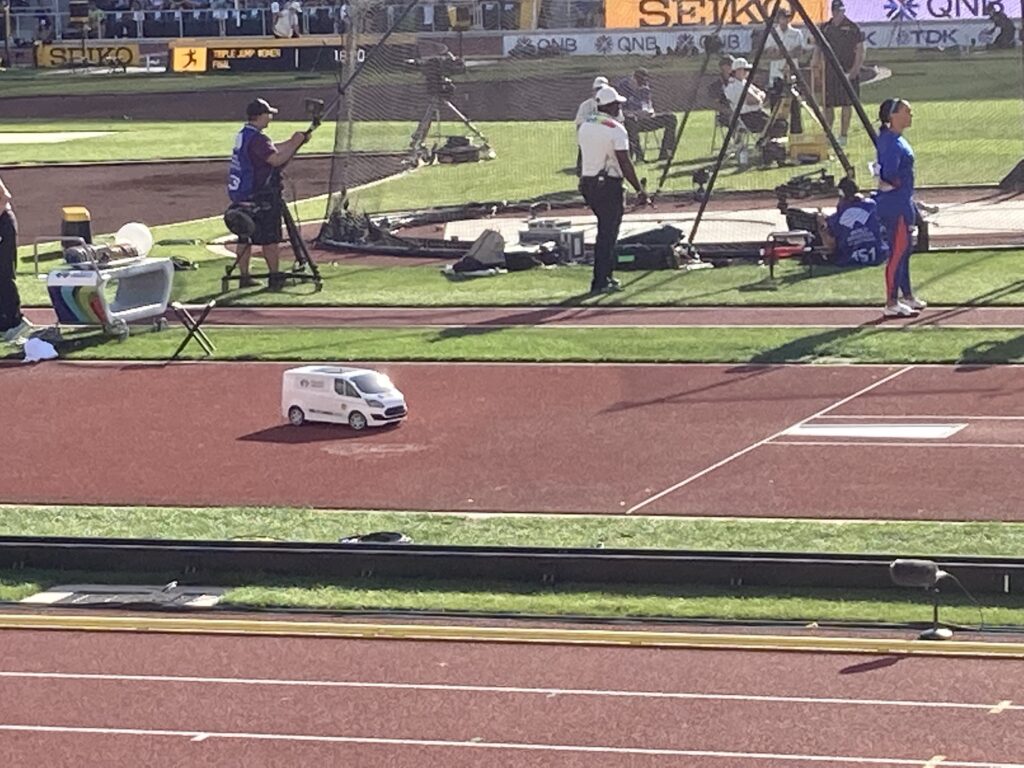 I took lots of pictures of the runners but I'm only sharing a couple. The first is Sydney McLaughlin, the world record holder in the 400 hurdles. Then I had to get a picture of Karissa Schweizer, who ran for one of our local high schools before she ran in college at Missouri. Unfortunately, an injury at the end of the finals in her event (5000 meters) kept her from finishing.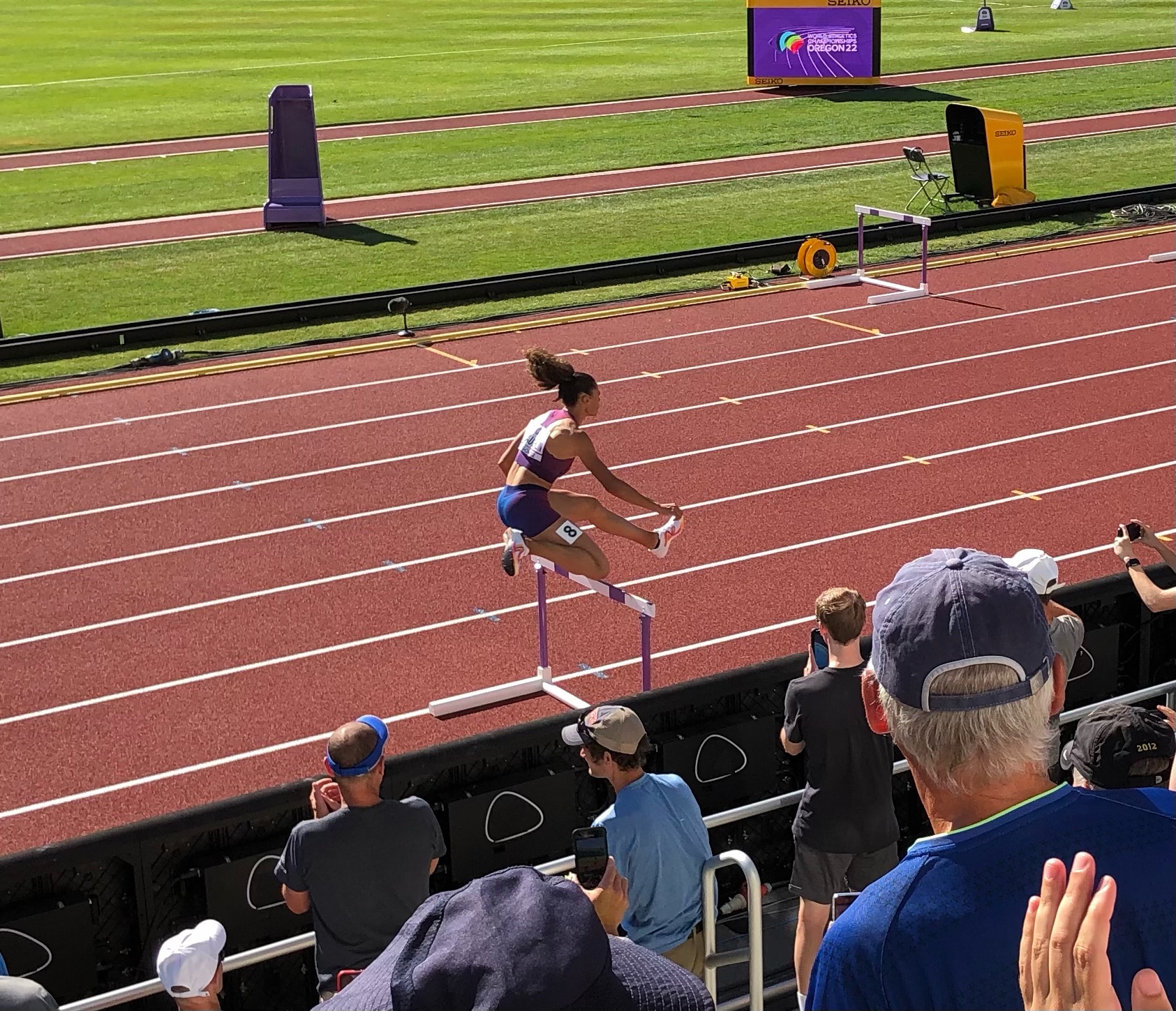 I mentioned above that our seats were on the east side of the stadium. But I didn't say anything about the heat. It was very hot with clear blue skies during our three days there. And we were facing the sun as it got lower in the sky. We were dressed for the weather, but it was HOT. And the lukewarm water from the water stations wasn't quenching our thirsts. We finally broke down and paid $7.50 each for a couple of ice-cold Diet Pepsis. It was the best Pepsi I've ever had!! And we had one every day!! Anyone need a souvenir cup?
Just to highlight how hot it was, during the long races they set up a water station on the track in front of us. I have never seen that done for a race on a track!!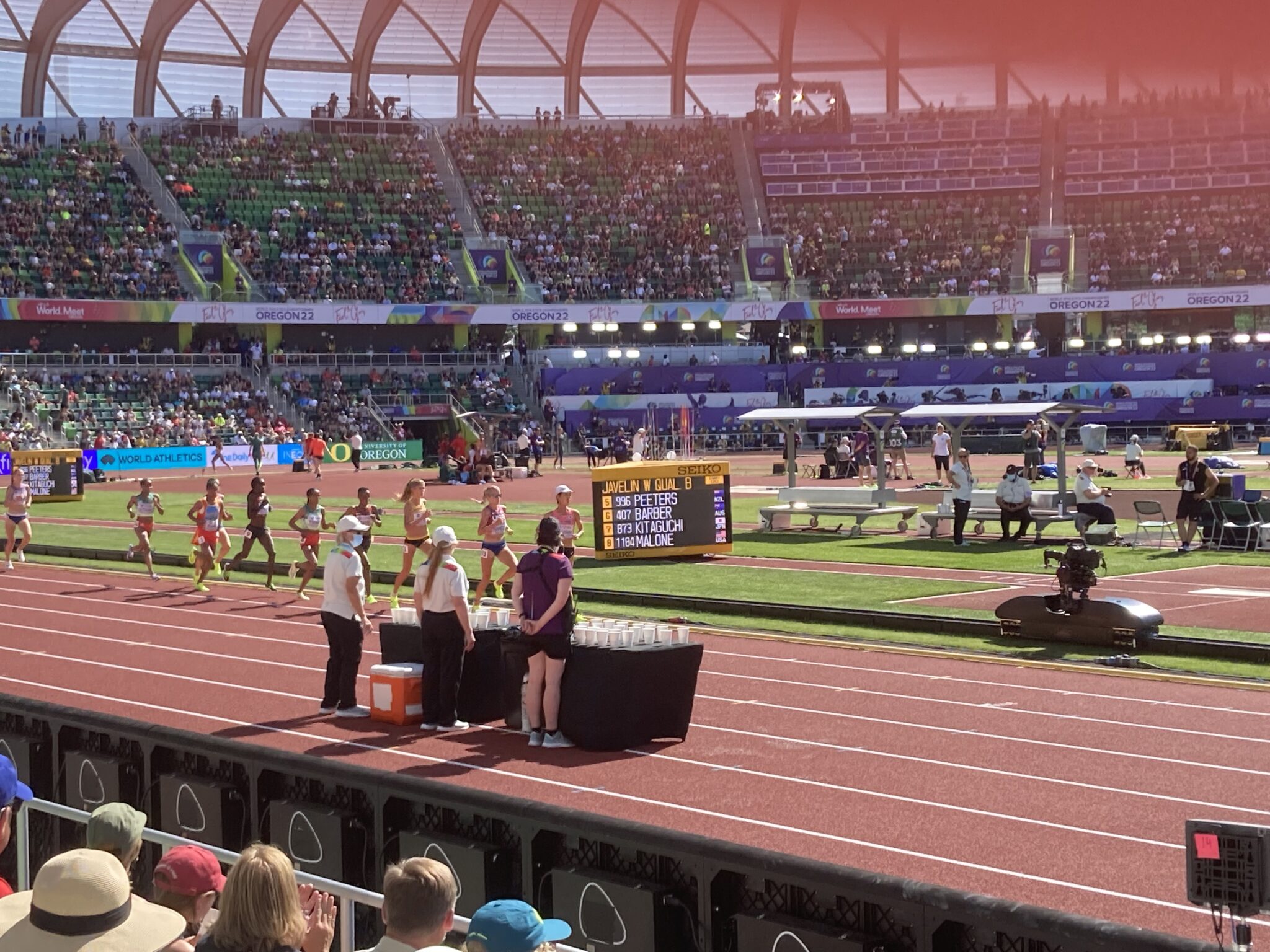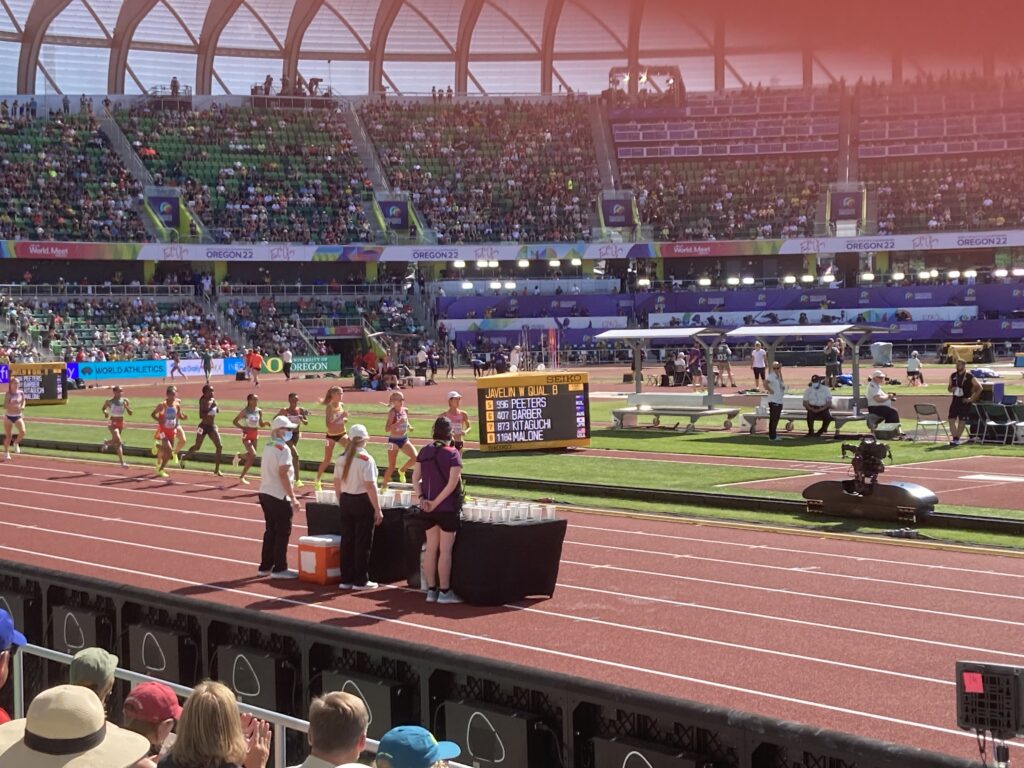 All in all, the track meet was a wonderful experience. It's possible this type of track meet won't take place in the USA again for a long time.
Covered Bridges
Since we had a little bit of time to kill during the days, we decided to explore the covered bridges around Cottage Grove. There were six in all, only one a working bridge. We could drive through another one, but it wasn't part of the road. They were nicely laid out and we found a good online guide that took us to each one.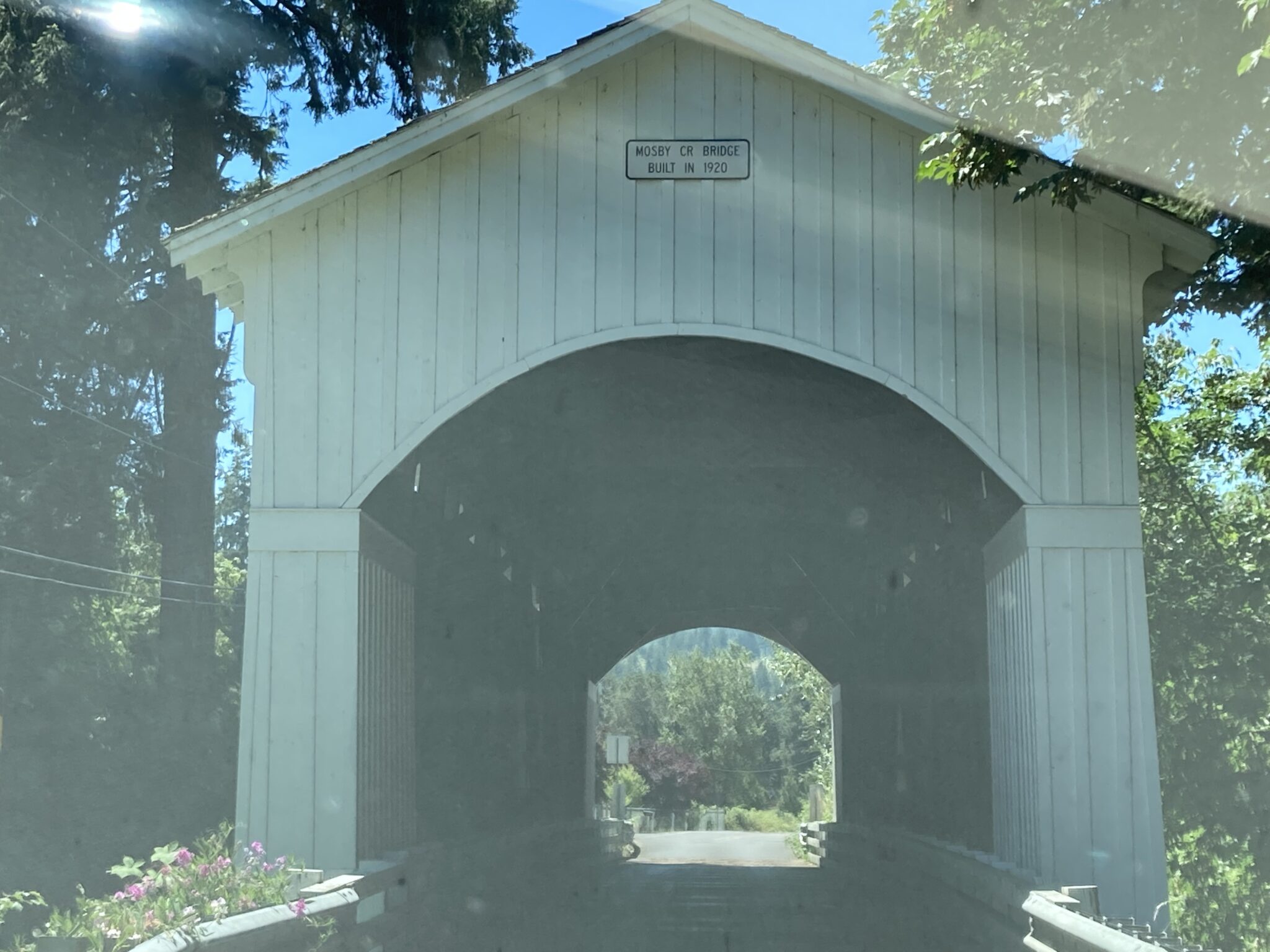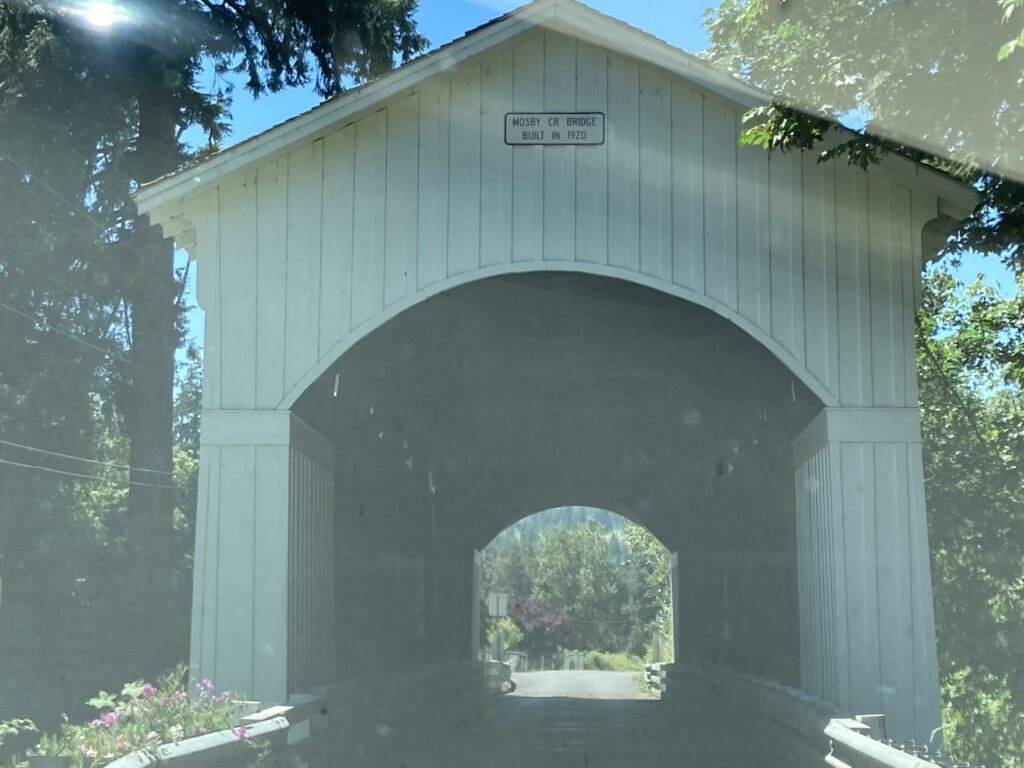 What's next?
I had hoped to only need two parts for this vacation recap, but this one is long enough for now. Still to come is our trip to Washington and the drive home. Thanks for following along. Stay tuned!!