I don't usually think to make monster cookies because our grandson is allergic to peanuts. But on our way home from visiting them recently, we stopped to get gas at a place that also sells the greatest cookies. One I picked out was a monster cookie and it reminded me that I actually have a great monster cookie recipe.
Recipe history
2006 was a big year at work. We were installing a new general ledger system and the project was so large, we had multiple teams working on very specific aspects of it. I was leading the team working on data conversion.
We had a great team and it seems, lots of bakers!! That meant lots of eating. I think that's also when the ever-present candy basket came to be. It was not a good time for weight management!! But it helped with the high stress of the project.
Monster cookies were one of our better treats. They were made by an intern assigned to our team. Her name was Chadee and she was the sweetest person. She was also very smart and we loved having her on our team.
Since I love finding good recipes, I asked Chadee if she would share it. She did and I still work from the email she sent me. So I can tell you I've had this since Monday, July 31, 2006 at 6:58 AM. We were at the tail end of the project by then. July was our big transition month.
Chadee eventually came to work for the company as a full time employee, but this was after I had moved to another area. Sadly, she developed cancer and died not long after that. She was way too young.
I am so glad I pulled out this recipe. It brought back a lot of memories. And I will now always smile and think of Chadee whenever I make these cookies.
Monster cookie recipe tips
You will love these. Tim actually said he thought they were the best cookies I'd ever made. Wow, that's saying something!! They stay nice and chewy for days (if they last that long).
I got 54 cookies out of this recipe and I made half a batch!! So, the recipe I'm giving you below is actually half of the original recipe. (That explains why it includes 1/6 cup of brown sugar.)
Feel free to double it, but I assumed you'd be like me and prefer a smaller batch. Even so, we ended up freezing about half of them.
One bonus with these – they don't include flour – so you can consider them gluten free. Just make sure your oats are gluten free. Not all of them are. Weird, I know. You just never know when gluten sneaks into something.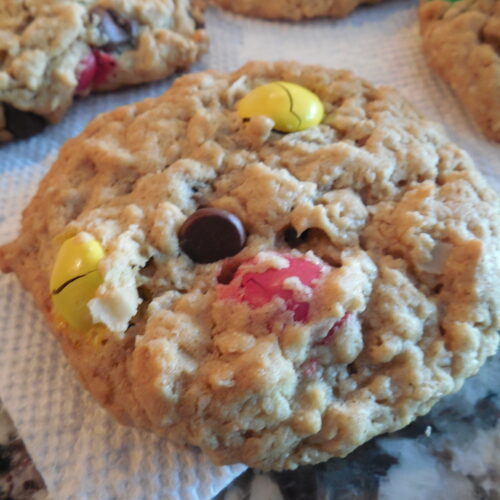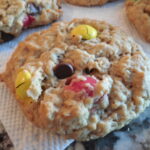 Monster Cookies
This cookie has everything you love – peanut butter, chocolate, M&Ms. What could be better?
Ingredients
1/2

c.

butter

(softened)

1 1/3

c.

peanut butter

1 1/6

c.

brown sugar, packed

1

c.

granulated sugar

3

eggs

1/4

t.

vanilla extract

4 1/2

c.

rolled oats

2

t.

baking soda

1/2

bag

semi-sweet chocolate chunks or chips

1/2

bag

peanut butter M&Ms
Instructions
Cream butter and peanut butter together.

Add the sugars and mix well.

Add eggs one at a time, then add vanilla.

Mix oatmeal and baking soda in a separate bowl and then stir into the batter.

Add chocolate chunks or chips and M&Ms. (Note: mixing the chunks and M&Ms together before adding to the batter helps them evenly distribute.)

Drop heaping teaspoons onto cookie sheets. (I used parchment paper on my cookie sheets.)

Bake for 12-15 minutes. Let sit on cookie sheet for 5 minutes before removing.
Recipe Notes
Recipe dedicated to Chadee Deen
www.retiredintrovert.com