A year ago, I wrote about attending Stamp Joy but it was virtual due to COVID. This past weekend, I attended in person. A great experience, but if I'm honest, I really like the virtual ones the best. I'll tell you more about that later in this post.
A little background
I first discovered Taylored Expressions a little over two years ago. It seems longer than that, but I went back to see how long I've been spending money there and my first purchase was in July 2019. I had been making cards for a long time, but when I saw on Instagram a card someone had made, and she referred to Taylored Expressions, I had to check it out. Oh boy, that was the beginning of a new type of cardmaking for me.
Shortly after my first purchase, I attended a class. TE is located in Ankeny, Iowa which means I have access to their studio. However, they are primarily an online store, and it's become much easier for me to order items that way, especially during the pandemic, when they shut down their studio. And they offer free shipping on orders of $50 or more. I can always find $50 worth!!
The class was great, but I realized I was lacking so many of the tools we were using in the class. I started following TE and began amassing the supplies a little at a time. It was too early in the game for me to understand what Stamp Joy was and besides, I wasn't sure about attending something like that. Most people seem to come with a friend, and I have no friends who are into crafting, especially cardmaking.
When COVID forced them to offer Stamp Joy virtually last year, I jumped at the chance. I'd been buying products for over a year by then and my confidence level was greater. Plus I wanted access to all the exclusive products and other goodies. It was such a hit, they offered another virtual event in March 2021.
This year, mostly back to normal
TE was excited to offer an in person event this year. I was hesitant at first about attending in person. But I quickly decided I would regret it if I didn't go. After all, some people were traveling thousands of miles to come and my trip was only nine miles to the Iowa Events Center. I didn't have all the travel related costs to cover. How could I not go?
I'd estimate there were around 250 people in attendance. I have no idea how that compares to past events.
We had to register two months ahead of time so there was lots of anticipation. They'd announce details in bits and pieces during those two months. The week before, they offered 10% off all purchases for Stamp Joy attendees, and for those that wanted it, delivery at Stamp Joy.
They had a small store at the event, mostly focusing on the products used in the 10 "make and takes" and the class. And they offered 20 exclusive items that would only be available through the Stamp Joy store. Everything was automatically 10% off and in our goodie bag was a coupon for 10% off and free shipping online through October 14. Many opportunities to buy what we needed at reduced prices.
Stamp Joy itself
Stamp Joy is a two day event (Friday and Saturday) and the first day is a long one. I left home around 7:30 AM and didn't get home until 8:30 PM, and I even left an hour before it was over!! I hadn't slept well the night before (you know me, lousy sleeper) so I was totally wiped out Friday night.
They provided us with breakfast (rolls, breads), lunches, and Friday night dinner. Oh, and a sweet treat at the end.
Most of the activity was in two combined ballrooms. This is where we had our opening and closing sessions, lunch, dinner, and all the "make and take" stations. After dinner, they also provided live entertainment. And throughout, they gave out fabulous prizes. I never win, but there's always hope!!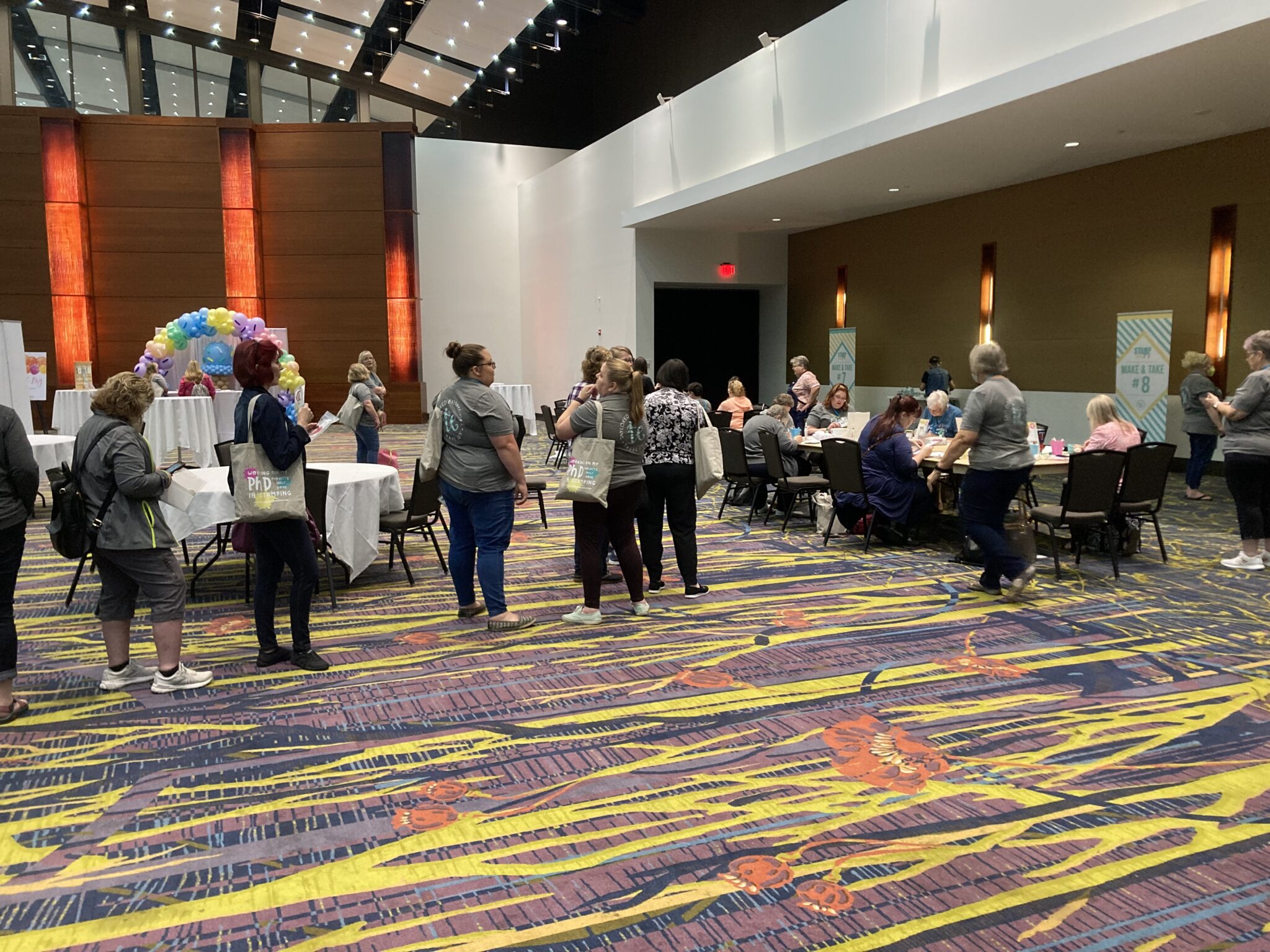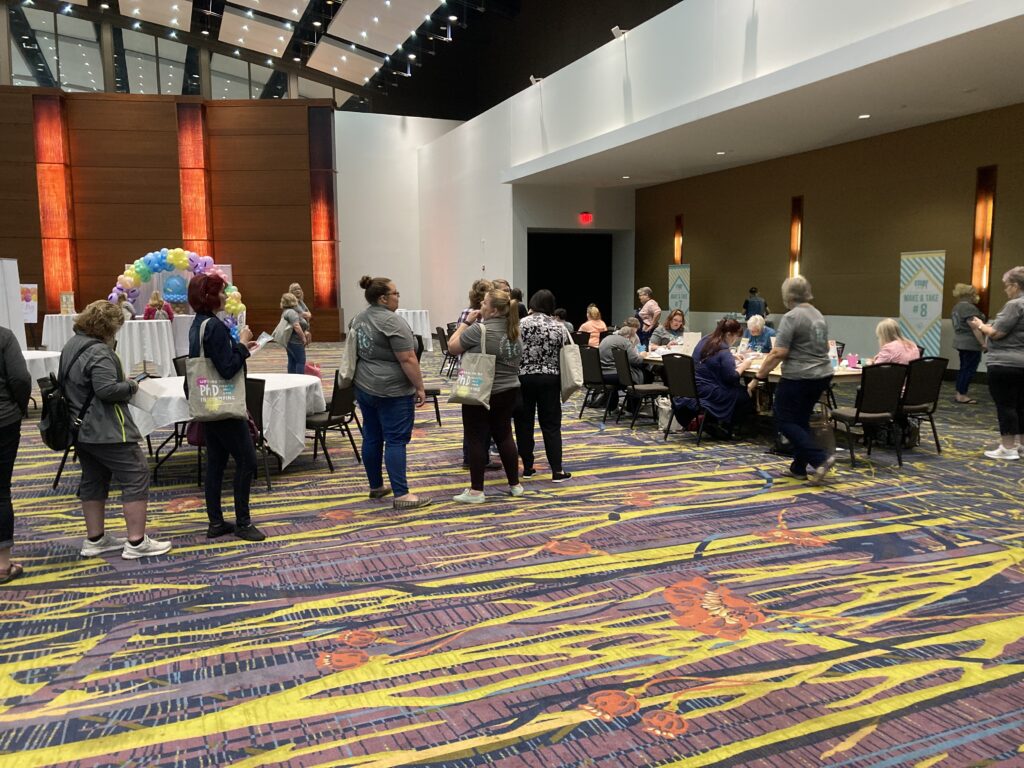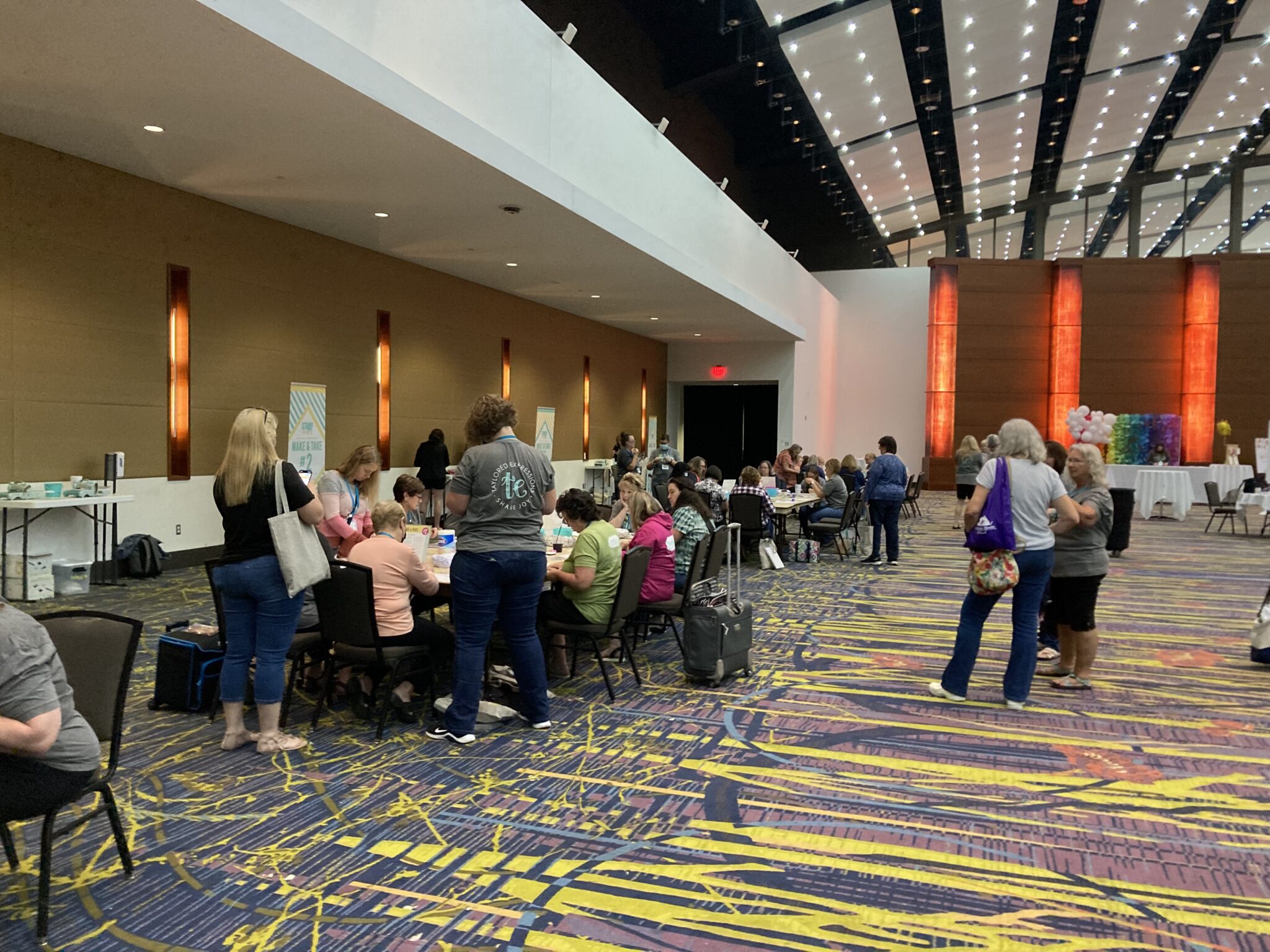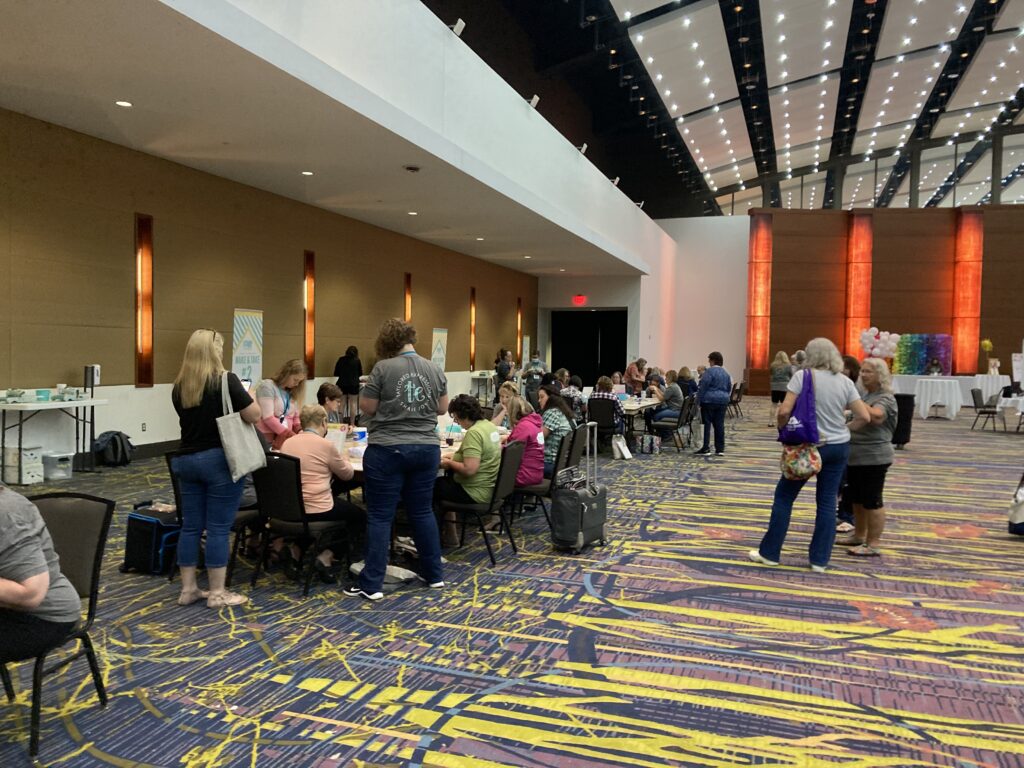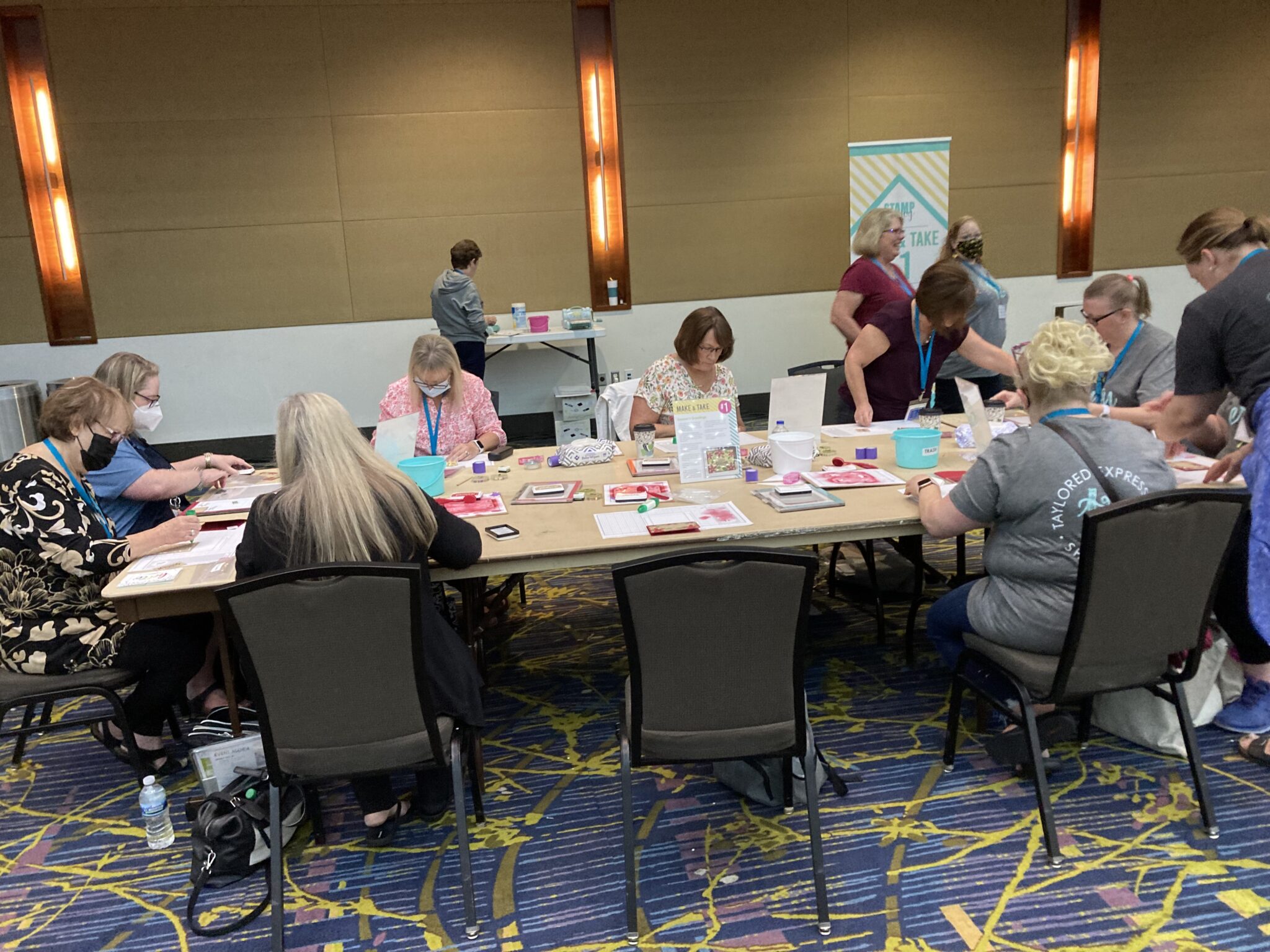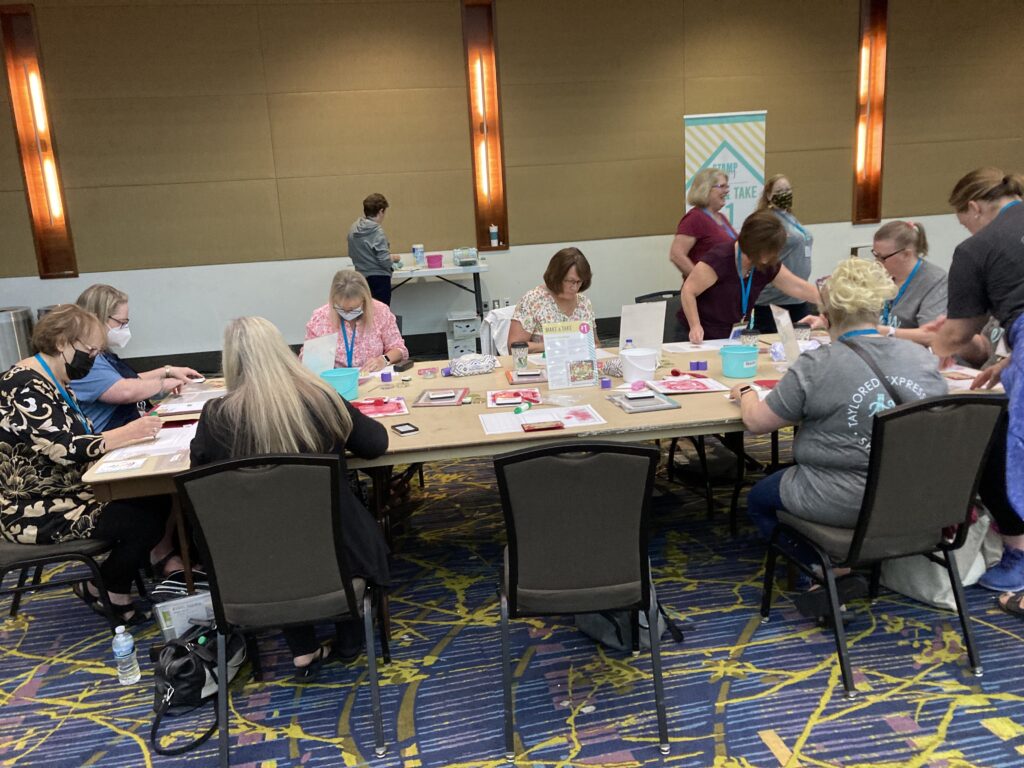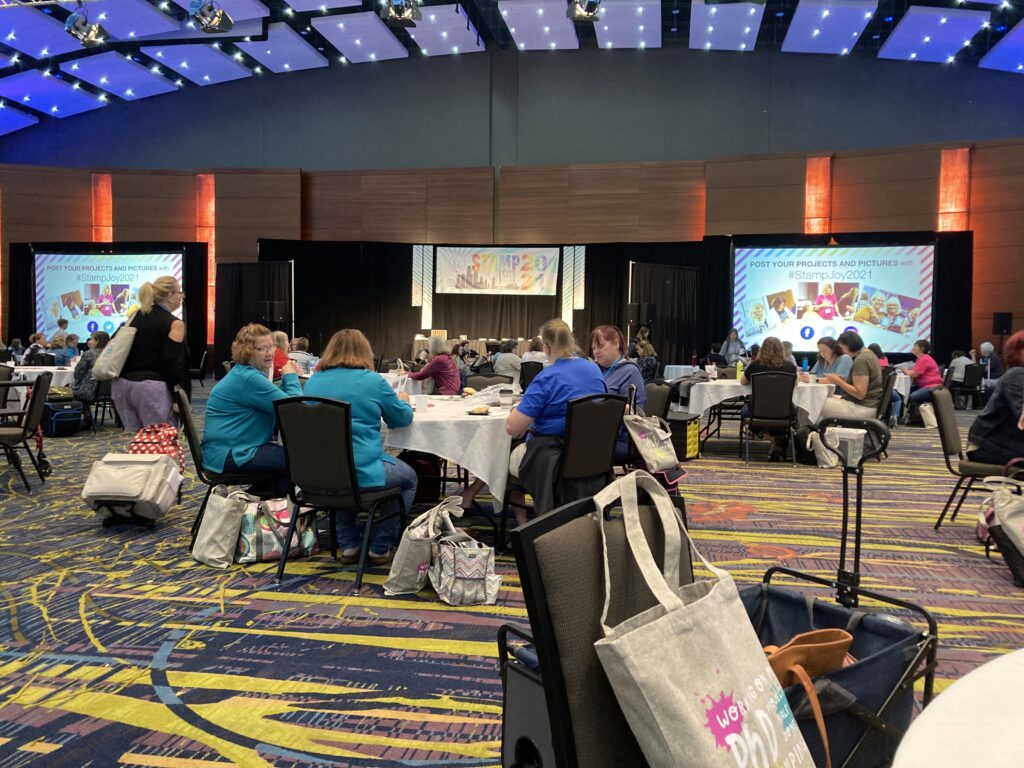 A class is offered three times – Friday morning, Friday afternoon, and Saturday morning – at an additional cost. I took the Friday afternoon class. It gave me the morning to get a feel for how the event worked. The class includes exclusive products that you use to create four cards.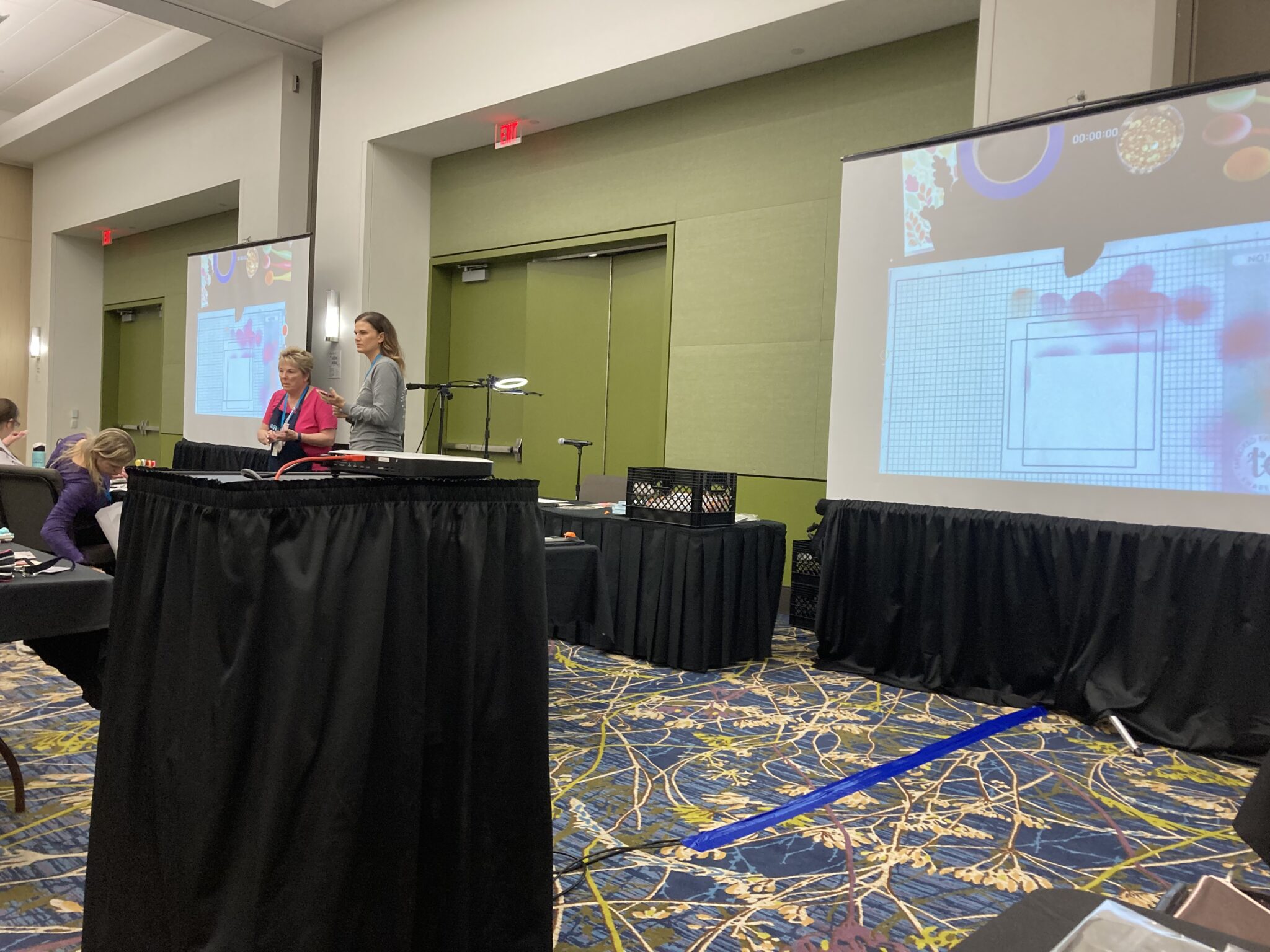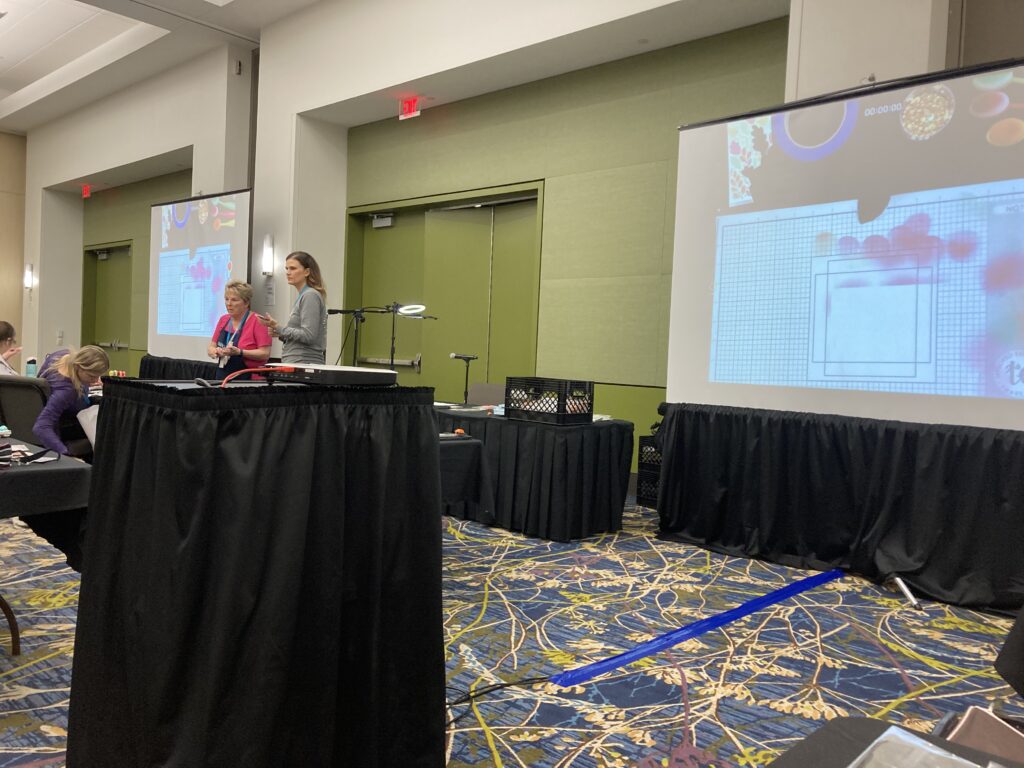 The rest of the time, I tried to find space at one of the 10 "make and take" tables, which always seemed to be full. But there were four demo stations, showing off some of the Stamp Joy exclusive products. I hung out there some of the time and of course, was enticed to buy some of these products.
I managed to fit in 5 of the "make and takes" on Friday, which I felt pretty good about. I wasn't sure how to manage my time to ensure I got everything in without finishing too early.
Before dinner, we had time for appetizers, drinks, and a card swap. I took 28 cards and it was a frenzy of people swapping cards. It's fun to see how others come up with fun designs.
Here are the 7 designs I used for my swap cards. I made 4 of each one. The flamingo cards were the first to go. What are your favorites?
Saturday started the same as Friday, but my focus was on "make and takes", shopping, and the designer Q&A panel. The panel was offered three times Saturday afternoon, with a different mix of designers at each one. It was fun to ask them questions about what they do and how they do it, as well as to get to know the more personal side of their lives. I went to two of the three sessions.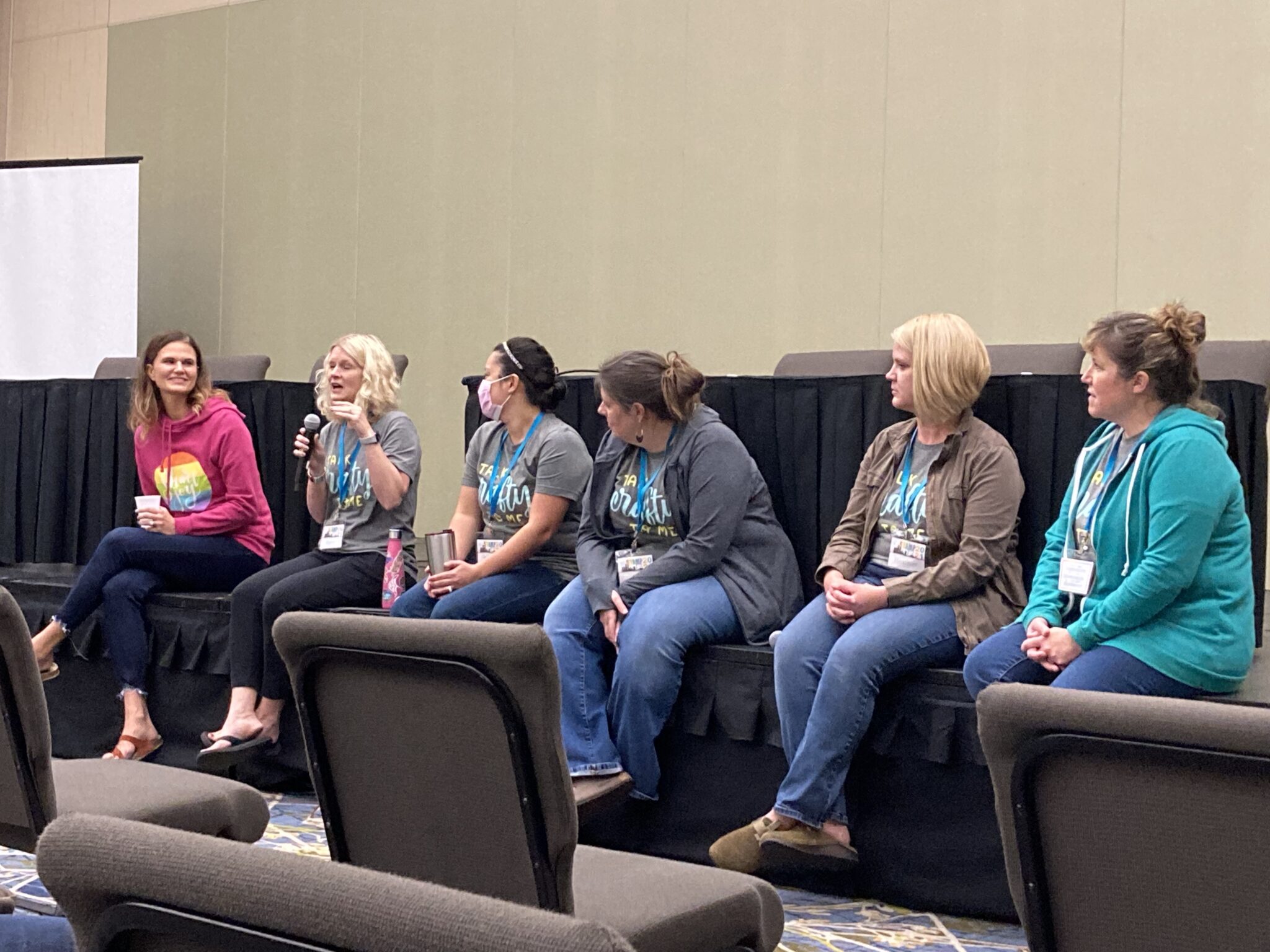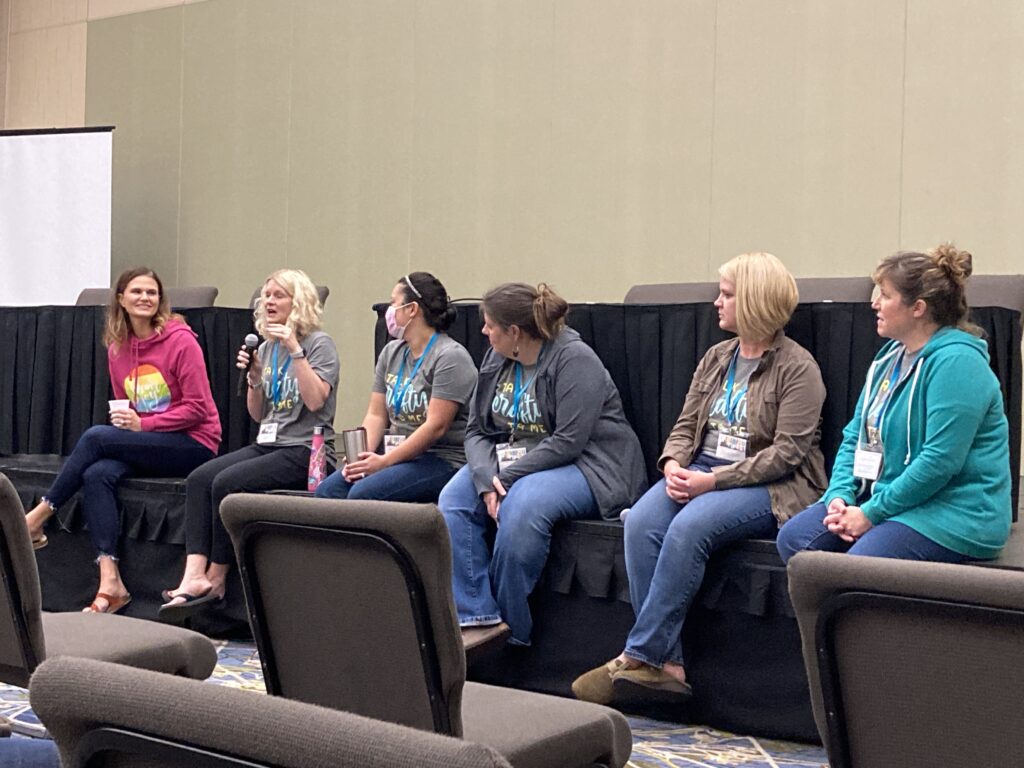 In the last session, I went to what they called Craft Olympics, which was organized by the owner's husband (who's also the company CEO) and their general manager (a guy). They had three teams with six people on each team competing in silly games such as building the highest tower of stamps. Overall, there were nine teams and they needed a "sudden death" to finalize the winner. All teams were given exclusive stencils.
In person vs. virtual
I said at the beginning I think I prefer the virtual event over in person. Here's why:
I like working in my own studio with my own stuff. I had a hard time finding glue or tape runners that worked so I used my own most of the time. And they send you all the stamps instead of making you share them with everyone else. By the end of the two days of in person Stamp Joy, the stencils were covered in ink and the placemats were sticky with glue. Some of my cards were affected by this.
I like the way "make and takes" are handled online. We all make the card together, instead of rotating in and out of stations with everyone at various levels of completion. I also don't like the feeling of being rushed because someone is standing behind you waiting for your spot. And the instructions are posted at the tables, but they had to be shared. I like having my own set of instructions right in front of me when I'm at home.
I can fill in my downtime more easily when I'm at home.
I don't have the added time of driving somewhere. I can tune it at the last minute and then be finished when we sign off.
Friday is MUCH shorter. All that's offered on Friday is a morning and an afternoon class. Three hours of time.
Virtual is cheaper, about $100 less.
The classes and all the "make and takes" are on video, so they can be watched again and again after Stamp Joy.
What do I like about in person?
It's good to get out of the house and meet people. It's funny that the people I connected with the most are actually from around here. We've exchanged numbers and hopefully, we'll get together at some point.
I'm proud of myself as an introvert that I took advantage of it. This was very much like some work conferences I used to attend. However, it was much easier to find things to talk about with a group of people focused on cardmaking. And I'm confident enough that I don't need to be with someone all the time.
I did like the opportunity to shop and there are more exclusive products. Virtual has nothing like the demo stations for showing you these products.
It was fun seeing the designers in person and hearing their stories.
While it was hard at times to get a spot at one of the "make and take" stations, it was a little more relaxed in terms of trying to keep up with the person walking you through things online.
We made ten unique projects, not all cards. One was earrings and the other a treat box. In the virtual version, we made seven unique cards, with four cards of one design, for a total of ten. We were also able to make some things that wouldn't have been easy virtually, due to sharing of stamps and equipment.
What's in store in 2022?
I think TE would be crazy not to offer a virtual Stamp Joy, because based on what I've heard, four times more people attend virtual than in person. Sure, they have to mail out all the stuff ahead of time instead of giving us a packet when we get there. But there are no event space or food costs for them to cover. It's cheaper for participants if they don't have to travel. People from all over the world can attend virtually at the same cost.
Next year, a virtual event and an in person event are planned. The virtual one is in March and the in person is in October. I plan to attend both. It's just too much fun to pass up in any form.