I started scrapbooking sometime in the 1990s. It was a fun way to organize pictures, especially those from travel or a specific activity.
We created a beautiful book for my mom and dad's 50th wedding anniversary. It started out simple but ended up becoming much more complicated. It took us 6 months to complete, as we mostly worked on it during weekends, but it's a priceless piece of history and well worth the time it took. It began as a surprise for them, but they ended up contributing to it as well, when we saw how long it was going to take.
Eventually, I began making cards, which was a more day to day use of these skills. I never was very good at stamping. I could never get the right amount of pressure or ink and they never had that crisp look I like. As a result, I didn't do much with stamping. (In a future post, I will write about my cardmaking journey in more detail.)
A new discovery
Then about a year and a half ago, I discovered Taylored Expressions. It was through Instagram, when I saw the beautiful card someone had created. She mentioned Taylored Expressions in her post. I had to check it out.
Come to find out, TE is located in Ankeny, Iowa, which is not far from here and where I graduated from high school and my family still resides. How did I not know about them?
They're basically an online shop but they do have a small studio. It's only open Tuesday and Thursday afternoons for shopping (and make and takes) and it's also used for classes. (Right now, no classes are being held and you have to make an appointment to shop.)
I can't even remember what types of products I started with. I now have so many I've created a spreadsheet to keep track of them!! And even that hasn't always kept me from ordering something I already have. Ugh!!
Probably the most important part of this has been the exposure to different techniques and products. I learned I could become a better stamper by using a Misti. Now I can't imagine not using it. It allows you to position your stamps just right and because the stamp and paper stay in position, you can easily stamp the same thing again. No more inconsistent inking. And it's great if you're making multiples of the same card.
I've also learned that there's a very big quality difference between products. Everything from TE is the highest quality. You might pay a little more but it's definitely worth it. And because the owner, Taylor, is involved in everything, she knows exactly the kinds of special features make her products better and easier to use.
Stamp Joy (finally to the point of this story)
One of the things TE does every year is host what they call Stamp Joy. It's two days of creating and learning. I've read so many great things about it but haven't participated, even though there would be no travel for me, like there is for so many. It's usually scheduled in early October.
This year, with COVID, they decided to do Stamp Joy virtually. Actually, perfect for an introvert like me. I could participate in the comfort of my own home and not have to worry about making small talk or feeling uncomfortable with my skills (or lack of).
It's such a big deal they even did a virtual opening of the Stamp Joy kit the day before it started. We all were asked to post a picture of ourselves in the apron that came with it and the kit itself. I had already gone through my stuff more than once. I was too excited to wait.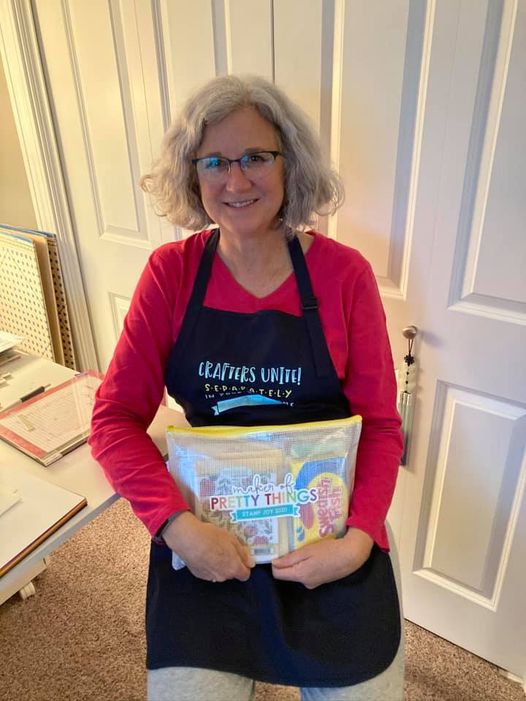 We received all the papers, stamps, stencils, and embellishments we would need, with a few exceptions. We even got envelopes and seals to use for each card we made, to eliminate any reason not to send them to someone. We were given a supply list way ahead of time for anything we needed to have on hand, so I was well prepared.
The first day – class
Day 1 (Friday) consisted of three two-hour classes held throughout the day. These classes are considered add-ons to Stamp Joy, so they aren't included in the price. But so worth the extra money. The benefit of being virtual was you could participate in all three sessions, if you wanted to.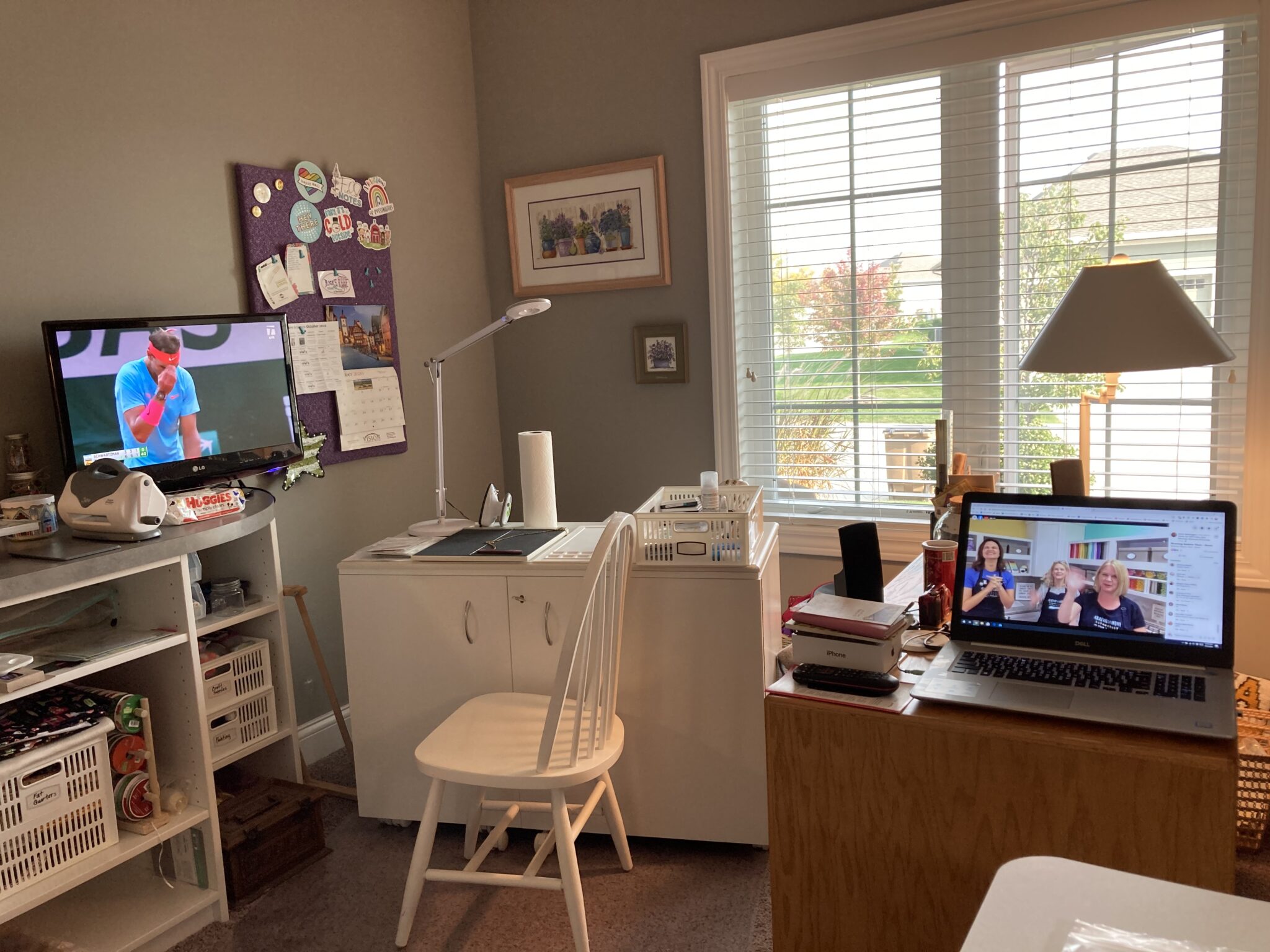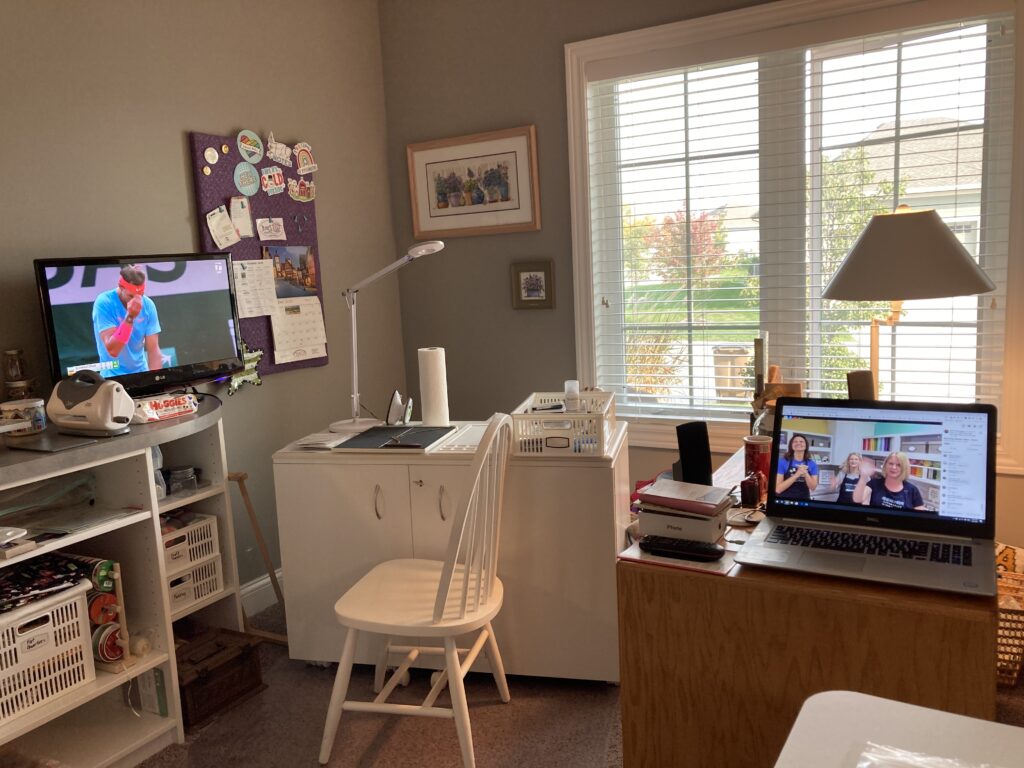 We made 4 cards in two hours, which was a little rushed at times, especially as I like to clean my stamps after I use them. We used mostly the same stamps but created four different versions of cards.
Here I am with the four cards I made on Friday. We were again encouraged to share a picture of ourselves from that day. Note: All of this was done through Facebook and groups. You were only granted permission to join a group if you had paid for the event.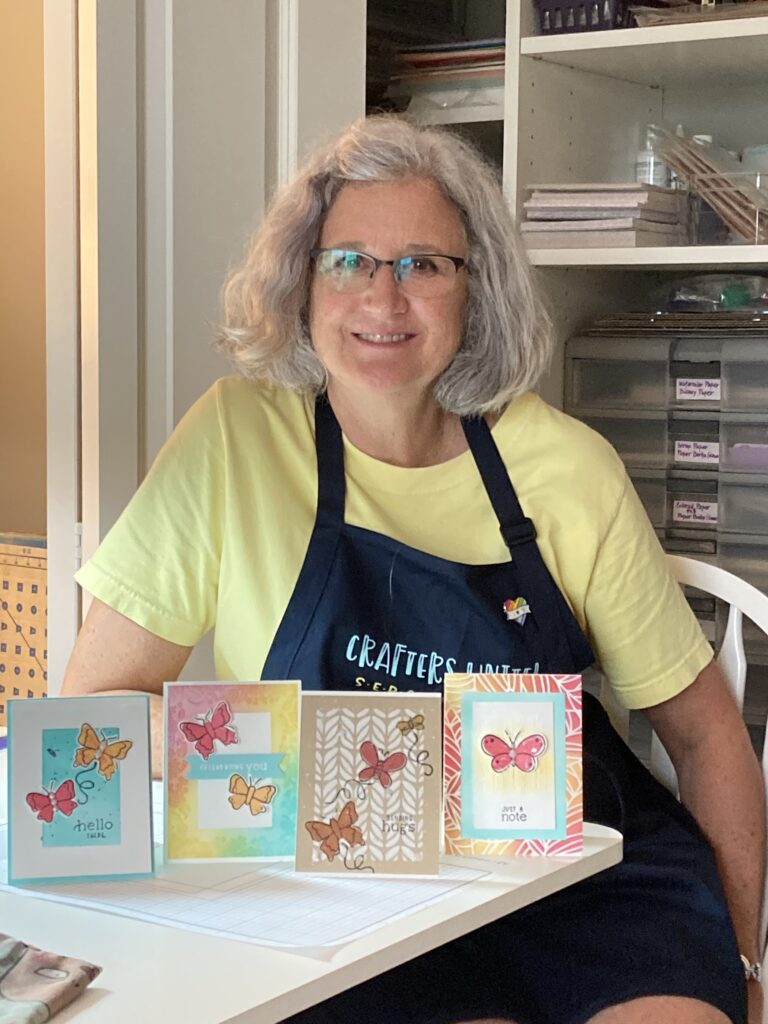 The second day – Stamp Joy
While the second day is billed as "make and takes", it's much like the class from Friday. The only difference was, it went a lot slower and there were more breaks. Almost too many. We were told we'd be busy from 9;00 am until 6:00 pm that day. Well, we typically had at least 15 minutes of downtime each hour. Sometimes, that was nice. Other times, I found myself killing time.
I set up various workstations throughout my studio so I knew where everything was and I had plenty of room to work. I even closed up my sewing cabinet and used it to store my supplies, which I'd already gathered and put in a basket.
We made 10 cards on Saturday. And they were all very different. I learned new techniques, some I'd been hesitant to try. Like a shaker card. Now I can't wait to make more of them!!
We did some creative things with stenciling, combining two stencils for different looks. Also, watercolors. I am now ready to experiment more with them. I like so many of these products because I can feel like an artist even though I'm not!!
All throughout both the Friday and Saturday sessions, they drew names for prizes. These were fabulous prizes and I wish I'd won one. But when there are 900 people participating, what can I expect? Yes, 900. And that was after they cut off registration. Being virtual, there were people all over the world now able to participate.
We did each receive a personalized gift, which I haven't had a chance to use yet but I will.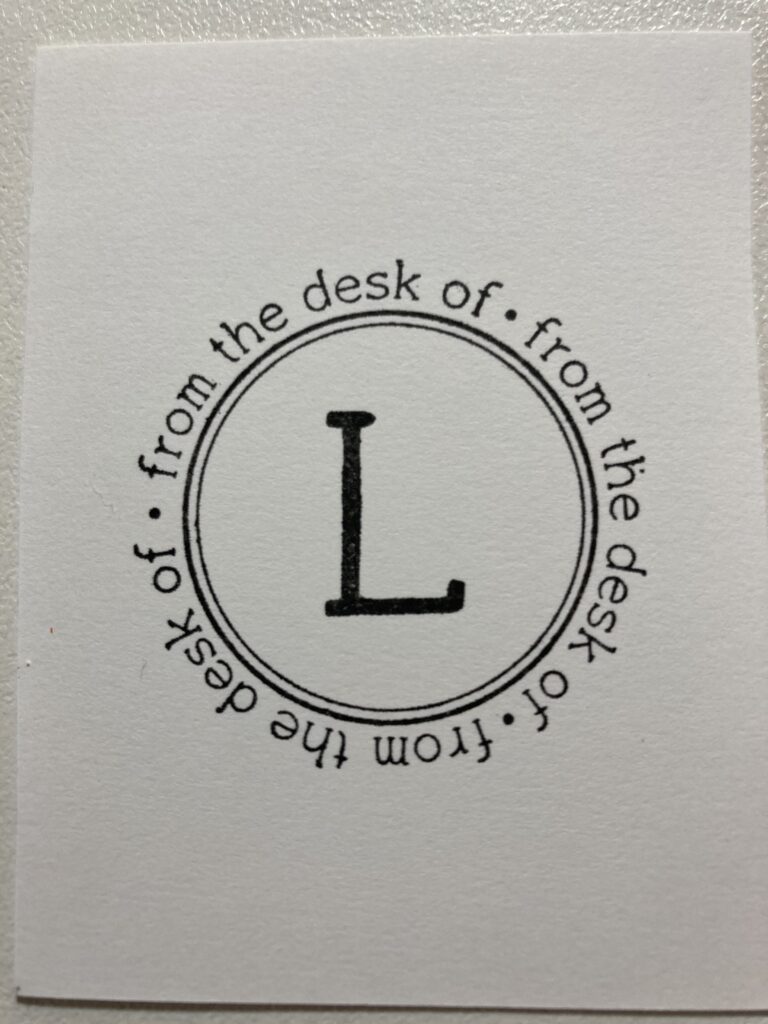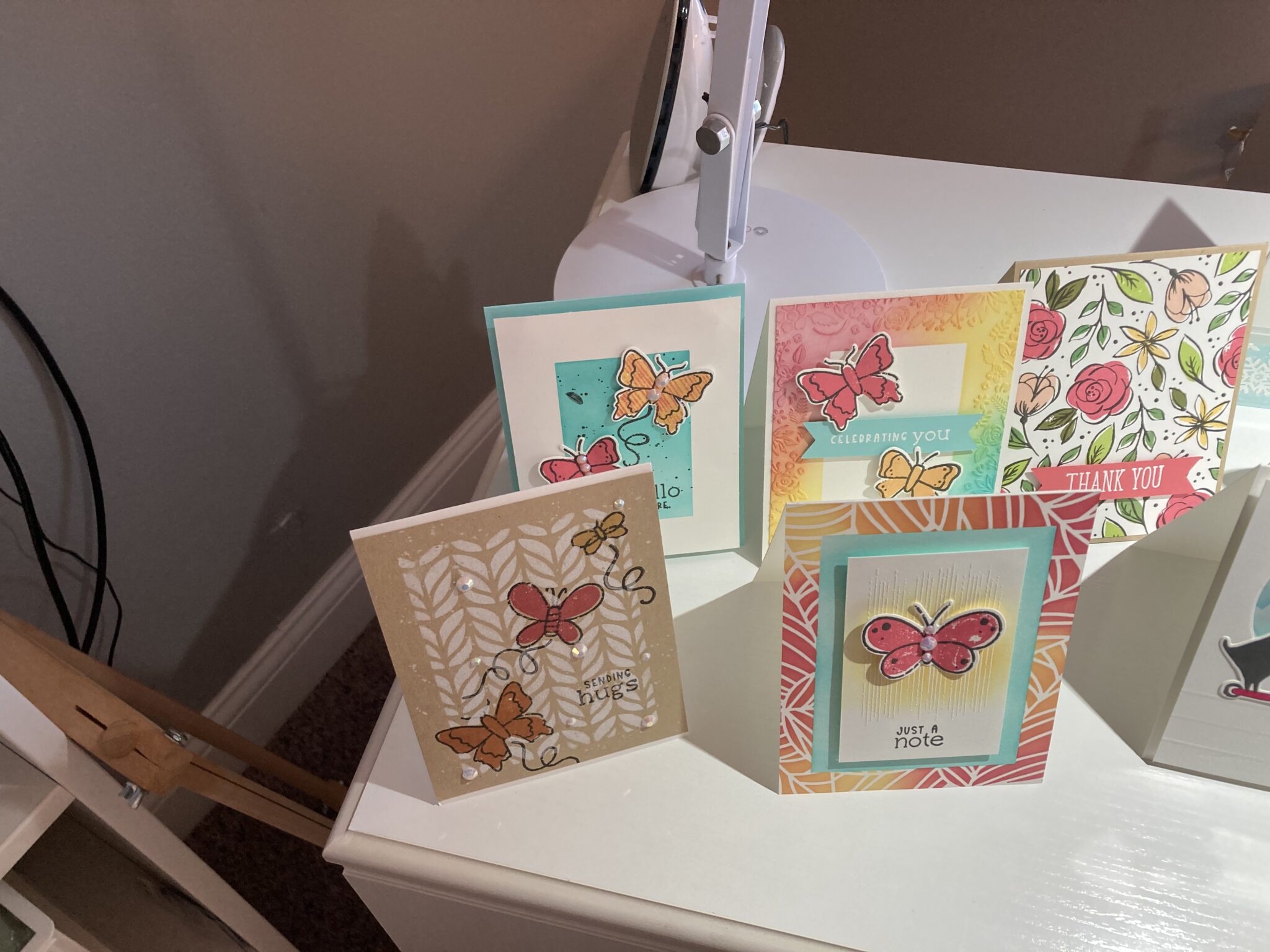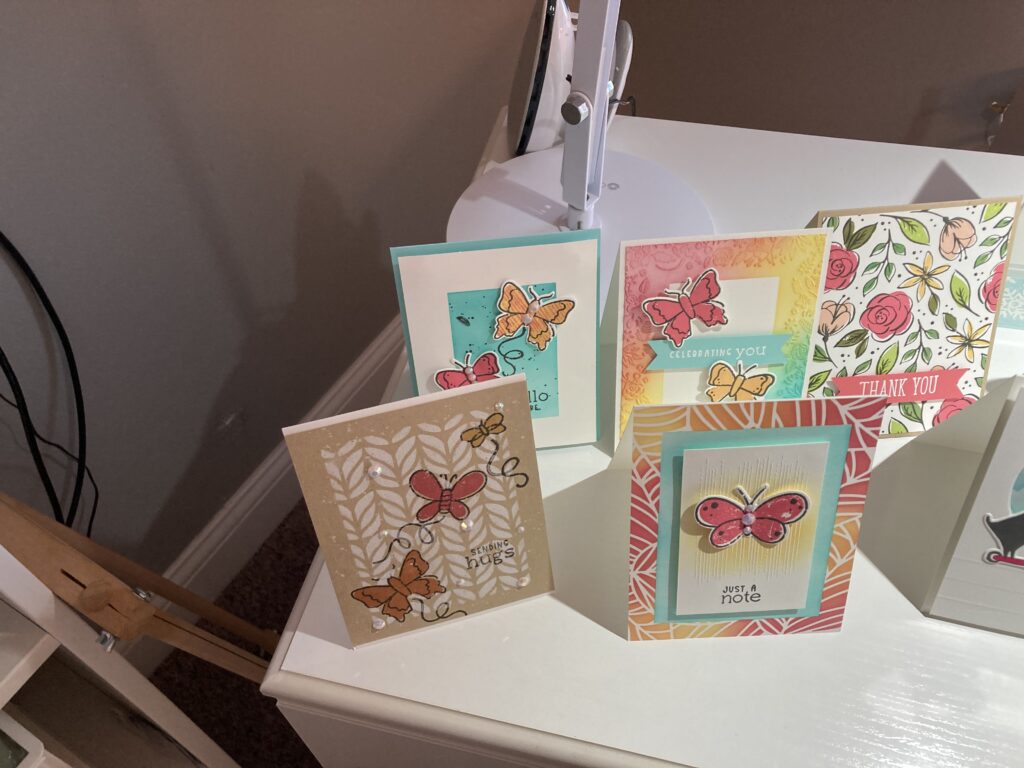 They're all so pretty I almost hate to give them away, but TE's mission is to Share Joy, which means I need to send these to others. And I will.
This was a wonderful experience for me. With all the techniques and products, it's easy to become overwhelmed.
I've attained Super Fan status at TE, which simply means I've spent a lot of money there. But it gets me early access to new releases and I earn extra Crafty Points that convert to dollars for applying to my orders. The early access is the most fun, as I can see what's coming, order, and have it in my hands before the general release. And that's important in some cases, because the products are very popular.
I've taken a bit of a break from cardmaking these last two weeks since Stamp Joy. Mostly because before Stamp Joy, I made 67 cards for my mom's care center!! Wow, that really stretched my creative skills. But it was actually kind of fun.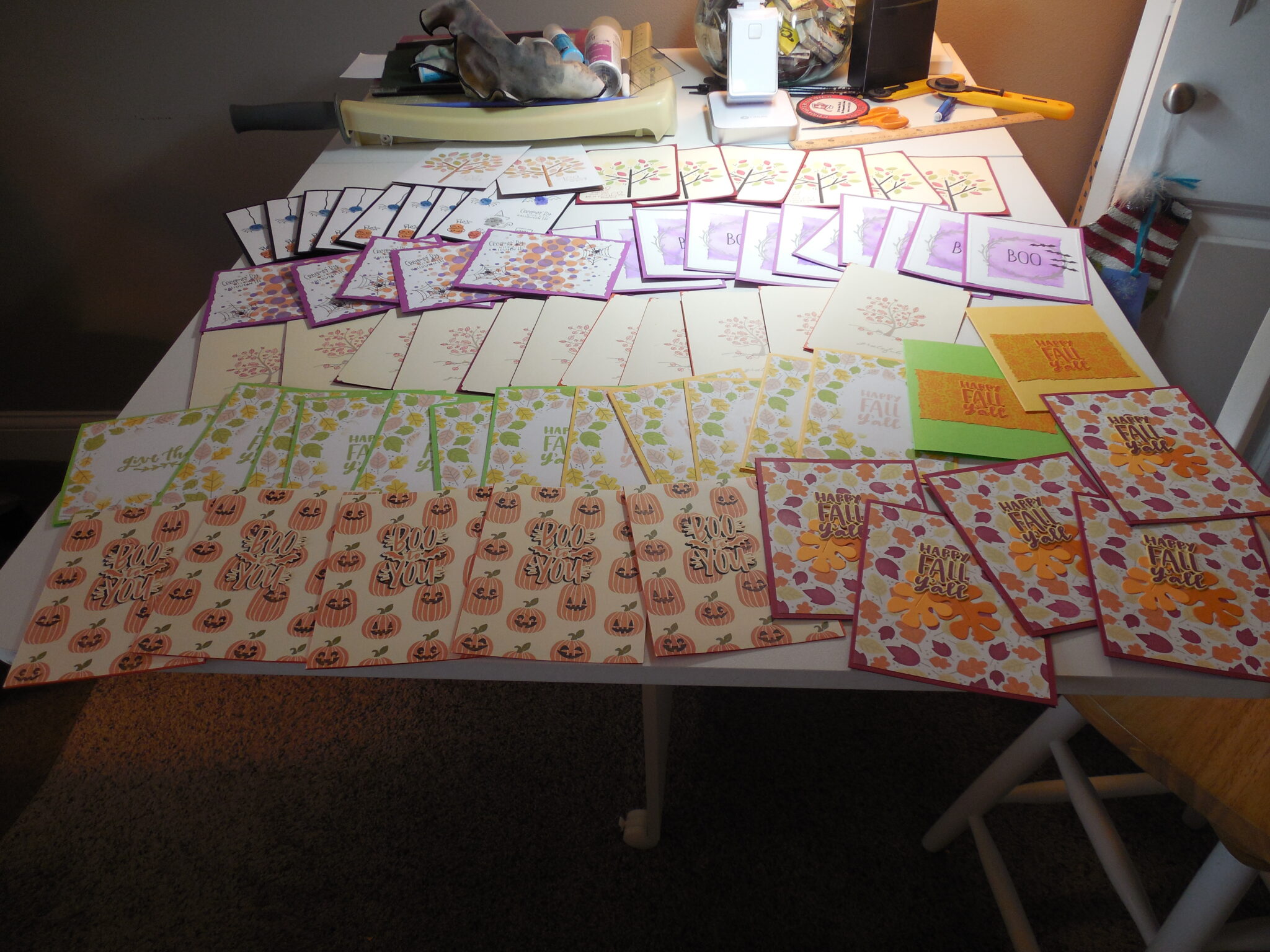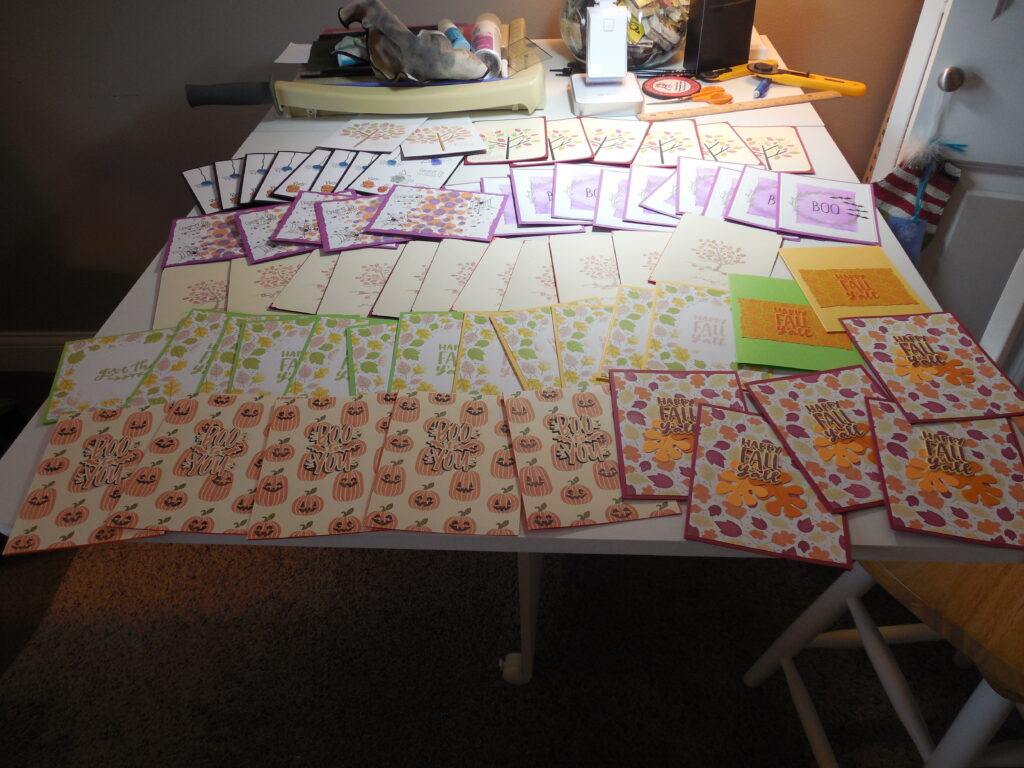 Learn more about Taylored Expressions
If you're interested in learning more about TE, check out their website. They have more than just products for making cards too. If you like to make leather earrings, check out their Designer Dangles. Sign up for emails related to new products and demos.
You can also follow them on Facebook to keep up with the latest. Taylor does a live Facebook feed every Tuesday and Thursday at 1:00. Believe me, she's sold me a lot of things this way!! Just request to follow Fans of Taylored Expressions. You'll also see what other people are making which is great inspiration!
And I can't talk about TE without mentioning their excellent customer service. On Stamp Joy day, I sent in an order at 1:49, they fullfilled it at 2:02 and it was delivered to my door on Monday morning. Now that's service!! None of the other places I order from can claim this quick turnaround.
Just remember the following: