A little over a year ago, I wrote about how I had made one of our bedrooms into my studio. Not perfect, but it was working OK.
For my birthday this year (in April), I had asked Tim for a bike. With COVID going on, we didn't go out to buy anything. In July, we started talking about it again. We talked about the cost, not just of the bike, but also everything you need to ride a bike these days – helmet, special shorts, etc. And then Tim nicely tried to convince me that I might not ride it as much as I thought. Should I feel bad? Or does he know me too well?
What does this have to do with my studio? Well, he thought instead of a bike, I should get someone to help me design a more usable studio. I didn't have to think too much and decided to go with the studio upgrade!! The bike, etc. would have been cheaper. 😘
I spent very little time researching design consultants before one day, in the mail came one of those booklets advertising local businesses. On the back page was an ad for Closets by Design. While I wanted more than a closet upgrade, they looked like a viable option. And, they were having a sale – 40% plus an additional 15% off. It was fate.
After checking them out online, I gave them a call.
Before the upgrade
In case you don't remember, I'm including a few "before" shots of my studio.
For the most part, it was working but I was definitely running out of space, both for storage and for work space. Even the "office" part of my studio was becoming unweildy.
The design process
It started with the local franchise owner showing up and listening to me talk about what I needed. What I especially liked was that he didn't want to replace anything I already had. So, my sewing cabinet and craft table, as well as my desk, would be worked into the plan.
He suggested we do something in three places – the closet, beside my desk, and on the wall across from my desk. Everything would be designed around my needs and the furniture I have.
We designed one section at a time, talking about what would go into each spot so he could suggest options such as drawers or certain sized shelves. And we needed to fit things in like the printer, the TV, and the cabinet drawers I already had in the closet.
We spent probably three hours completing the design, as he made suggestions and I added my thoughts. It was definitely a collaborative effort and I appreciated his ideas when considering my needs. If he couldn't accommodate something, he told me. So, we worked around it.
We ended up with three designs with dimensions, special features like drawers, special trim, and even a countertop. Installation would be in four weeks. I couldn't wait!!
During the upgrade
As you might expect, I had to remove everything from the room. Initially, I thought I would put everything in a tub and take it downstairs. But since it would only be a short term move, Tim suggested I just move it into the living room during the installation. He's so smart sometimes!!
So, here's what everything looked like during this time.
Just like when I moved, I didn't realize how much I had stuffed into this room!! It was also a good time to go through things and decide what I really didn't need anymore. Plus, I found things I'd forgotten I had!! Guess I need to go through things periodically just to remind myself.
Two young guys showed up to install the various cabinets. They had to carry in a lot of boards and set up a saw in the driveway. I didn't want to intrude too much, but I did sneak a peek when they went for more supplies.
At one point, one of the guys came out to ask me a question. When I followed him back to the room, I was shocked to see that the piece beside my desk was installed on the wall behind the desk and not next to the window, as was our plan. I had to tell him that was wrong.
So, they had to take it down and reinstall it on the correct wall. This meant putting back the baseboard they'd removed and left a small nail hole on the side facing the window. Not perfect, but better than being in the wrong spot!!
His original question had been about the holes for the electrical cords, which we still needed to discuss. They actually have some good solutions for that, so I was happy.
I decided to check on them as they were installing the second piece. It was on the correct wall, but not placed around the outlets correctly. It would also be too close to my sewing machine cabinet when it was opened, so I had to tell them once again that it wasn't right. More baseboard splicing. Grrr.
Once it was placed correctly, everything worked out great. The outlets were accessible and required only one hole to be drilled for cords. We'd allowed for my TV to sit on the end of the counter and it requires lots of cords.
Ok, that was done. No issues with the closet but then they didn't have many decisions to make. Whew!!
After the upgrade
Once everything was done, I was thrilled with it. It took me a little while to decide where I wanted things to go. And, I realized I needed some baskets or something to hold items, since I mostly have shelves. Fortunately, the shelves are movable.
Tim and I went to The Container Store to see what they had. I found the perfect baskets for what I wanted – various sizes and dimensions, stackable. They didn't have everything I needed in stock, so I had to order the rest online. If you're interested, they are the Chancellor baskets.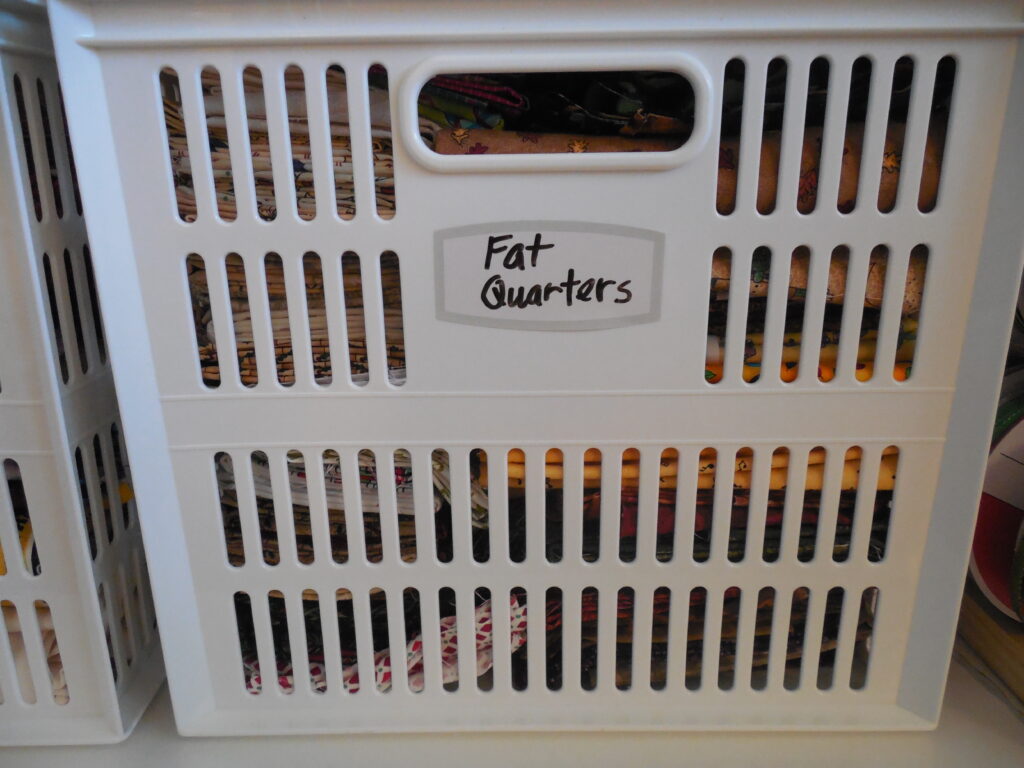 I also ordered some dry erase labels to attach to each basket. I thought I was being smart because then I could easily change the label if I put other things in a basket. Good in theory, but I've discovered they smear because they're placed right under the handles where I tend to put my hand!! Oh well, I'm still happy with my choice.
In addition to these baskets, I wanted something to hold ribbon. I'd always stored it in a drawer as well as other containers, so it was never easy to find what I wanted and it was easy to forget what I had. I found these wonderful ribbon holders on Etsy.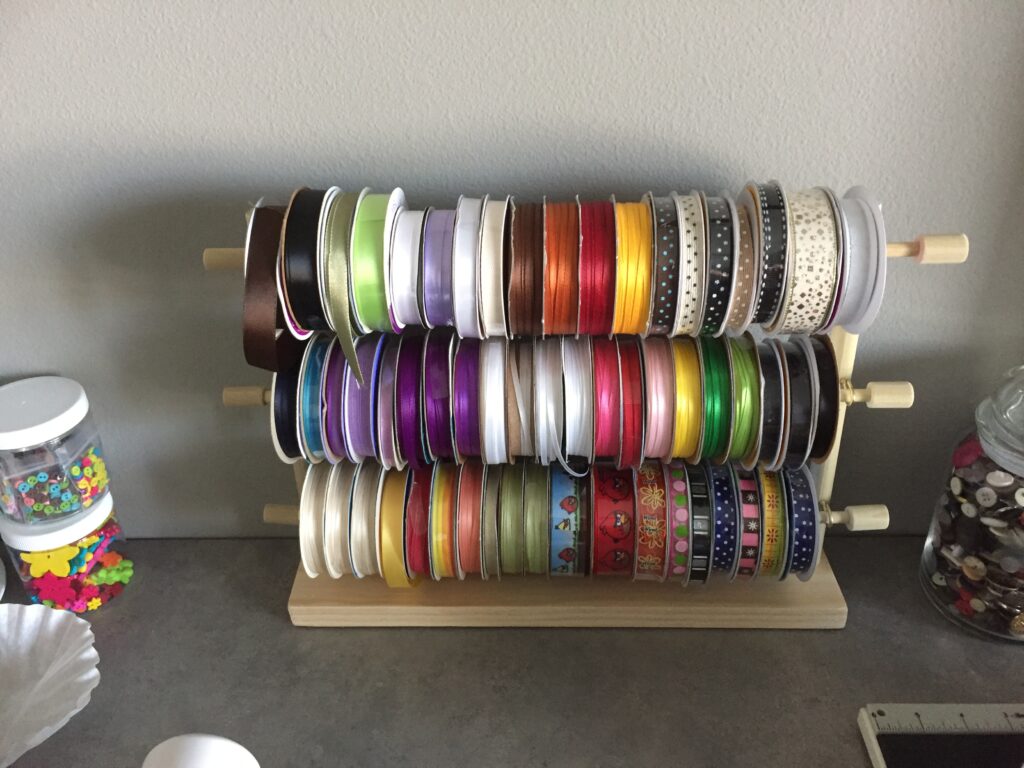 I started with two and ended up ordering two more!! I've filled three of them so I have room to grow! Ha.
I'm settling in and most everything has its place by now. (The installation took place on August 13.) I've found I'm much more efficient and I love the countertop as much as I thought I would. The upgrade also motivates me to keep it tidy, so after a project, I put everything back in its place.
Office and craft table area

A place for everything, including pictures and other decorations I never had room for before

Perfect spots for the printer and shredder

Shelving with sewing cabinet open

Another view – plenty of room to get to what I need

Closet – front view

Closet – right side view

Closet – left side view

Shelving without sewing cabinet open

Love the countertop for workspace
Fortunately, I have growth space – unfilled baskets, empty shelves. But I've already had to make some changes to accommodate my increase in cardmaking supplies, and I don't see that ending!! I'm finding what works and what doesn't and I adjust things accordingly. Nothing is perfect, but this is so much better!! I loved being in here before; I love it even more now.
Lessons Learned
There are a few things I'd like to share with Closets by Design that might help the process go smoother. Don't get me wrong; I'm thrilled with the final product. But there is clearly room for improvement.
Unfortunately, when I was asked for input, it was more of a review than a request for what could we improve. Here are my suggestions.
When drawing the design, make sure to include perspective. The cabinets and their measurements were well laid out, but where they fit into the room was not clear.
Have the designer be there at the beginning of the installation. Then, even if the plans don't clearly indicate placement, he/she could show them where things should be.
I would watch more closely and make sure things are right before they're installed. Then maybe we could have avoided the unnecessary removal of baseboards and the need for splicing them back in.
Maybe provide more training to the installers. Is there a better way to make repairs? The baseboard repairs look sloppy and the wall was dinged when the installer's drill slipped. He attempted to repair that but that looks pretty sloppy too. Fortunately, most of those mistakes are hidden.
I can't make the room any bigger but I have made it work better for me. It definitely helps the creative process!!