We're now three days into the fourth quarter, so I think it's time for a third-quarter update, don't you? If you need a refresher, here are my updates from 1Q and 2Q.
Reading Challenge
I've continued to do quite well with my reading. I read another 8 books this quarter (and actually finished another one last night). I now only need 4 more books to reach my goal of 30 for the year. Piece of cake!!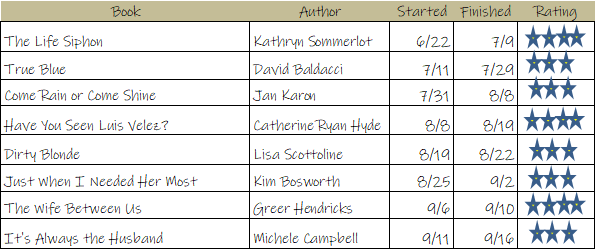 No "5-star" books this quarter, but a few with 4 stars. Only two of the eight were for book club, so I was able to read more from my inventory.
Two of the books I'd planned to read are nowhere to be found. We've searched high and low and can't find them. I'm sure they'll turn up when we least expect it. So, I ended up reading a couple of books I had picked up on a whim.
By the way, Tim ordered the two missing books from Amazon, so I'll be reading them during 4Q. Isn't he a thoughtful husband?
I have to promote the book at the top of the list. The author, Kathryn Sommerlot, is my niece. She's written a few books now and The Life Siphon is the first in a series of two. (The next one – The Mage Heir – is on my list and I hope to get to it before the end of the year.)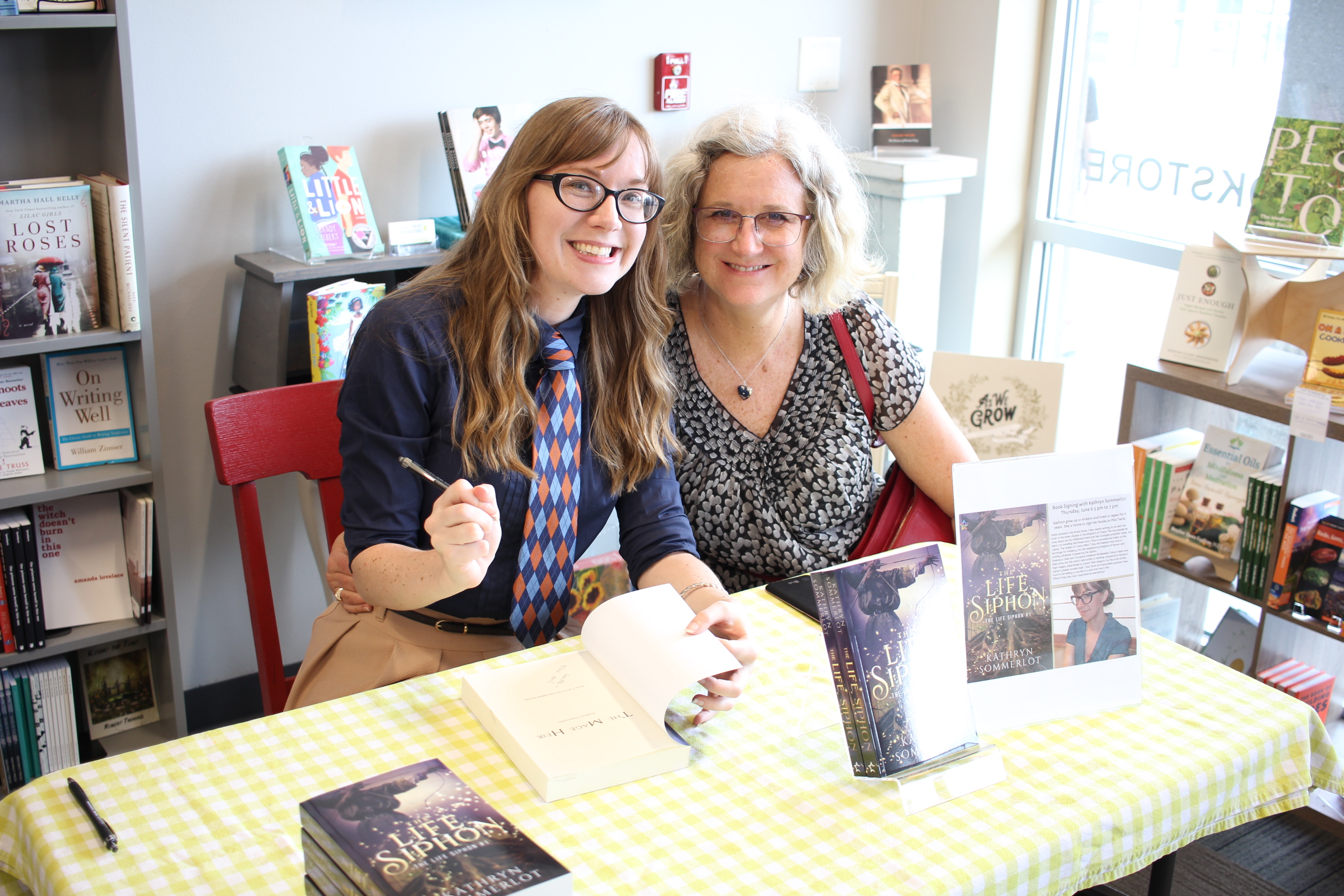 I'm not usually into the fantasy genre (yes, I have not read any of the Harry Potter books) which is what Katy's book is, but I enjoyed it. I'm eager to read the next installment. If you like historical fiction, she's also written a book called Roanoke.
This is also where I picked up one of the "on a whim" books I read this quarter – The Wife Between Us. The title caught me. It's reviewed as having a lot of plot twists, which it does, and while it wasn't a great book, it did keep me turning the pages to learn more.
This was the quarter for reading authors I know. Well, now I know the other author. In September, we read Just When I Needed Her Most, which was written by Kim Bosworth. She lives in Decorah, Iowa and was the English teacher of one of our book club members. She attended our meeting which allowed us to ask lots of questions. And while she was a member's English teacher, I think she's no older than I am!!
Cross stitch challenge
With only one project remaining in my #stitch9challenge, you'd think I'd have it finished. As I said in last quarter's update, I keep putting it off. But if I want it for this Christmas, I need to finish it.
I had to reconfigure the pattern I'd made to fit it on the corner of the bread cloth at an angle. My plan is to put it on two corners. I couldn't figure out how to make my software do that, so I laid it all out by hand and then entered it manually into the pattern software. I had to switch out some of the colors too because they appear differently in the software than in real life.
I'm actually pretty pleased with it. In the future, I will make sure my picture is at an angle, if that's how I want the pattern to come out. And I need to make sure I look at the actual floss before I settle on the colors to use.
I put in 8.5 hours of stitching on it in early September. But then I started working on the Christmas stitch-along I mentioned in a previous post. I'm participating in another 24 hours of cross stitch this weekend, so one of my goals is to finish the bread cloth. I may also do another one for Thanksgiving, which won't be from my own pattern!!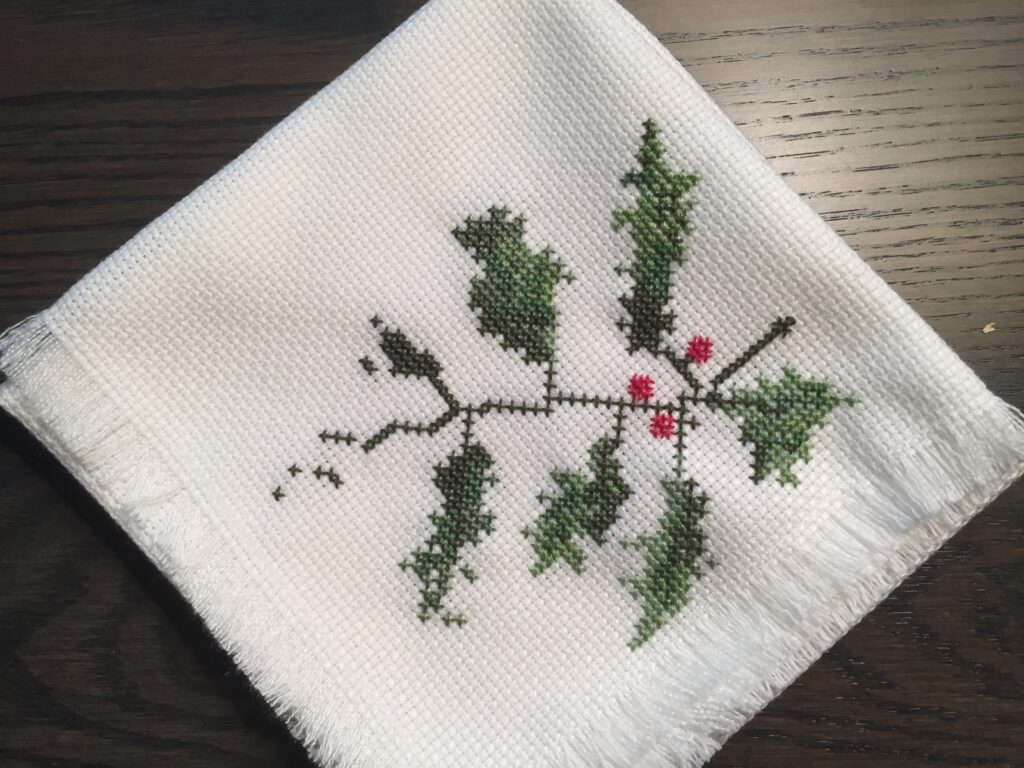 Other things to note
I'd planned to finish up a bunch of projects in September. I did finish two and a third is close but not done. I know I could finish them if I spent a day focusing on them.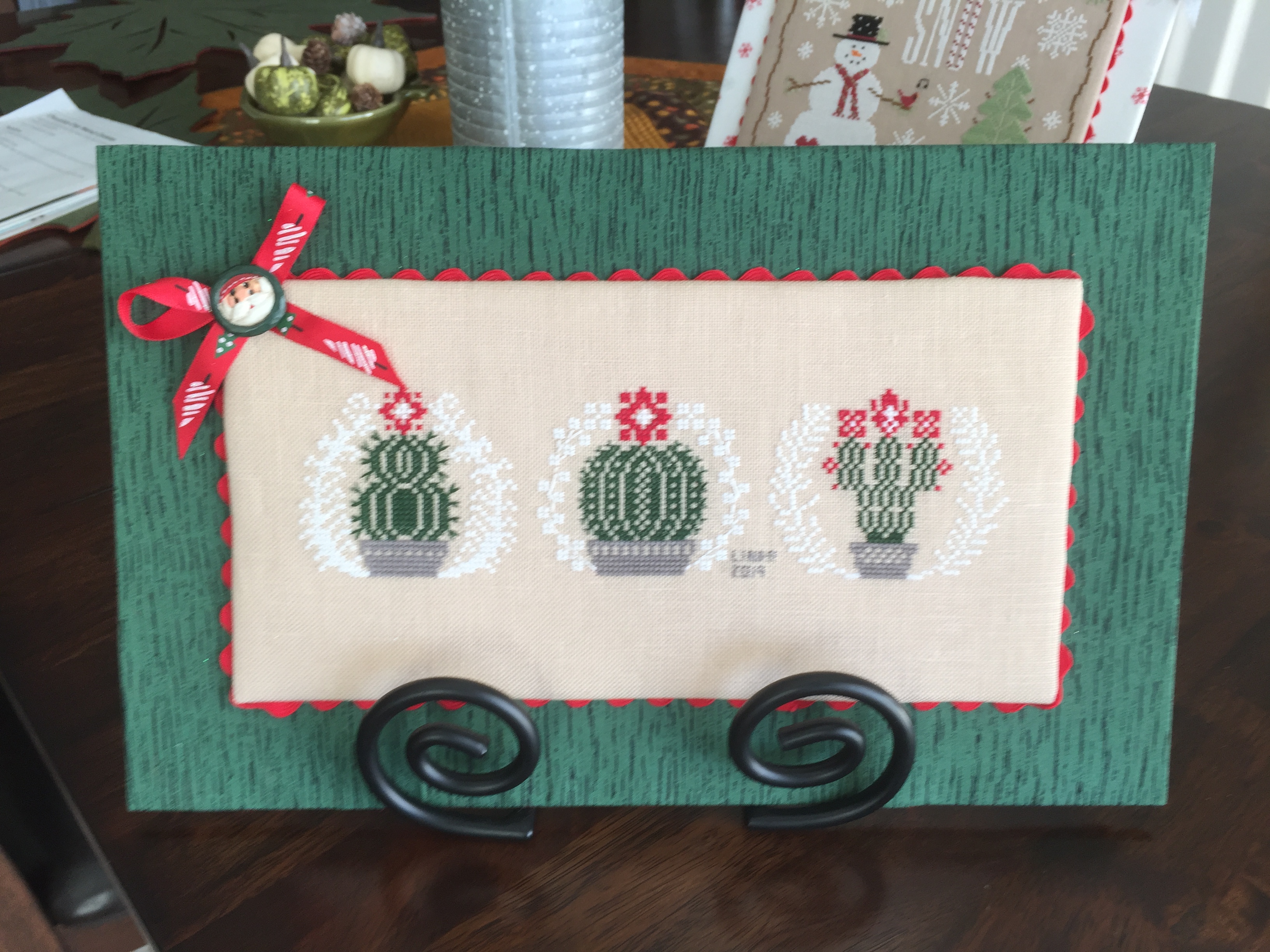 I now have the second installment of the stitch-along pattern. I'm so close to finishing up the first section; I hope I can also finish that this weekend. I'll share a progress picture once that first part is done.
I ended up ripping out most of week 4's knit-along progress. I didn't like the look of it and didn't want to regret it later. It looks MUCH better now. Week 5 only needs a few more rows so I'm going to go ahead and show it to you now. The pattern for week 6 will come tonight. With 24 hours of cross stitch, I'm going to lose my knitting time this weekend. Oh no!!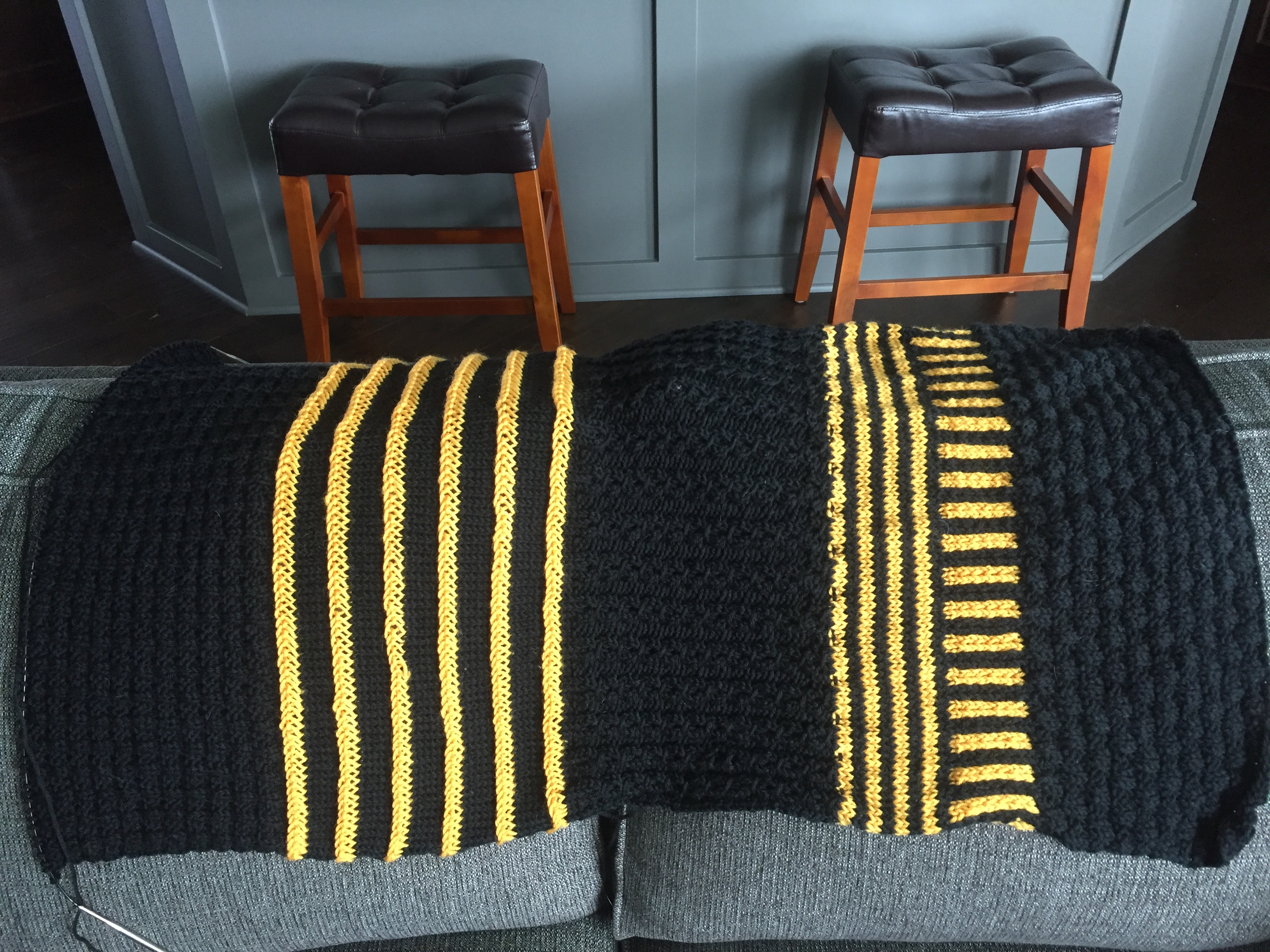 Last but not least, if you follow me on Instagram, you've seen that I made four more project bags. They're all full of projects. And I have fabric for four more!! It's so fun picking out the fabrics.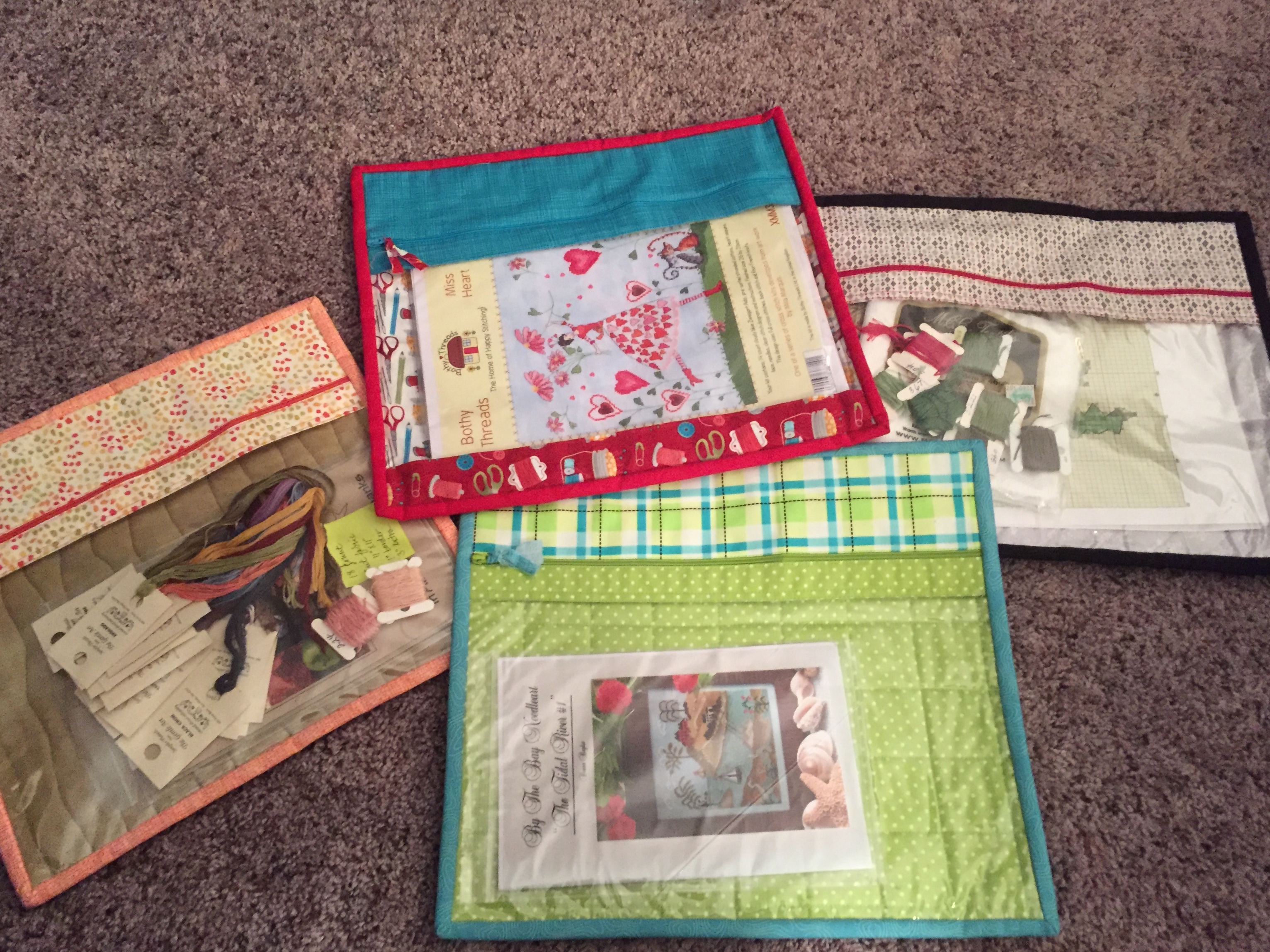 This has been a very productive year. Clearly, setting specific goals has helped me accomplish what I wanted to, even with the addition of new unplanned projects. It helps when you set achievable goals.
I've already been thinking about next year. I have a few baking ideas in mind. You know, those things you've always wanted to tackle but haven't. If I set goals, I have to do them right? I know I'll continue to have a reading challenge. Maybe I'll switch my cross stitch challenge to knitting? There's just so much I could do!!