Wow, another quarter's gone by and it's time to review my challenges' progress. If you'd like to remind yourself of what I accomplished in the first quarter, check it out here.
Let's see how well I'm doing.
Reading Challenge
I read 8 books this past quarter. Add that to the 9 I read the first quarter, and I'm over halfway (57%) to my goal of 30 for the year.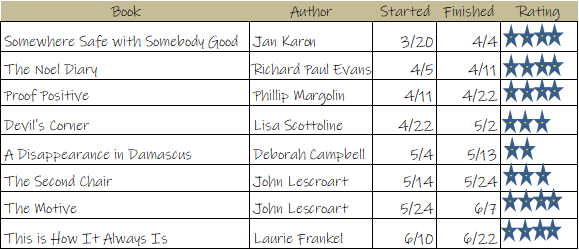 Once again, I read some books I really enjoyed. There was only one, which was one of my book club books, that I didn't care for.
Most of the books I read (that weren't book club related) were ones I've had for years sitting on the shelf. Well, since the move four years ago, a lot are still in boxes. I may have mentioned before that when I was actively participating in a book club for purchasing books, I bought books by authors I liked, even if I knew I wouldn't be reading them right away.
I am slowly reducing my book inventory and have almost filled a box to take to Half Price Books. I never make much money there, but I could never throw a book away!! And I don't plan to read any of them again, so why let them take up valuable space?
I'm not sure I can even pick a favorite from this quarter. As you can see, I gave 5 of the 8 four stars. That's a pretty good rating from me as I rarely give out a five.
I'm close to finishing #18 and then back to my list. We don't have book club this month, so I'll need to find an extra book from my list to get me to 30. I've decided to create a list like this every year, so I know which books I plan to read and can quickly pick one up when I'm ready. And if a few new ones slip in, all the better!!
Cross Stitch Challenge
As a reminder, my stitching challenge is to complete nine projects this year. It's ended up as not much of a challenge as I only have one project left. I've been working on other projects that aren't even on this list.
I've been saving the final project because I'm a little nervous to start it. It will require more planning because it's a design I created myself based on my Spode Christmas dishes.
I'm going to make bread cloths. The tricky part is deciding where to put the designs (I made two different ones) on the cloth. I'm so worried I'll mess it up. There's the perfectionist in me, afraid to start for fear of doing it wrong.
I'll get back to it as soon as I finish a couple of things that will become gifts.
Here is what I completed this quarter:

My four "Santas" are done and waiting to go to the framer. (The first one was completed in 1Q.) Since I've been doing a fair amount of framing this year, I decided to wait a little while before spending the money!! But I'll have them ready for Christmas.
Projects also completed this quarter: "Today is the Day" and "Sleep in Peace". The first is another of the Sticks designs that I started as part of the 24 hours of cross stitch challenge in early April. The second is one I designed myself after reading this phrase in a book.
Today is the Day – unframed

Sleep in Peace – finished
Consistent with my other Sticks projects, this one took 75 hours to complete. "Sleep in Peace" took only 25.
I also FFO'd (finally finished object) three items: Sleep in Peace (see above), Blessings Abound, and dear Rudolph. The last two were stitched in the first quarter and are now all ready to go for their respective holidays.
Other things to note
I mentioned last time that I've learned so much about the stitching community through Instagram and I've also become part of Facebook groups. It's amazing what you can learn!!
I learned how popular project bags are and decided to make one myself. I love it and have already cut out the materials for four more bags. Now to find time at the sewing machine.
I typically work on one project at a time, but these bags are so cute and fun, I may have to start working on several at a time. Well, at least I can have some ready to go when I finish something.
I've also learned more terminology such as "ort". It's typically defined as a scrap of food from a meal (have you ever heard of that???) but it's used in stitching to describe the scraps of threads you have. So, I decided to make myself an ort bag, a.k.a, a thread catcher.
It's super simple and took me no time at all. Now, what will I do with all those scraps of thread when it's full? I have no idea!!!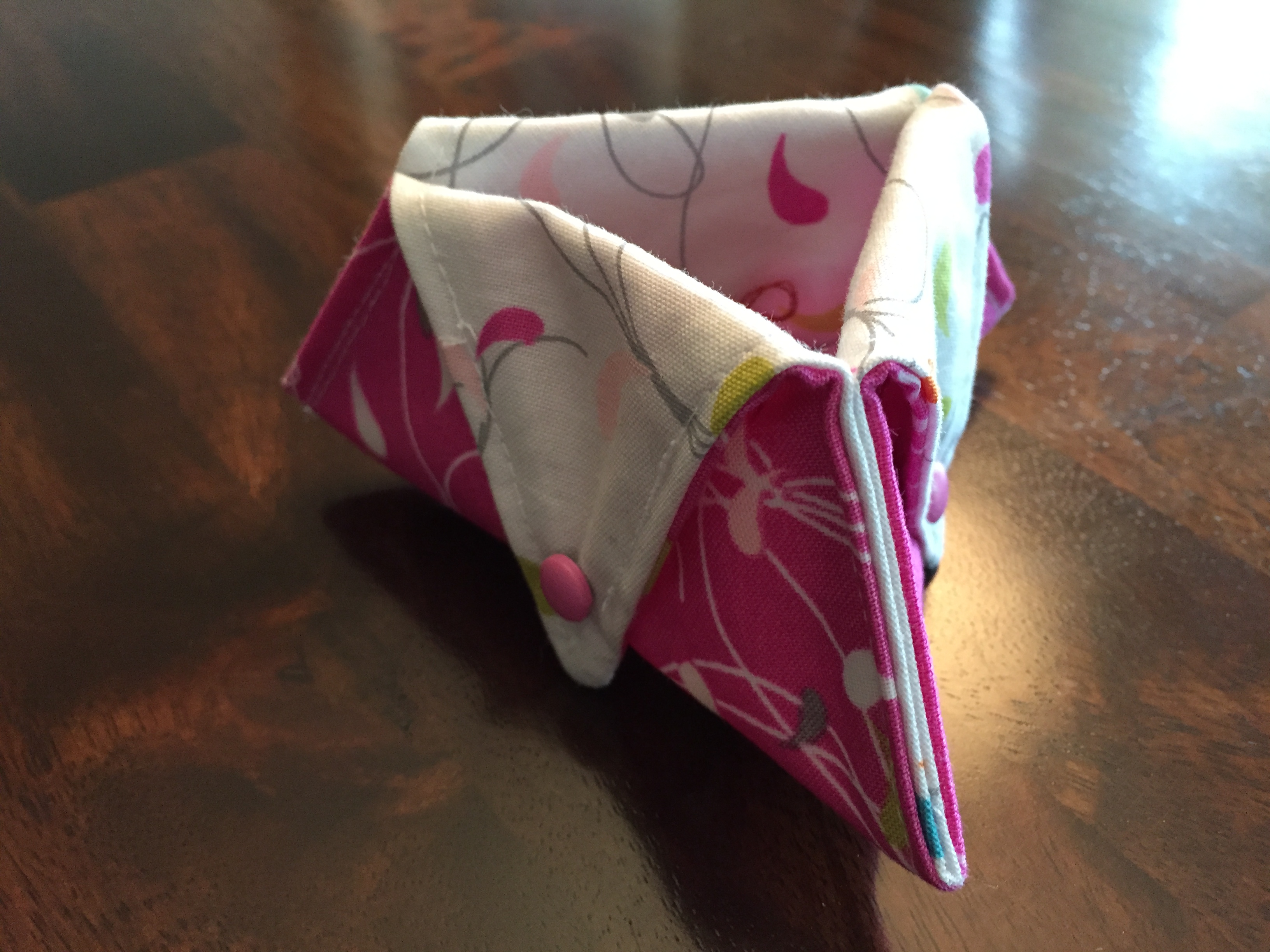 Another big thing is what's called Flosstube. It's stitchers in YouTube videos. They demonstrate techniques but mostly they talk about what they're stitching. I haven't watched many yet, but I did get YouTube set up on our TV downstairs (where my stitching chair is) so I can binge watch some episodes during the next 24 hours of cross stitch, which is in early August.
These Flosstubes are not short. Most are at least an hour and some more than that. I can't usually get myself to spend the time watching so I thought these would be perfect for passing the time while I'm stitching for hours.
Check out these two women. I laugh just seeing them. They are mother and daughter and they're hilarious!! I've watched less than five of theirs but I plan to watch more.
I've already started this quarter strong. Finished another cross stitch project (which I'll show you in my 3Q update) and have almost finished book #18. I also have some sewing to do so July will be busy. But that's the kind of busy I like!!