I've found a few recipes over the years that have surprised me with how well they turn out. This is one of those.
I shared the first of those with you – Penne and Chicken with Spiced Tomato Sauce – and this is another one. Funny how they're both pasta dishes. Other than that, they're completely different – a different type of pasta, different protein. I just know they're both wonderful. 😋
The Cajun seasoning and red pepper flakes give it a zing, but just enough to enhance the flavor. And what's easier and faster to cook than shrimp and pasta? Well, if you ignore the fact you have to clean the shrimp first, that's true. 🍤🍤
As you'll see in the Recipe Notes, I omitted the lemon juice and zest, only because at the time, I didn't have a lemon. But I think I'll always omit it. I'm not sure it would have added anything to the dish. Go ahead and try it, though. You might like it better.
We also try to use whole wheat pasta but I think any type of linguine will work fine. I wouldn't recommend using spaghetti, as I think the thicker noodles are good for soaking up the delicious sauce.
I know I've mentioned before that we buy frozen shrimp, mainly because it seems our plans always change and the last thing I want is for my shrimp to go bad. If you know you're going to make it right away, get fresh shrimp. I'm sure that would make it even better.
Don't have a garlic press? Use your cheese grater or a Microplane (what you'd use to zest a lemon). You want the flavor of garlic in this, not chunks of it (even if they're small).
And when the recipe calls for Parmesan cheese – don't use the stuff in the green can. Buy yourself a piece of Parmesan and grate it yourself. You'll be much happier with the result.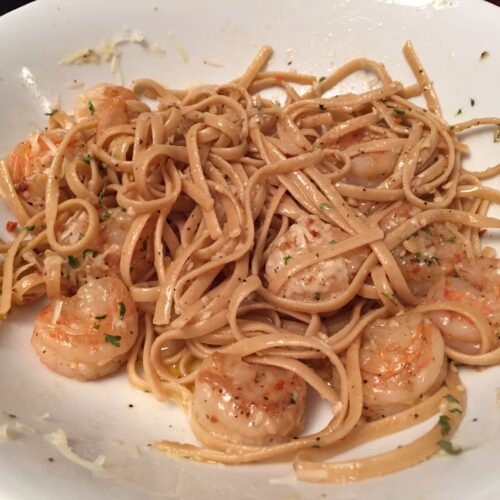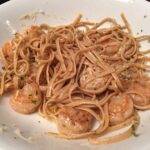 Garlic Parmesan Shrimp Scampi Pasta
You'll think this came from your favorite Italian restaurant. No kidding!! It's spicy and exactly what shrimp scampi should be. It's also quick and simple.
Ingredients
8

oz.

linguine

(regular or wheat)

1

t.

crushed red pepper flakes

1

t.

cajun seasoning

1

T.

olive oil

1/4

c.

white wine or chicken stock

1/4

c.

lemon juice

4

T.

salted butter

1

lb.

medium shrimp

(peeled and deveined)

6

cloves

garlic

(pressed or grated)

1

lemon

zest

2

T.

fresh parsley, chopped

1

c.

freshly grated Parmesan cheese
Instructions
In a large pot of boiling salted water, cook pasta according to package instructions and drain well.

In a large, deep skillet, melt the butter over medium-high heat.

Add in the shrimp, cajun seasoning, olive oil, garlic and red pepper flakes.

Stir periodically until fully cooked, about 3 minutes.

Stir in the wine or chicken stock and the lemon juice. Lower to a simmer.

Season with salt and pepper (to taste).

Remove from heat and stir in pasta, lemon zest and half of the Parmesan cheese.

Mix until fully incorporated.

Top with the last half cup of the Parmesan cheese and the chopped parsley.
Recipe Notes
I didn't have a lemon so I made it without the juice and zest.  It tasted fine to us without it.  Actually, I'm not that crazy about lemon in this type of dish anyway, so I'll probably always omit it.
Recipe from:  myincrediblerecipes.com
www.retiredintrovert.com