If you haven't already, you might want to read Part 1 and Part 2 before reading this. This post focuses on our time in Washington state and the trip home. At this point, it seems so long ago, it's a good thing I have my travel journal to help fill in the blanks in my memory. It might be a little long, but I knew I didn't want a Part 4!!
Leaving Eugene
The track championships were over (for us anyway) and it was time to head north. Our plan was to drive up I-5 through Oregon and into Washington, with a few stops along the way.
Our departure time was set to get us to Salem close to lunchtime because Tim found out they have an In N Out Burger there. Close by was a Michael's store, which came in handy because I had forgotten to put scissors in my knitting bag and would need some. Just what I wanted – more scissors. Oh well.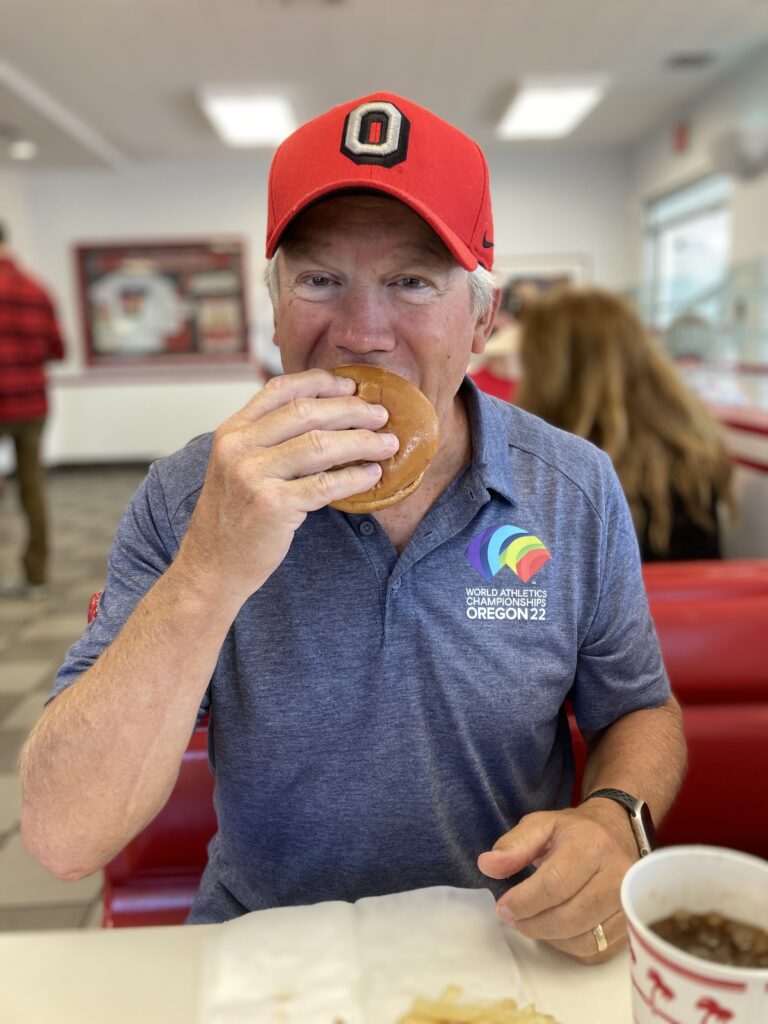 As we drove through Portland, we were surprised to see so many homeless shelters along the interstate. It was a sad sight. But we were able to see the west side of Mt Hood from here. If you recall, we saw the east side as we drove on I-84 along the Columbia River on our way out.
Into Washington
About an hour into Washington, we took the Castle Rock exit to the Mt St Helens visitor center. This was only five miles off the road, while actually getting to Mt St Helens would add at least two hours to our trip. We were able to see it in the distance and learn about its history in the visitor center. I remember when it erupted in 1980.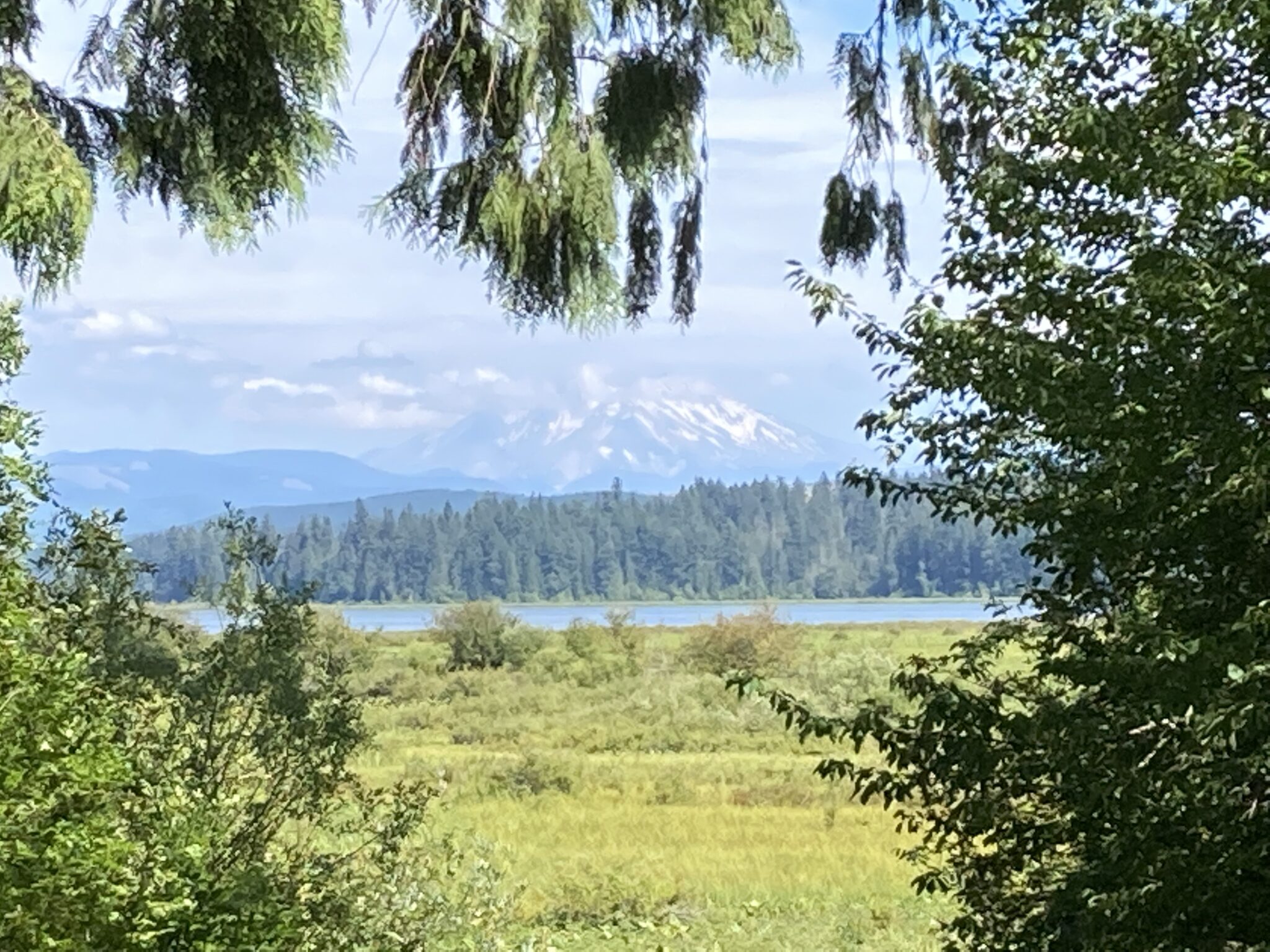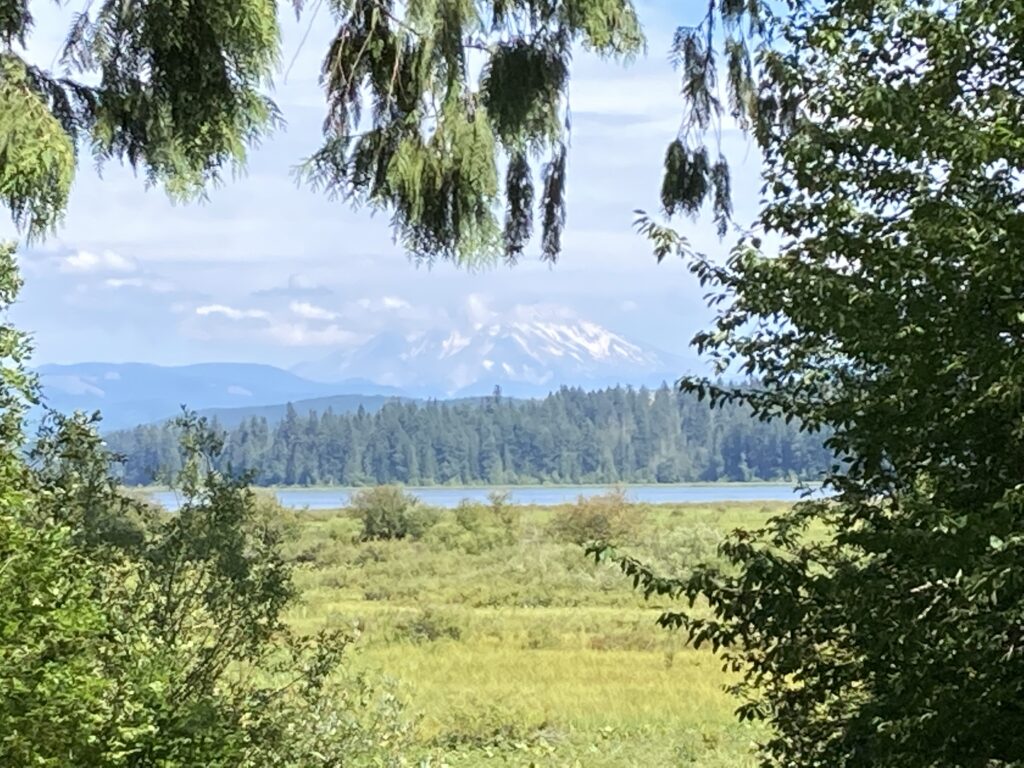 Several times during the trip, we saw trucks hauling logs. Not something you see in Iowa!!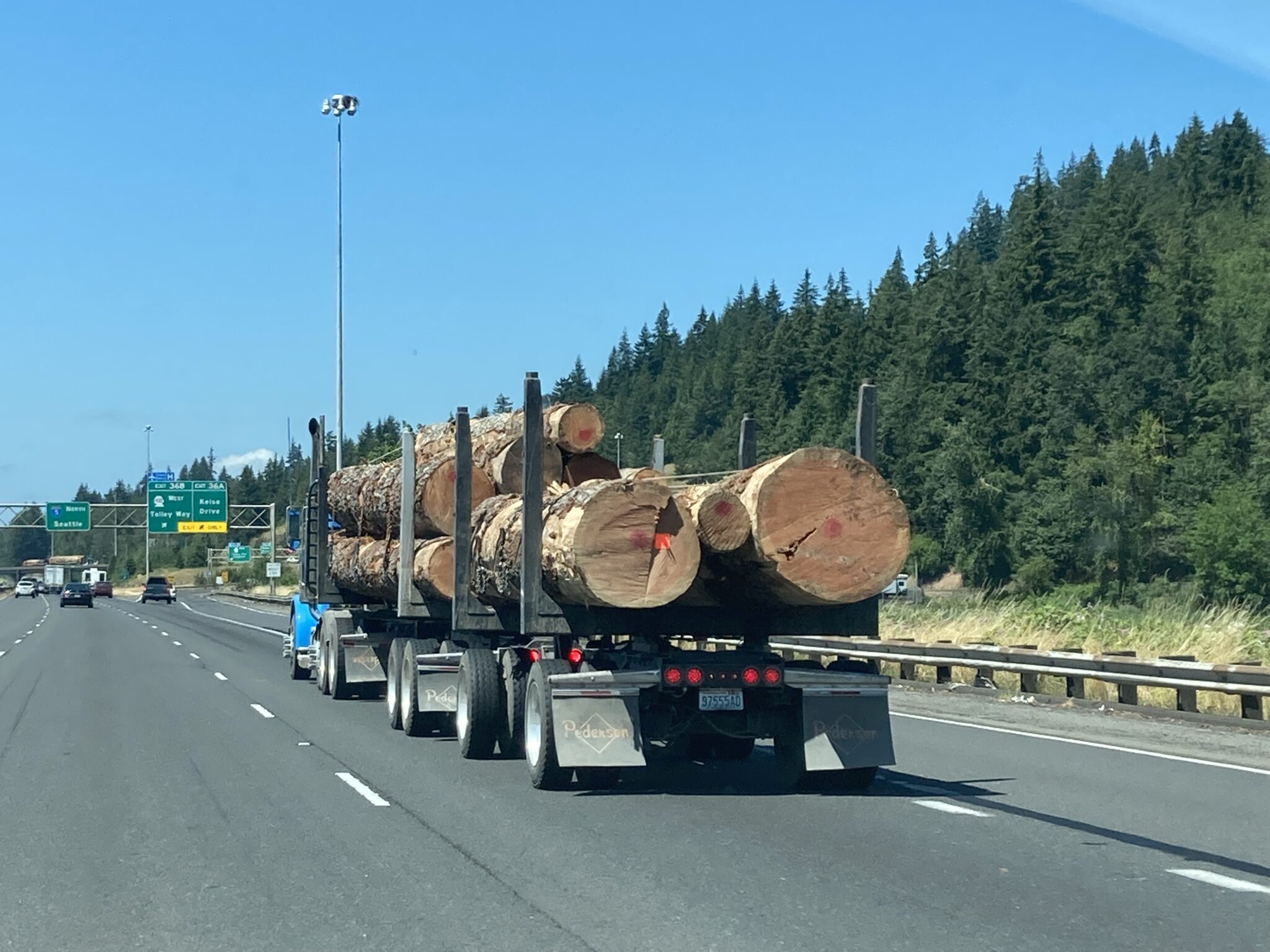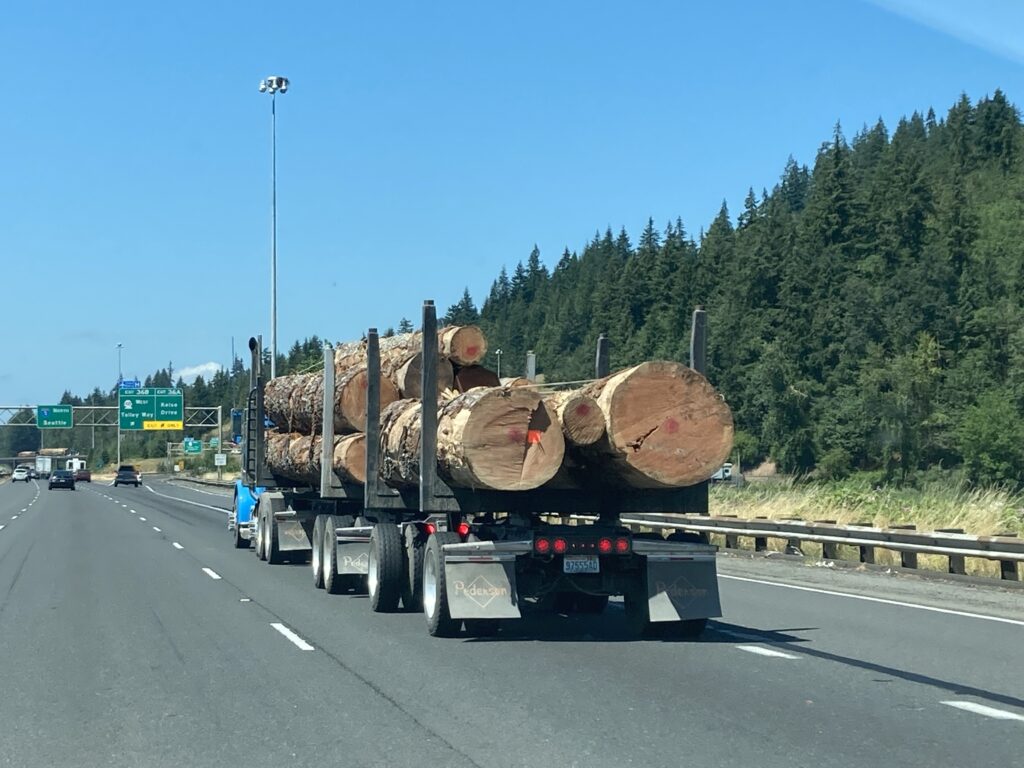 We continued along I-5 until we got to Olympia where we exited onto Highway 101. It was a beautiful drive, but there were too many trees for me to take any decent pictures. We did see Mt Ranier a few times. We finally got to our Washington destination in time for dinner.
Sequim
My cousin and his wife live in Sequim, a nice little town along the Dungeness River and at the foot of the Olympic Mountains. I'd been there once before, ten years ago, but this was Tim's first time in Washington. While he wanted to visit Seattle, I think he enjoyed our quiet time in this part of Washington. Rick and Paulette were the best hosts, feeding us fabulous meals and taking us all around. It was much cooler up here so we had to wear jackets and sweatshirts.
On our first day there, we went to Hurricane Ridge for great views of the Olympic Mountains. We also went north to the Dungeness Spit. It stretches nearly seven miles north into the Strait of Juan de Fuca and continues to grow by around 13 feet each year. It is the longest natural sand spit in the United States. There's a lighthouse at the end, which you can get to by hiking along the spit. We didn't do that, but we did go down to the water.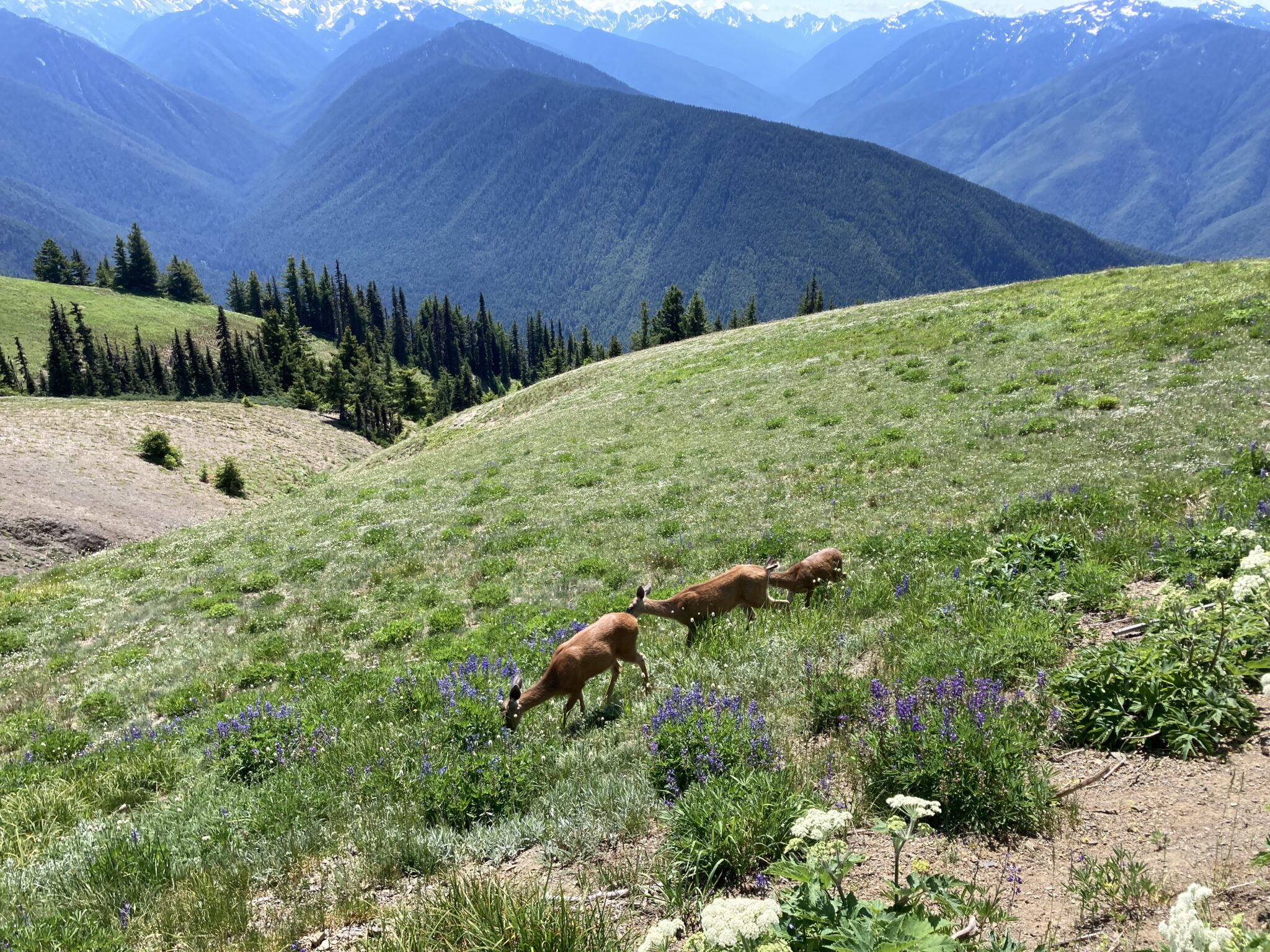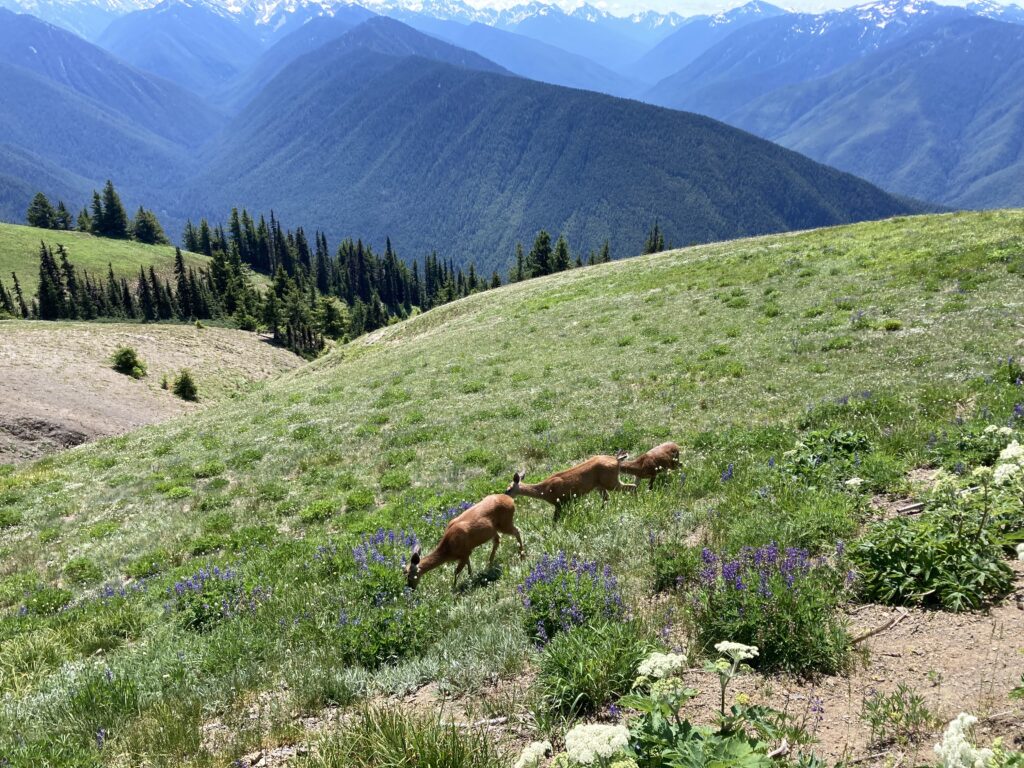 The second day, we went to a farmer's market in Sequim and then to the John Wayne Marina for lunch at the Dockside Grill. I swear, I had the best crab sandwich I've ever had!! We also splurged on dessert. It was a great lunch!!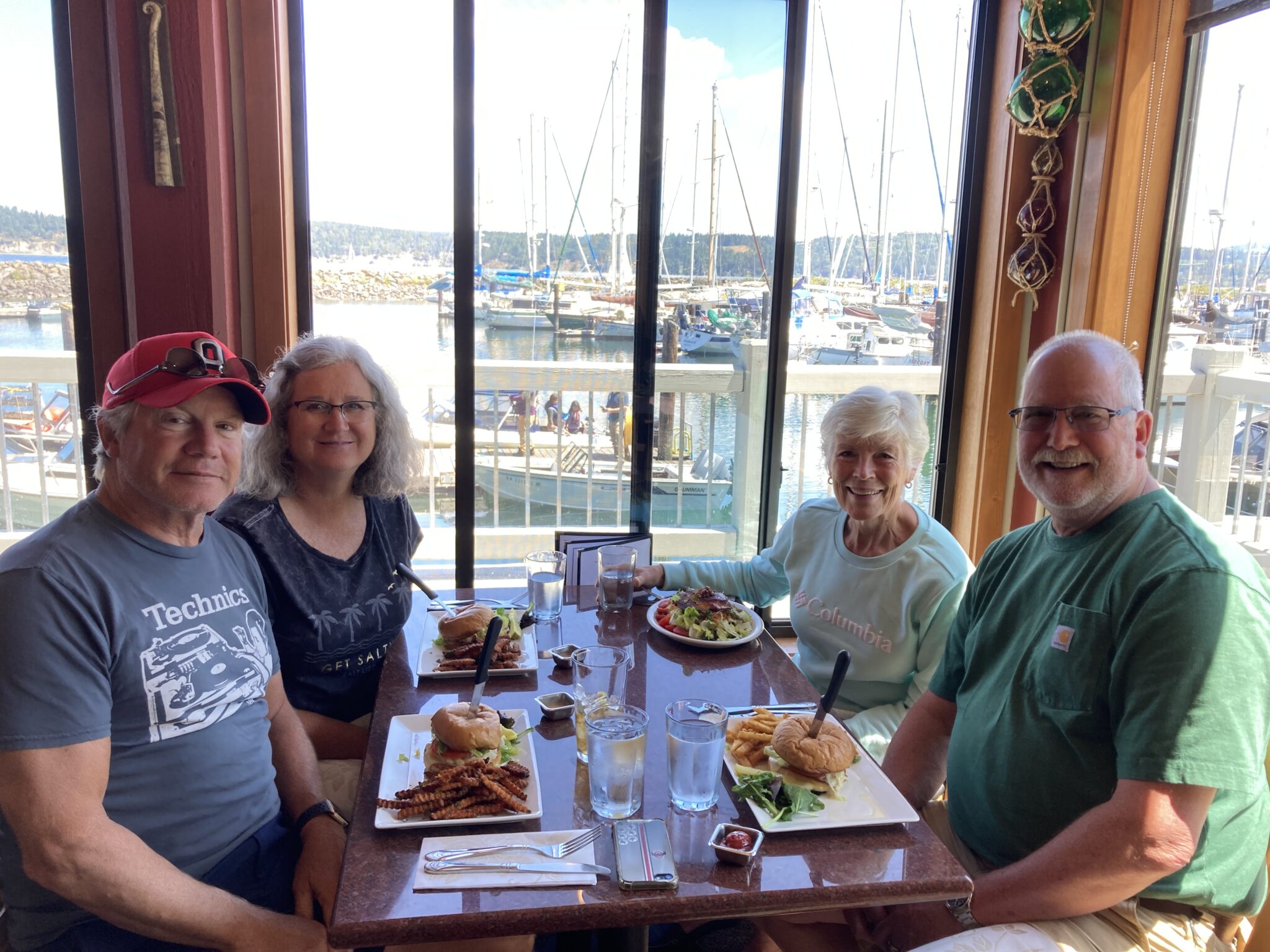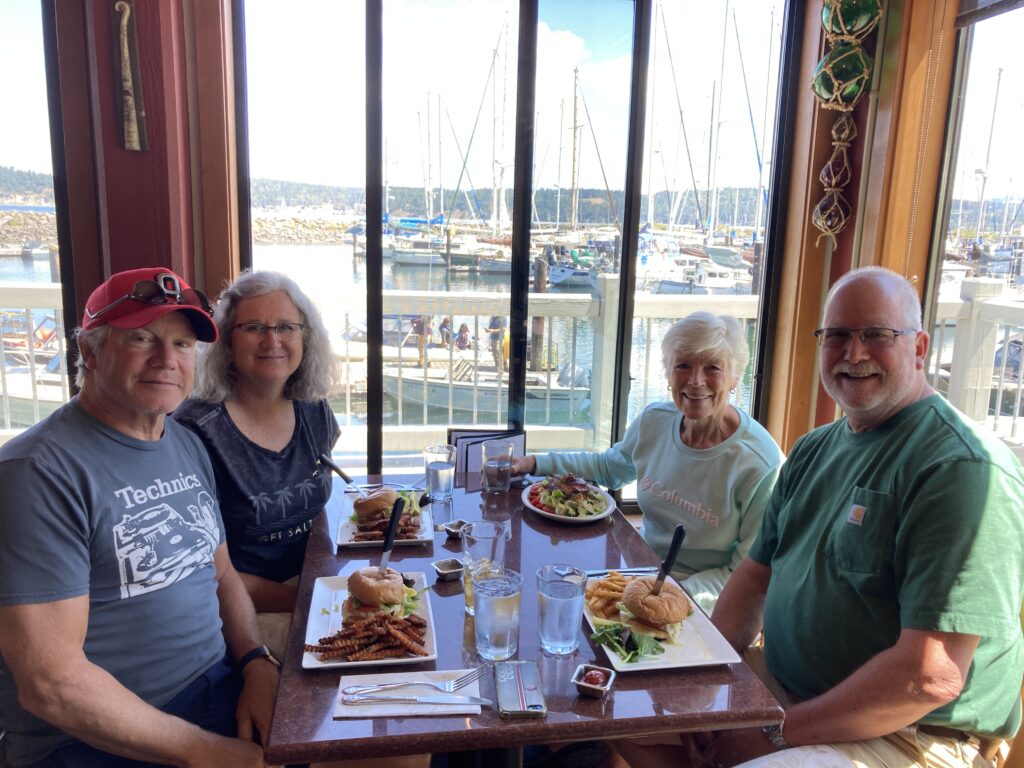 Back in Sequim, we checked out a quilt shop and I had to buy fabric. I bought the fabric for making this toddler apron, as well as some Christmas fabric, which was 25% off to boot.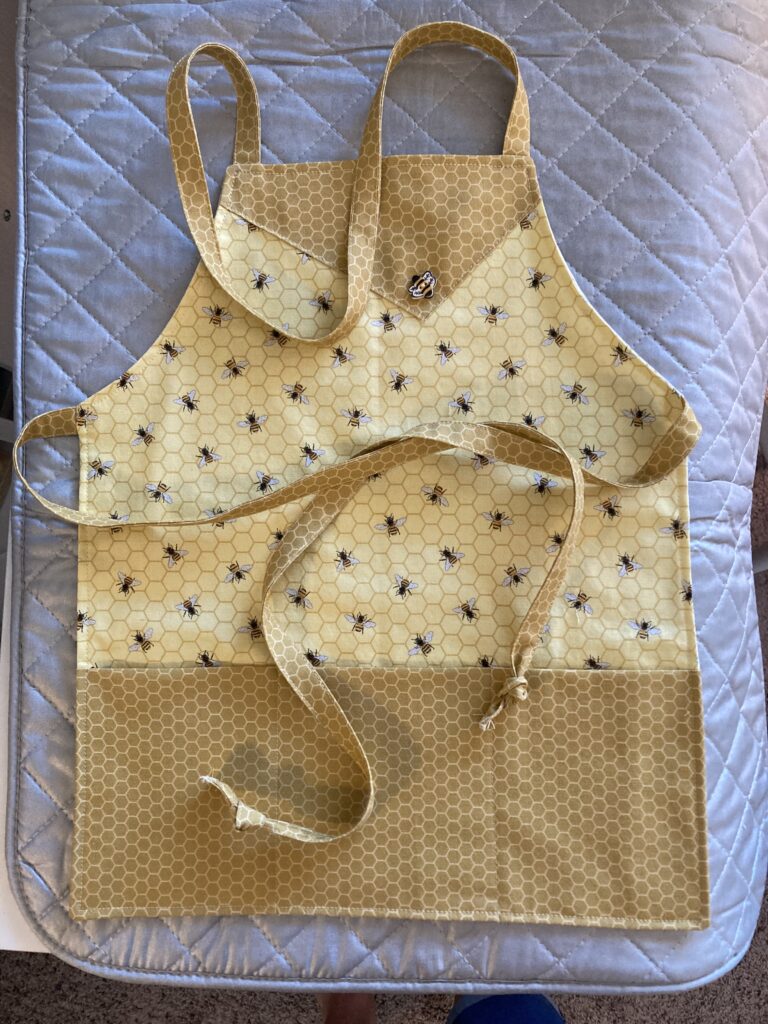 On our last day, we went to the Crescent Lake Lodge for lunch. It was a fun environment and we were lucky we were able to get in. We walked the trails and made our way to Marymere Falls. It was quite the uphill hike, but it was actually tougher coming down!!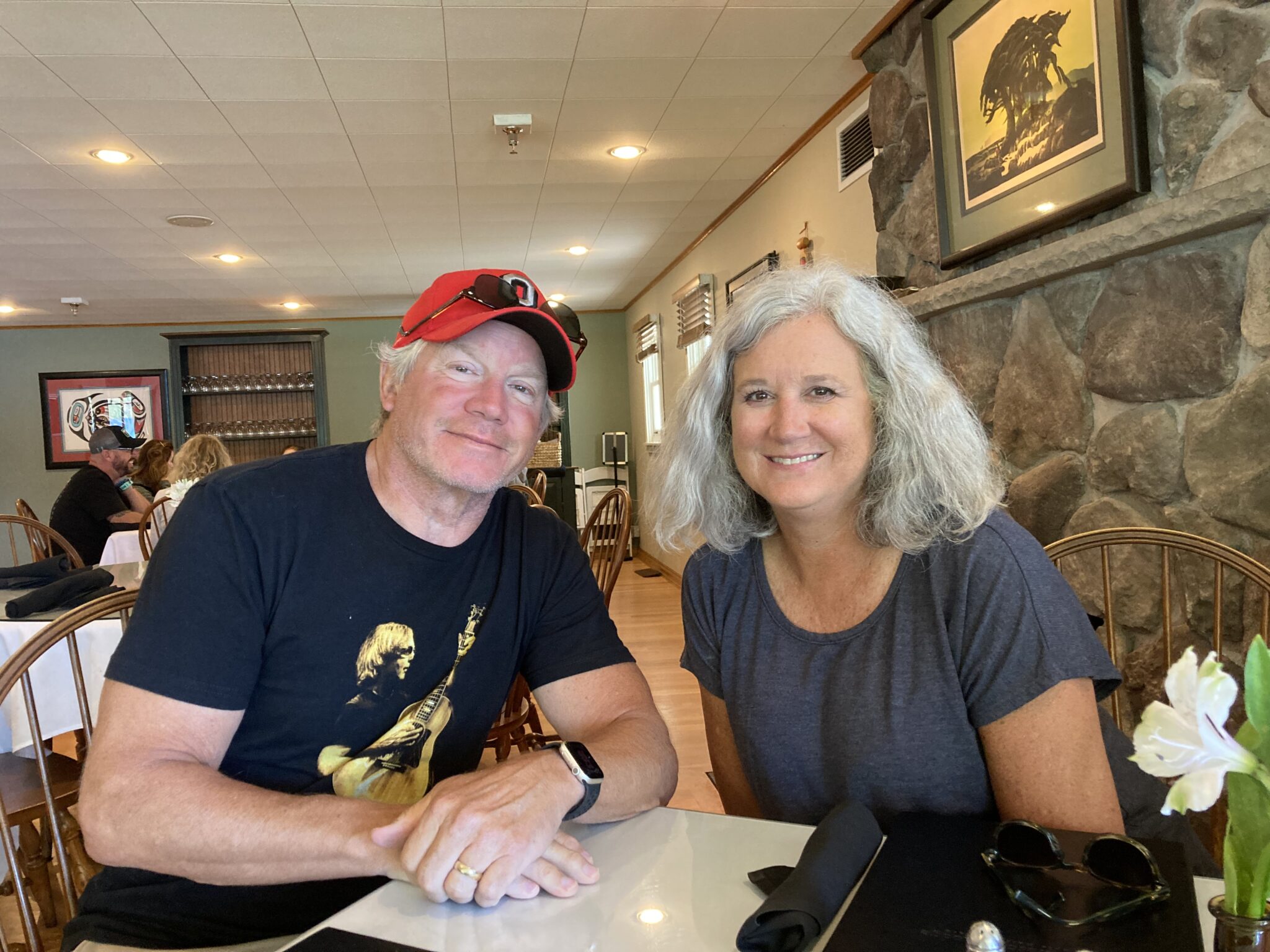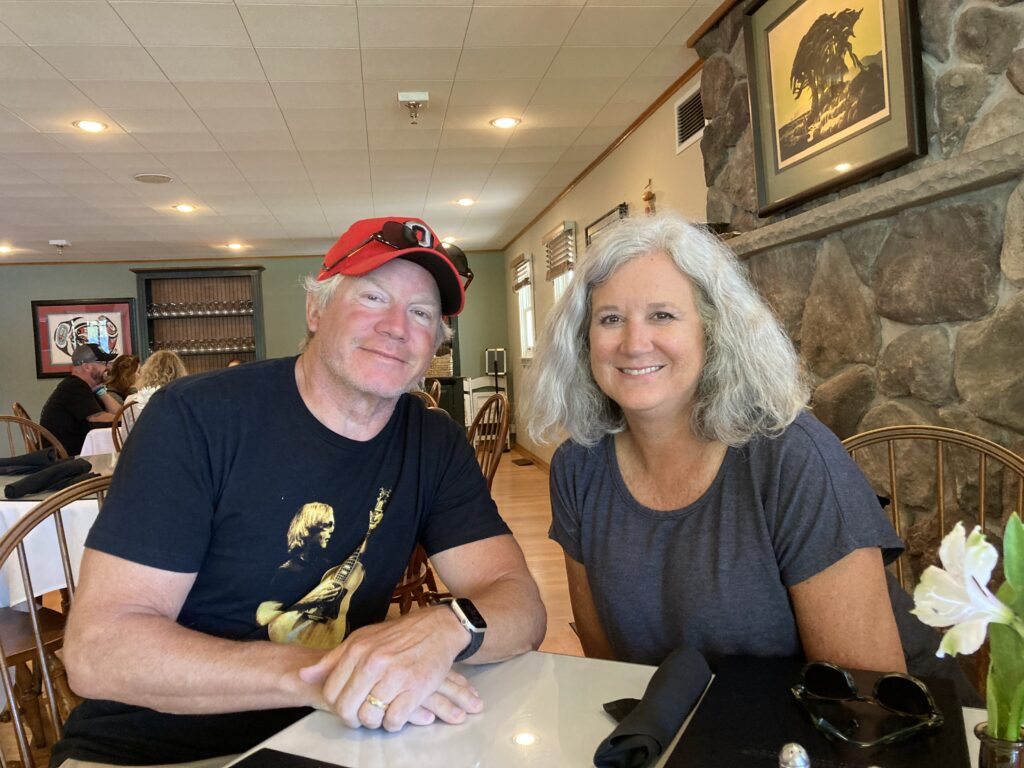 On our way back to their house, we stopped at a lavender farm. There are LOTS of these farms in this area and it was prime time for lavender. When we got back home, Paulette dug up and potted some lavender that had sprouted from her existing plants. We brought home four little pots and plan to plant them in our yard next spring. Supposedly, lavender can grow in Iowa, but I wonder if it needs to be a certain type. Guess we'll see!!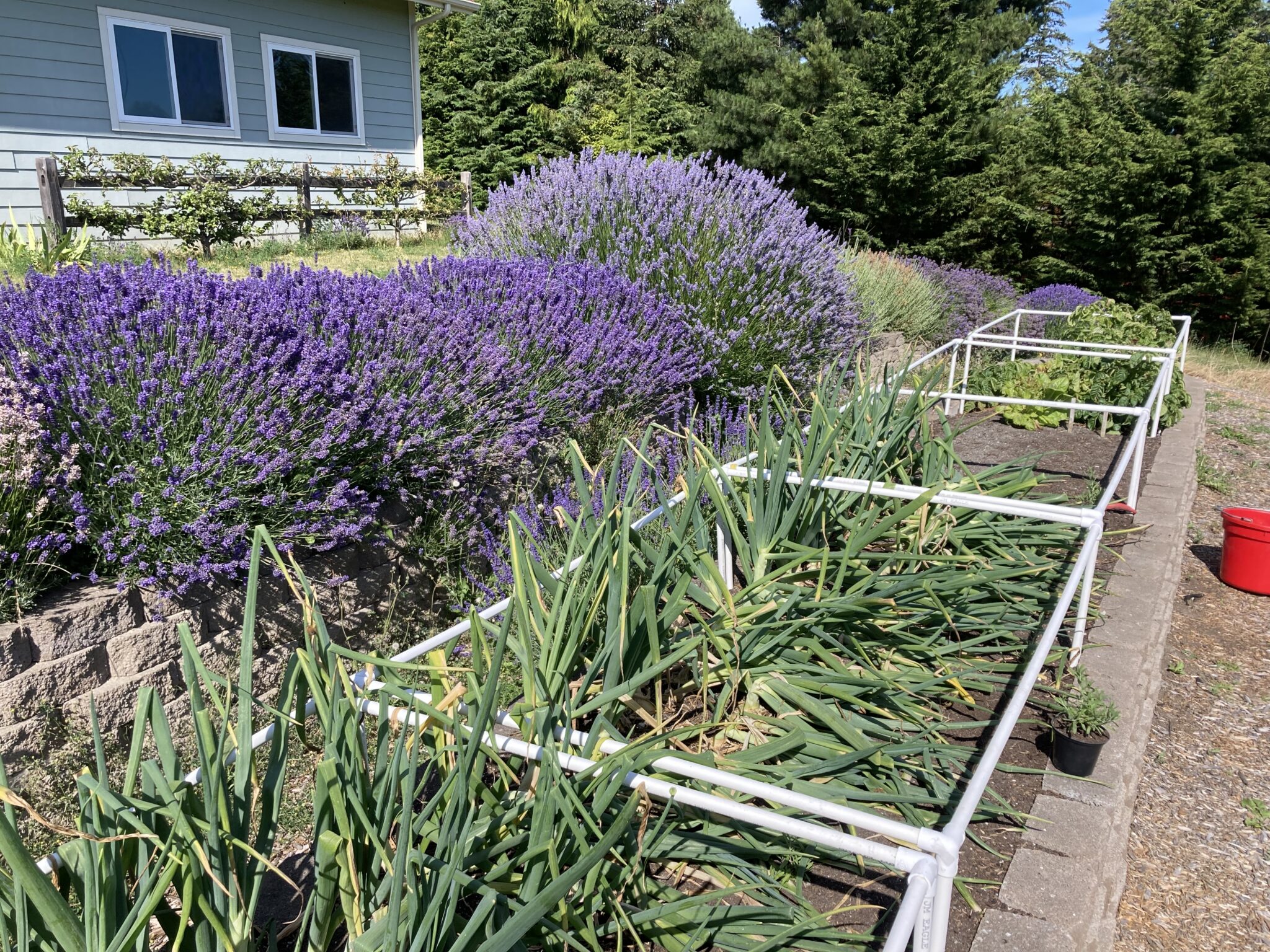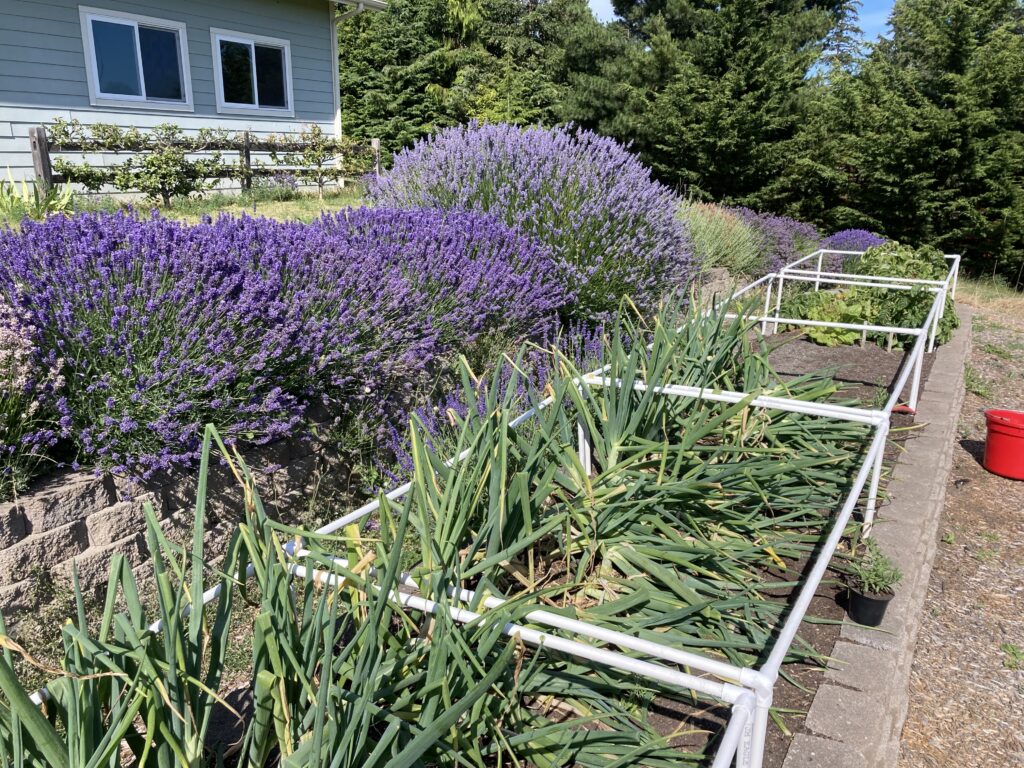 Heading East
We got an early start so we could catch the 9:40 ferry to Seattle. After parking our car, we got some snacks and then found seats close to the front. Tim spent most of the time on the outside deck. The ride was quick and scenic, with lots of views of Mt Ranier.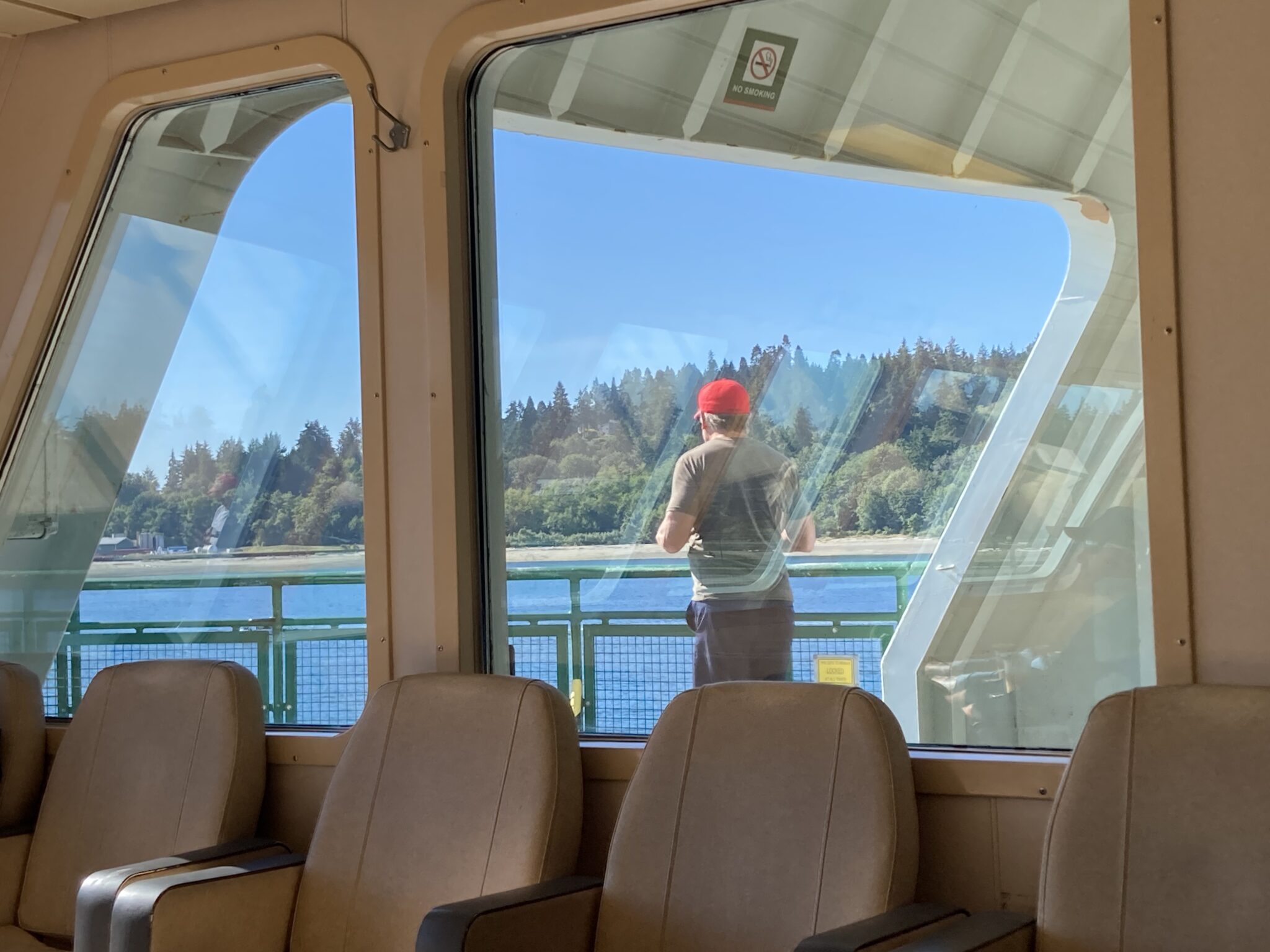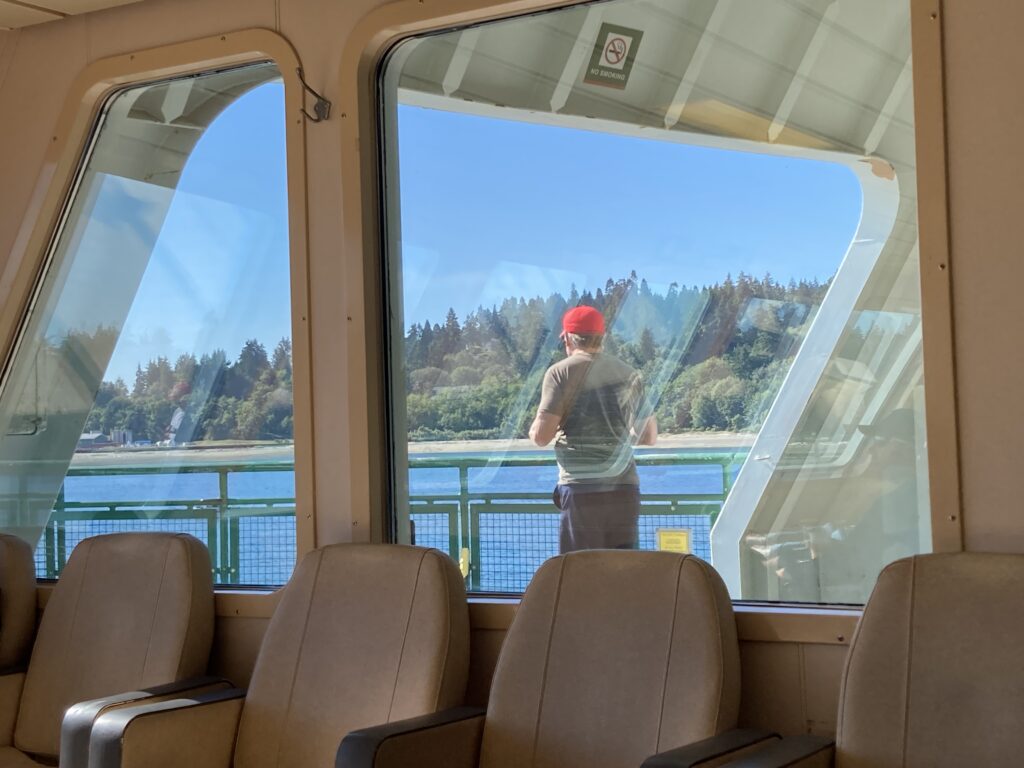 Once in Seattle, it was easy to get to I-90 for our trek across Washington. The temps started rising as we went east, much like what we experienced in Oregon.
One thing we noticed all during the trip was the trains, long trains. We don't see that many trains at home anymore and I wonder if we saw so many on this trip because all types of transportation have to take the same route because of the mountains. So the roads, the trains, and the rivers are very close together.
Our stop for the night was Spokane. While we chose a hotel located right off the interstate, I don't think it was the best part of town. Much like in Eugene, we had to battle one-way streets to get anywhere. After dinner, we drove around town and found Gonzaga University. Since we're big basketball fans, we knew we wanted to visit.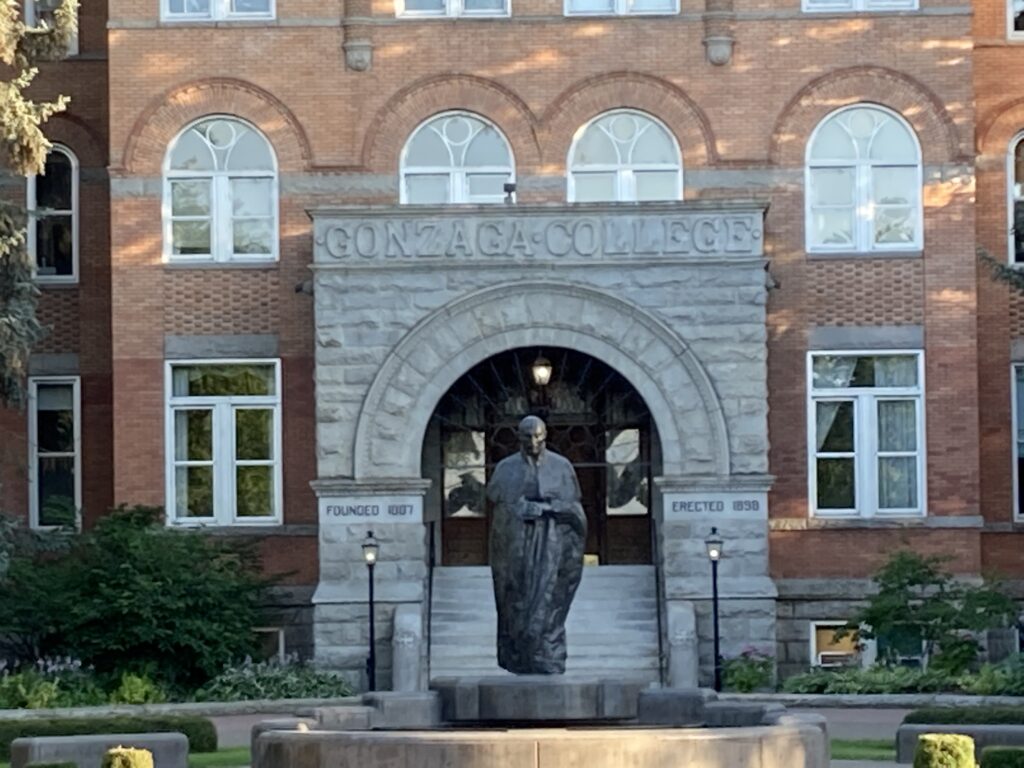 The next day, we quickly made it to Idaho, which only took us about an hour to drive through. But the views were gorgeous!! Lots of mountains and Lake Coeur d'Alene. Montana didn't disappoint us either.
I wish I'd done a better job of noting all the mountain ranges and national forests we drove through. I had no idea there were so many. We also followed several rivers. All of it is so beautiful.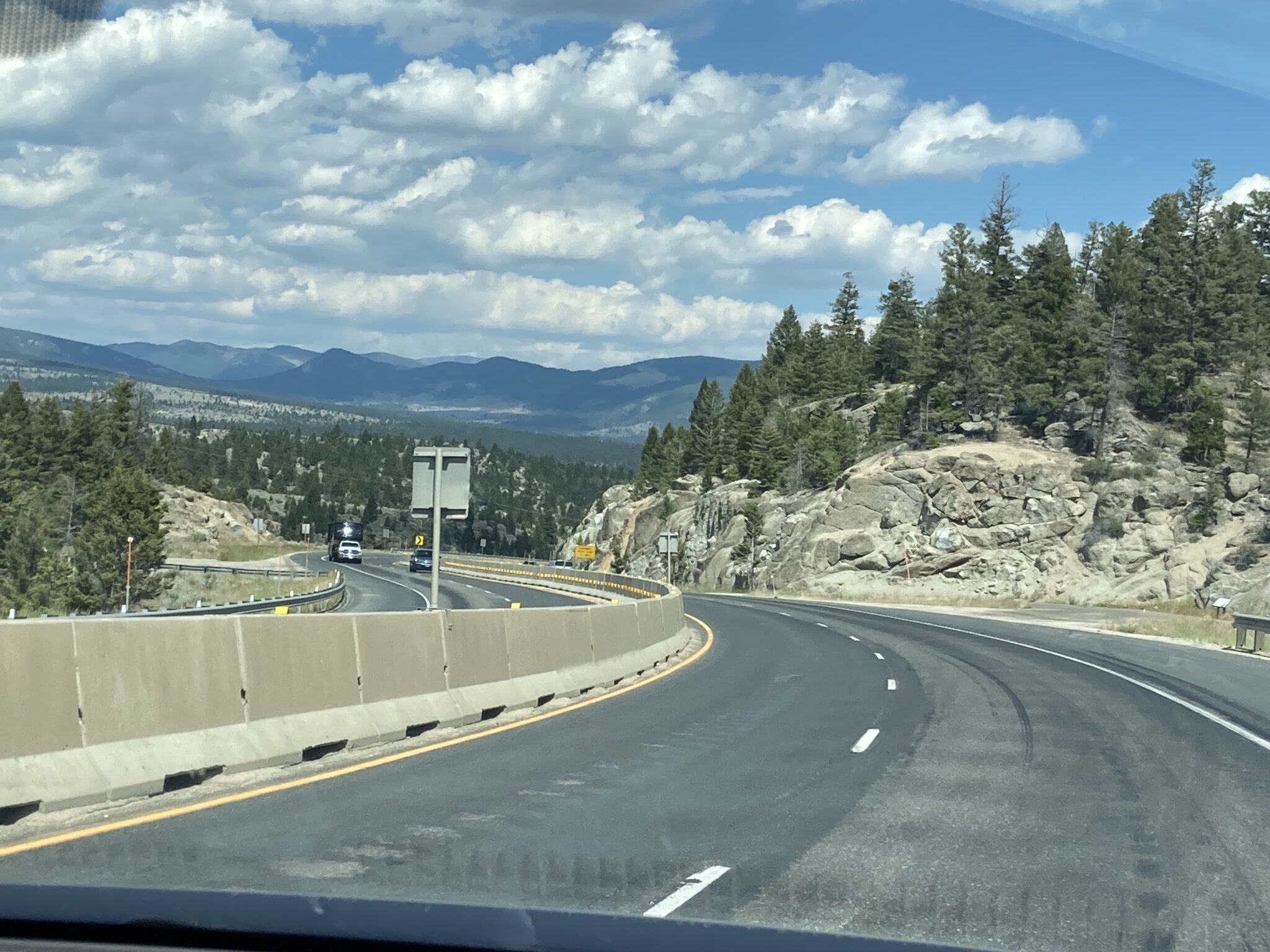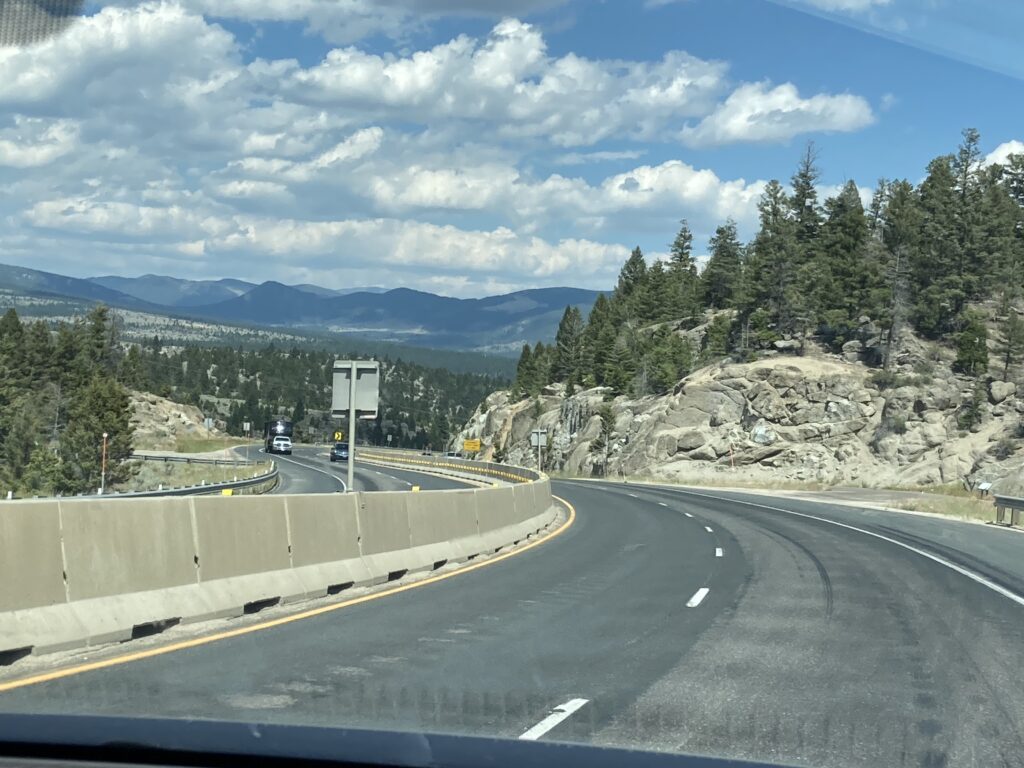 This is the part of the trip where we found Greycliff Mill, which I talked about in detail in the post Hooked on History.
We spent two nights in Hardin, Montana so we could visit the Little Big Horn Battlefield, aka Custer's Last Stand. I wasn't sure what to expect and I'm so glad we went. Tim has read several books about this battle so he was especially interested in making this stop. It was in the middle of nowhere and partly on the Crow Tribe Indian reservation. The ranger, who was a member of the Crow Tribe, spoke to the crowd before we explored the area on our own.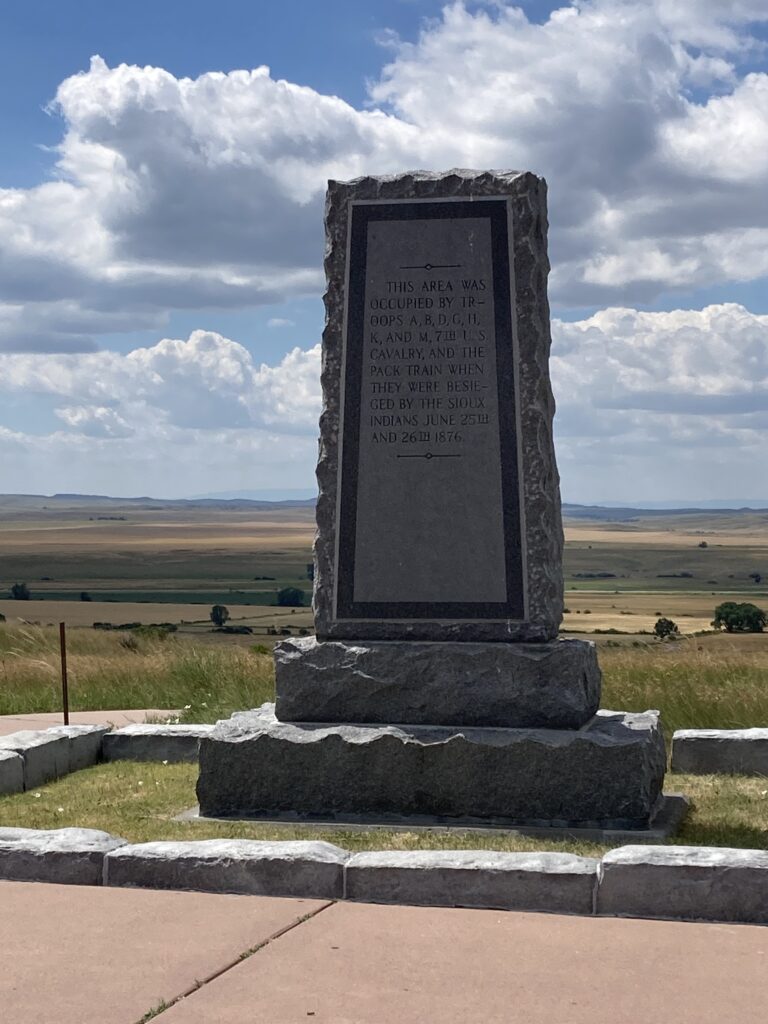 Almost Home
At this point, we were on Day 14 of our trip. On the way to the Black Hills, we checked out Devil's Tower but didn't go into the park. We didn't want to take the time and spend the money. (We eventually hope to get senior passes for admission into the national parks.)
We stopped and took a few pictures and then got lunch at the store just outside of the park. Then we made our way to Custer, South Dakota for our last night on the road. We'd just been to the Black Hills three years ago, so we didn't feel the need to check things out again.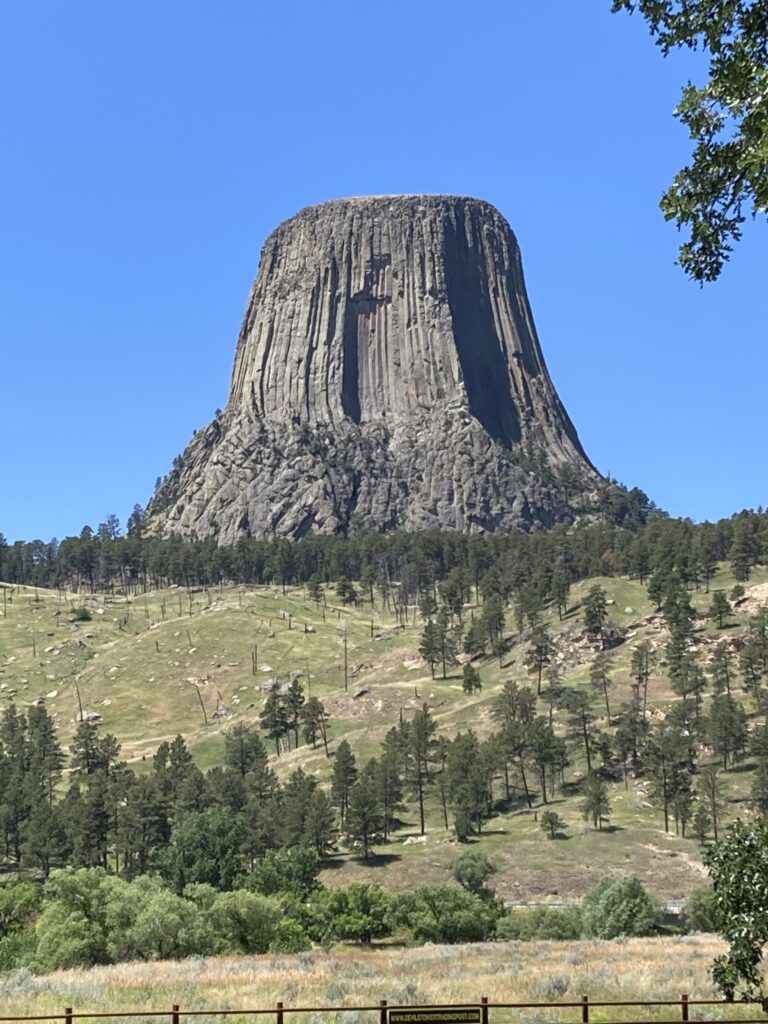 We killed some time on our last day so we could have lunch at Black Hills Burger and Bun. Have you noticed a pattern here? We seem to schedule things around eating!! As a result, we got kind of a late start out of Custer.
We stopped at Wall Drug on the drive home but could have easily skipped it. It was a long driving day and not overly exciting. Until this day, we'd avoided night driving but we didn't get home until midnight.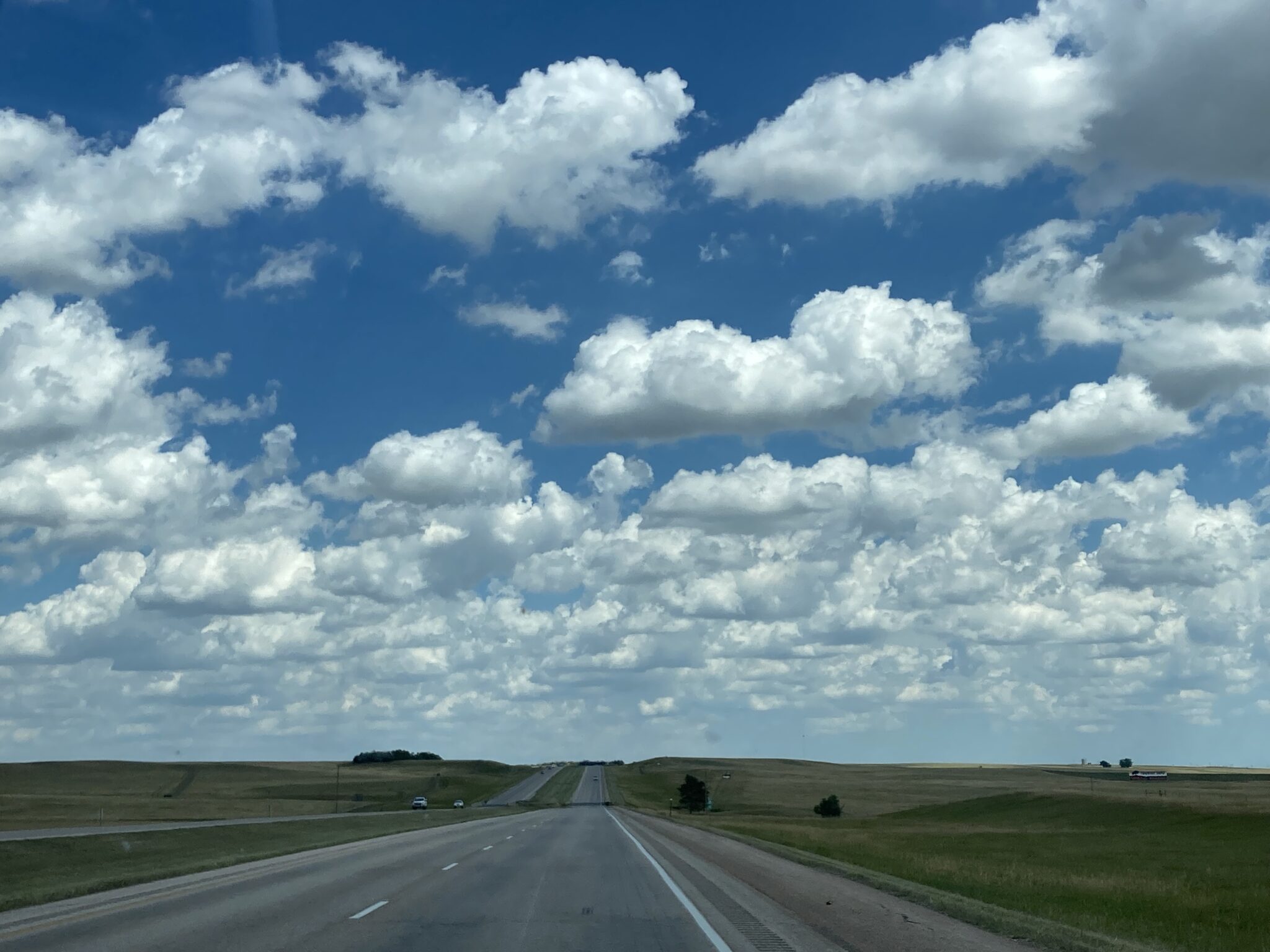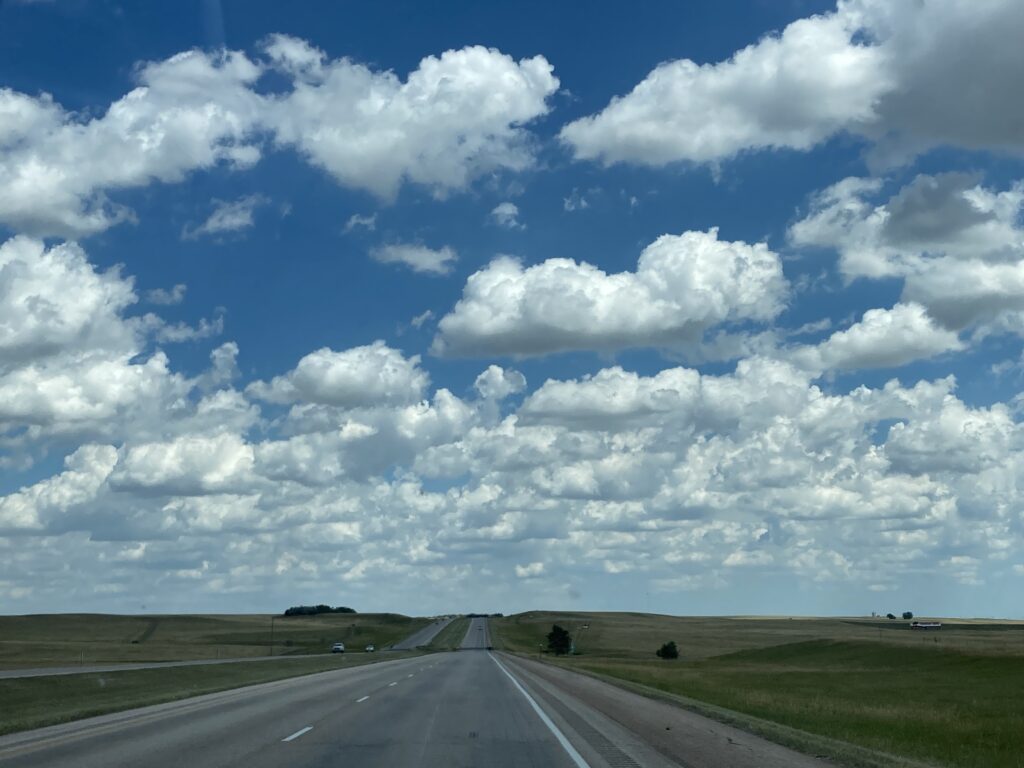 Things We Learned
Lots of things are important when you're on the road for two weeks. I didn't think about a couple of things until it was almost time to leave but I'm glad I did.
I decided we should have a big laundry bag, so we didn't mess up our suitcases with dirty clothes. This was a great decision and I know the bag will come in handy for future trips.
It was also important to have a clear stadium bag at the track meet. I found one at Dick's Sporting Goods and it was a lifesaver for us. It will come in handy in the future too since so many events require clear bags now.
I used my phone a lot on the trip, even though we used the car's navigation system for directions. This meant data overages. I'm not sure how to avoid that. I'm not changing our plan to cover these kinds of trips. Guess we just need to include that in our trip budget!!
We also had outdoor plants that didn't get watered. We tried these spikes that fit into water bottles and they're supposed to drip water gradually for up to 15 days. But they didn't work very well. Surprisingly, all of our plants survived even if they did look a little haggard. Next year, I think we'll try something my cousin does, where you hook up a line to your hose that uses a timer to periodically water your pots.
Yes, we have plans for a similar trip next year, but going east instead of west. Tim's currently planning it!!