Do you like alfredo sauce but you're afraid of the fat and calories?  Then you need to try this recipe.  It's easy, quick and tasty.
I will include the recipe as I found it, but I do make a few changes and you might want to make one as well.
First, the recipe calls for raw shrimp that you have to cook before adding it to the other ingredients.  Well, peeling and deveining and baking the shrimp isn't something I want to do when I'm in a hurry.  So, I buy frozen cooked shrimp.  Another advantage with that is, you can make this at the last minute, because you already have shrimp in your freezer!!  I buy the medium size shrimp, thaw with cold water in a colander and then pull off the tails.  So easy!!  🦐
The second change I make, which may make it not as skinny as it's supposed to be, is to use regular cream cheese and not light.  I prefer regular for most other things and it's easier to have on hand.
The change you might want to make is with the crushed red pepper flakes.  We love the extra zing this adds, but if you aren't a fan of spicy foods, you may want to use less or none at all.  But don't be afraid to try it first.  You might find you like it!!
I also start cooking the pasta at the same time I start the alfredo sauce.  If I cooked the shrimp, I'd start all three at the same time.  Do anything that will save you time overall!!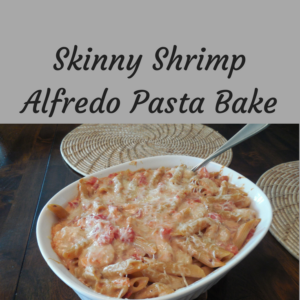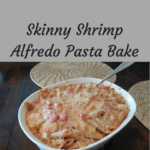 Skinny Shrimp Alfredo Pasta Bake
This is a quick, easy and light way to eat pasta alfredo. Add the shrimp and you have a wonderful creamy pasta dish.
Ingredients
Alfredo sauce
2

T.

unsalted butter

4

cloves

minced garlic

1

T.

flour

1

6 oz. can

2% evaporated milk

1

oz.

light cream cheese

(or regular cream cheese)

1/4

c.

chicken broth

(or more for taste and consistency of the sauce)

Salt and pepper, to taste
Shrimp Pasta Casserole
1

lb.

medium shrimp, peeled and deveined

(or use frozen cooked shrimp, thaw and remove tails)

2

T.

olive oil

(only needed if you cook the shrimp yourself)

8

oz.

whole wheat penne pasta

(cooked according to package directions and drained well)

1

14.5 oz. can

petite diced tomatoes, drained

1/2

c.

reduced fat shredded mozzarella cheese

1/2

t.

crushed red pepper flakes

(optional)

2

T.

grated parmesan

2

T.

chopped fresh parsley

(optional)
Instructions
Alfredo Sauce
Melt butter in a large skillet over medium high heat (but watch that it doesn't get too hot).

Add garlic and cook, stirring frequently, until fragrant. About 1-2 minutes (watch closely as it can burn).

Whisk in flour until lightly browned, about 1 minute.

Gradually whisk in milk and cook, whisking constantly until slightly thickened, about 1-2 minutes.

Stir in cream cheese and chicken broth until smooth, about 1 minute.

Taste and season with salt and pepper. Add more chicken broth if sauce becomes too thick.
Shrimp
Preheat oven to 400°.

Lightly oil a baking sheet or coat with nonstick cooking spray.

Place shrimp on the prepared baking sheet.

Add 1 T. olive oil, salt and pepper and gently toss to combine.

Place into oven and roast just until pink, firm and cooked through, about 6-8 minutes.

Remove from oven and set aside.
Assembling and Baking
Reduce the oven temperature to 350°.

Lightly coat an 8x8 baking dish with nonstick cooking spray. (I use a 1.5 quart oval baking dish and it fits perfectly.)

In a large bowl, combine shrimp, pasta, tomatoes, mozzarella cheese, red pepper flakes and alfredo sauce. (I use a big skillet for my sauce, so to save on dirty dishes, I add everything into the alfredo sauce skillet to combine.)

Add pasta mixture to the baking dish and top with the parmesan cheese.

Place into oven and bake until golden brown and cheese has melted, about 10 minutes.

Garnish with parsley, if desired, and serve immediately.
Recipe Notes
Recipe from www.damndelicious.net
www.retiredintrovert.com