As I mentioned a week ago here, my plan is to post at the end of each week we spend in Florida this winter. Five weeks in all.
Vacation vs. life
This week, I'd say we've had a good combination of vacation and real life.
Real life: Laundry. I thought maybe it would be more fun doing laundry here, but it really isn't. Getting used to a different washer/dryer is kind of a pain. But what we have here is much nicer than I've had in other rental condos.
Winn Dixie is our go-to grocery store. Given that, I signed up for their rewards program. It's amazing how much you can save, but I've always wondered if it mattered if I signed up because as soon as you tell them you don't have a membership, they scan something and you get the discounts anyway. I guess the major difference is we now earn points that we can turn into cash to pay for groceries.
In this post, I asked people for suggestions for making our snowbird experience a good one. One was to bring something from home, such as a picture. I grabbed a picture of Tim and me in an Indian Shores picture frame. I didn't think Tim brought anything, but he did. One of our Christmas decorations!! We got this at a Christmas store in the Mall of America last October and it's become one of our favorites. You can't tell from the picture, since it isn't turned on, but it lights up with various colors.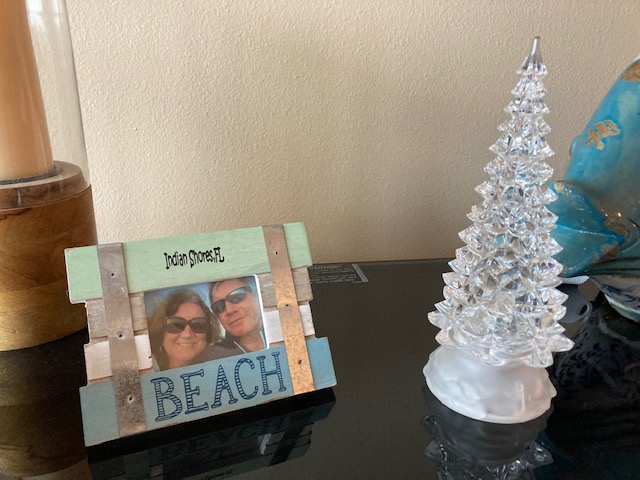 We've eaten in quite a few times this week, having only eaten out on our outing day. Today, though, I think Tim was getting antsy, so we went to lunch at Frenchy's in Clearwater Beach. It was so good and a nice break on this cold and cloudy day.
Vacation: This week, we took a road trip to Disney Springs (formerly Downtown Disney). It's obviously been a while since I've been there, because I think it's been Disney Springs for over 5 years. My last time there was in 2015 – the last trip with the entire family.
The first time the whole family went, in 1996, was the 25th anniversary year. Well, this year is the 50th anniversary, so I HAD to go there, right? And I had to have a shirt or something that indicated I'd been there. I found one (pricey) and also found a Mickey Mouse watch band for my Apple Watch. Cool!!
We can't get BTN (Big Ten Network) on our TV. Guess Florida doesn't care about the Big Ten but we expected that. We did bring an Amazon Fire Stick, so we watch what we can on that.
Cooking here is generally good, but I've found maybe one good knife. We've already talked about bringing our own knives next year. It's amazing how frustrating a bad knife can be!!
Routine
We've settled into a pretty good routine. Walk/run in the mornings, eat lunch, fish (Tim), spend time at the pool (Linda). Our days aren't all that different from home, except for the specific things we're doing.
I've found my before-bed reading space. There's a little room off the kitchen with a chaise lounge and a light behind it. It's perfect. In fact, I'd like a space like this at home. I haven't tried it during the day yet, mostly because I prefer the water view when it's light. I'm almost through my first book down here. Maybe not going as fast as at home, but I'm also sleeping at night!!
Day trips
I mentioned our trip to Disney. It was a great trip for a day. The weather was pretty cool and I'm not used to being there when people are wearing jeans and coats, just rain ponchos!! But it actually made it more comfortable.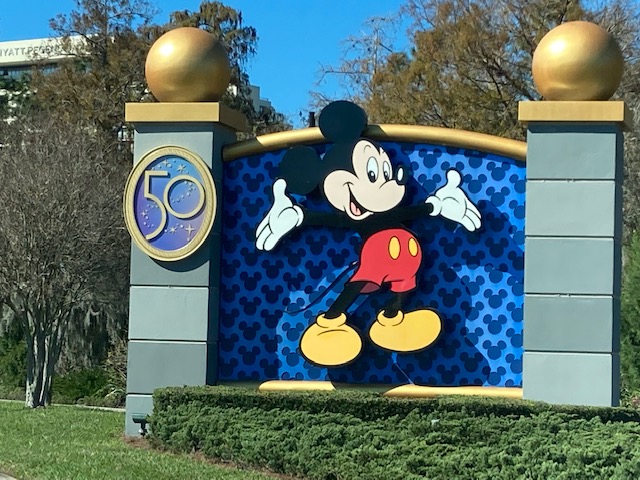 Disney Springs has really grown in the last seven years. I was amazed at all the shopping. We made lunch reservations at Paddlefish (used to be Fulton's Crab House) and we were the only ones seated at first. We had a great meal there.
We shopped and I had to have a Ghirardelli hot fudge sundae. Found some gifts for the little ones and also bought ourselves a few things.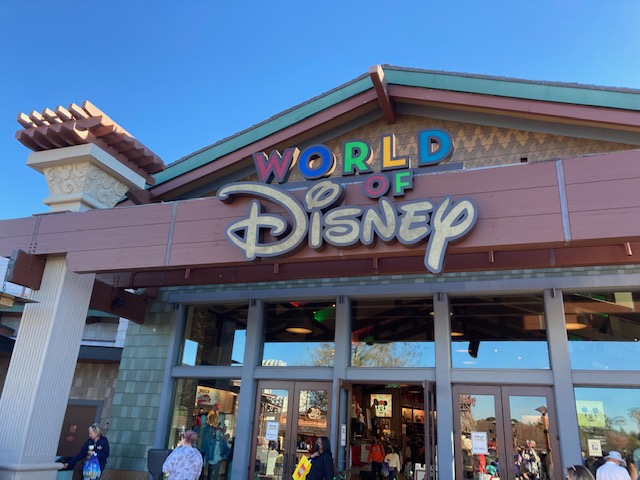 Dinner was at Planet Hollywood, mainly because Tim wanted their chicken that's breaded with Captain Crunch cereal. He almost gave up on it, as we had to walk clear to the other end to pick up something, and he didn't feel like walking all that way back. But I convinced him and we found a better route to take. Good meal there, too.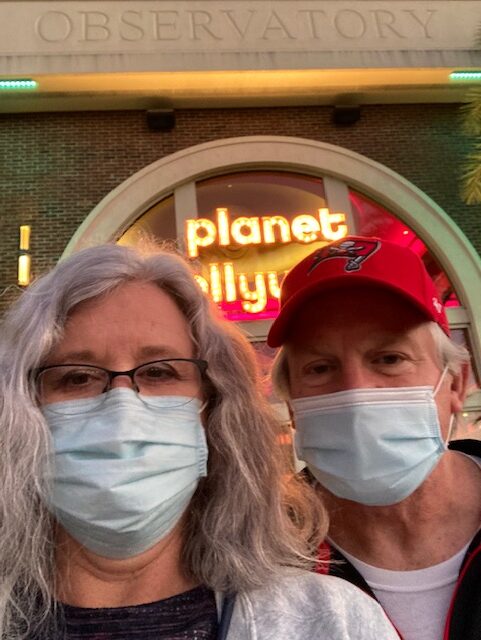 I'd like to give Tim (who's never been to Disney World) a more complete Disney experience, but we didn't want to spend money for a park ticket. Maybe another time.
Walking
My walking slacked off a bit this week. I'm prepared to walk in colder temps, but I've also had some vertigo twinges (and it's been so long 😢) that I didn't want to risk being away and alone. I think I walked a couple of days. Still better than nothing, though.
This upcoming week is supposed to be cooler. One day, the low is forecast to be in the 30s. At least we have our winter coats with us!! Highs will be much better than Iowa's, but still chilly for here.
Eating
I already mentioned where we ate on Tuesday at Disney. Other than that, we've been eating in the condo.
We always eat breakfast and lunch here (except today, see above) and then go out at night. But this week, we had chili, rotisserie chicken, breakfast burritos, and gnocchi chicken soup (which has become a big favorite of mine). Tonight, Tim is making a pork loin.
Hopefully, we'll eat out more next week. I like being at "home" but I don't want us to miss out on the opportunities to have the fish we love down here.
Extra
I'm almost finished with the sweater I'm knitting. Just need to sew up the last side seam and weave in the loose ends. I'm excited to finish it.
This weekend is another 24 hours of cross stitch. I had good intentions, bringing everything I would need, but yesterday afternoon my head was bothering me, so I didn't do anything except watch mindless TV. And then I decided I'd skip it altogether. It's just easier at home. But I will be picking up a cross-stitch project once I'm done with the sweater.
Since I couldn't bring my studio with me (ha), I decided to try something new that I could do here. I've seen people using alcohol inks to create beautiful backgrounds for cards. So, I stocked up on the supplies I would need and brought them with me.
I'm not sure Tim appreciates the "art" factor in this, but I'm enjoying it. I do think I need more colors of ink, though, and maybe some black paper. I also need to watch more videos to get tips from experts. I think there must be more to it than a bunch of ink blobs!!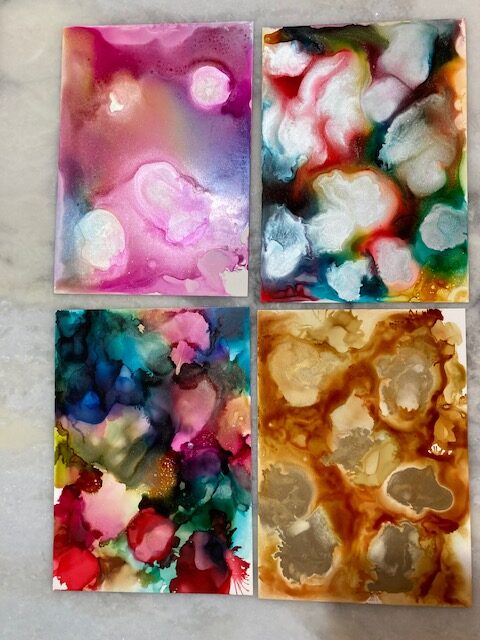 And, I was able to meet one of my blogger friends!! Pat Doyle (Retirement Transition) and I met yesterday for lunch. We've communicated almost from the moment I began blogging when she wintered down here. Now she lives here full time, so she was able to fill me in on lots of things to do. We were at the restaurant for over two hours and never ran out of things to talk about. I hope we can get together again.
Another good week and more to come!!