Hey everyone.  I'm still here.  Just took a week off, but I'm back from vacation and will be posting again!!  And I'm sharing some of my vacation experiences in this post.
When you're retired, every day's a Saturday, right?  That may be true, but that doesn't mean a retiree doesn't need a vacation.
I remember when I was working, how much a March vacation meant to me.  The anticipation was almost as much fun as the vacation itself.  We'd remember all our favorite restaurants and plan when we'd hit each one.  I'd sit in meetings and daydream about being in the warm weather.  I could actually visualize myself in a chair looking out at the beach.
Those vacations were so necessary – to feel the warm sun on your skin after a long winter and to clear your mind of the clutter of work.  My thoughts would focus on the projects (not work related) I wanted to do when I got home.  I always had such big plans!!  Unfortunately, once I was home and reality hit, those things didn't seem to happen.  But it was still fun to think about them.
So what's different when you're retired?
Even though I'm retired and love not working, there are still things to "escape" from.  There are also new things to experience.  Things you can't do here.
What do I need to escape from?  Here's a list:
Winter.  While I've actually enjoyed this winter since we finally got snow, I'm tired of everything being brown and dead looking.  I want to see the pinks and purples and the fresh spring green.  I'm ready to stop wearing a coat and socks.  (I always know when winter is gone when I can skip the socks.  Don't you love that too?)
Household chores.  I didn't have to cook or clean.  Does it ever feel like you wash the same pan every day?  And you're constantly cleaning your cooktop?  I could take a shower without having to wipe it down.  (See my previous post about what I like about my house for more on that.) We did a couple loads of laundry there but that's not a big deal.  For some reason, it feels different when you're doing it in your Florida condo.
It's a pretty short list, but those are big things.
New experiences
This vacation included several new experiences:
Different condo.  We stayed in one that was new to both of us.  We had a good idea what it would be like, as last year we stayed in one remodeled and redecorated by the same owner, but it's always fun to see what each one is like.  While the condo was different, the property was not, so we knew what to expect when we got there.  (The picture above is the view from the pool deck where we stayed.)
New restaurants.  We went to four restaurants that Tim had never been to.  One was new for me, but it had been a while since I'd been to the others.
New site.  As I mentioned in my post about March, we visited Ft Desoto Park, which even though I've been vacationing in this area for over 25 years, I had never been to.
Renting a minivan.  We got into the Clearwater-St Petersburg airport close to 11:00 PM.  We had reserved a rental car and at that time, our choices were between a Ford Focus and a Dodge Caravan.  We took the Caravan.  We joked all week we were in our hotrod minivan.  But actually, it turned out OK.  It was a little cumbersome to park at times, but having the extra room was kind of nice.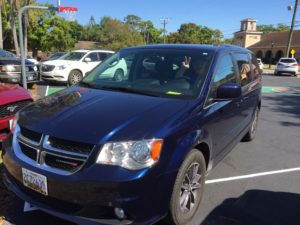 My vacation eating summary
Those of you that are Facebook friends have seen many posts about our trip, so I won't go into a lot of detail.  But I thought it might be interesting to share some things that we might not have mentioned.
Something else that was new to me – we ate every lunch and dinner but one at a restaurant.  That's a lot of eating out!!  The positive – it meant we could visit all of our favorites and still try some new ones.  The negative – we ate more than we should have.  We're paying for it this week.  I'll probably be posting some low cal recipes in the near future!!
Another favorite place of ours is the Candy Kitchen.  There are several locations, but fortunately (or maybe unfortunately?) there's one within walking distance of our condo.  This place sells vintage candy, as well as ice cream and fudge.  We go mainly for the ice cream, but we did get some fudge our first night.  We made a rule that we had to try a different ice cream flavor each time we went.  Believe me, that's not very hard!!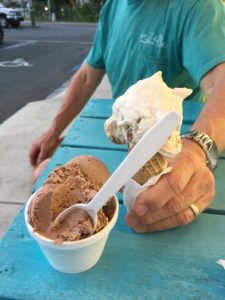 Can you believe this is considered a single????
It's hard to identify a favorite restaurant.  I think Guppy's is mine, mainly because the lobster ravioli is such a treat.  Guppy's is more upscale and takes reservations.  I made our reservation sitting at my kitchen table here at home a week before we could even get in.  It's sure a good thing we didn't wait any longer, or I wouldn't have been able to get my lobster ravioli fix.  They are located in Indian Rocks Beach and take reservations through Open Table, which is also very handy.
We also ate at a couple of places that were most definitely not upscale, but are part of the fun of visiting Florida.  One was new to me – Wahoo's – and I don't know if we'll go back again.  Tim went to the bathroom there and told me not to go.  Does that tell you anything?  He came up with this place to eat as they claimed to have a great grouper sandwich.  I do think he liked it and I had a caesar salad with grilled shrimp.  It was very rustic (to say the least) and we had to sit at what would normally be a bar table because it's not a large place and they had a decent crowd.
We also had two nice lunches in St. Pete Beach – Rick's Reef and The Wharf.  I'd been to both but many years ago.  Nothing had changed much.  We especially enjoyed our lunch at the Wharf, as we were able to sit outside right along the Intracoastal waterway.  And since we were there for lunch, it wasn't crazy busy like it is for dinner.  The bar was buzzing, however, since it was the first day of NCAA basketball.
Spring Training baseball
We actually did more than eat while we were there.  We went to two spring training baseball games in Lakeland and Bradenton.  Both are easy drives, however, we missed a turn going to Lakeland and ended up going north on I75 when we needed to go east on I4.  I think I was fiddling with my phone when I should have been navigating!!  We made it there on time but had to souvenir shop at the end.
The Bradenton trip was less exciting and we made it in time to park in the church lot, check out the souvenirs, and buy lunch.  They have a Jersey Mike's now, and it was worth the wait.  It did give us a chance to view the park from the outfield, which I'd never done before.  And it was a beautiful day, so who cares??
This was painted on the wall at Joker Marchant Stadium in Lakeland.  Isn't it a cool way to see all the teams and where they play in the Grapefruit League?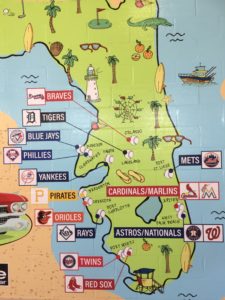 Other highlights
In between baseball games, we visited St. Armands Circle, which is for shopping and eating.  I think it's the first time I actually walked the entire circle.  I had to visit my favorite store – Fresh Produce – and found way too many things.  FYI – Fresh Produce is a brand of clothing.  My first piece was purchased in Florida in 1990 and I've been buying it since.  I love their stuff.  You can sometimes find it in stores, but this is a store devoted to Fresh Produce.  So I go a little crazy.
Lesson learned – If you have a 6:30 reservation in St Pete, leave St Armands before 5:00.  A trip that would normally take maybe 75 minutes took us 110.  Whoops!!  I knew better so that was poor planning on my part.  We made it to the restaurant at 6:50, but had to wait a little while to be seated.
Ft Desoto Park was a new experience.  Our week was a little cooler than we expected, so we waited until Thursday to visit since the forecast looked like it would be warmer.  I still had to wear my sweatshirt, but it didn't detract from our enjoyment.  Tim was hoping to find sand dollars, but all we saw were broken ones.  The beaches are gorgeous and the views spectacular.  We visited the old fort there, which wasn't much but it's always interesting to visualize what it would have been like when it was active.
I was able to go over my favorite bridge in the whole wild world – the Sunshine Skyway – four times and it was one of the views from Ft Desoto Park.  Isn't it gorgeous?  It looks like two sailboats, don't you think?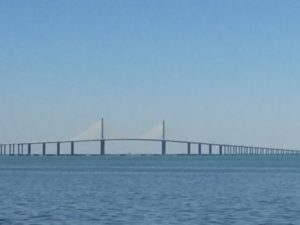 Here are a couple more views as we drove on I275 and the Skyway.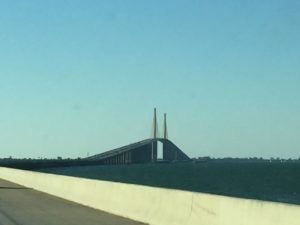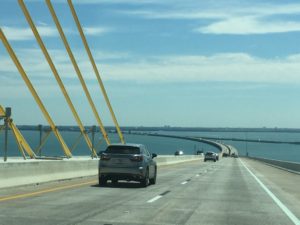 In summary
Yes, a retiree still needs a vacation.  And I highly recommend Florida in March.  I love where we stay in Indian Shores, because it's not so crowded like Clearwater Beach or St Pete Beach.  You can walk for miles on the beach and even 65 degrees can feel warm.  Our last full day I finally got to sit on the pool deck and feel the warm sun on my face. It was worth the wait!!!