If you're interested in my progress in the first three quarters, I'll include links to them at the end of this post. For now, I'll wrap up what I accomplished this year. I'm pretty proud of myself!!
Reading Challenge
I had another good quarter, mostly because I've been dealing a bit with insomnia so I've been doing A LOT of reading in the middle of the night.
Funny, when I was working, I couldn't read much at night because I'd fall asleep. Now, it seems I could read for hours at night. While I like getting the reading done, I'd rather be sleeping, however!!
Drum roll, please!!! I made my reading challenge goal and then some. My goal was 30 books and I read 32. I will confess something though. I technically finished the 32nd book on January 1. But I figured since I hadn't gone to bed/sleep yet when I'd finished it, it could still count as the 31st. Am I right?
So here are the eight books I read in the last quarter.

Three are from my book club, including the one I finished on the 31st/1st. It's the book for our January meeting. The others were either from my stash or ones I chose to read.
I mentioned last quarter that I'd "lost" a couple of books. Those are the two by Steve Martini. I don't know if you've read any of his books, but I find them educational in addition to being a good story.
"Shadow of Power" is a story focused on the wording in the Constitution dealing with slavery. I learned a lot about what the framers of the Constitution were thinking and how future amendments don't change the Constitution itself, even though they override parts of it.
"What Happens in Paradise" is the second of three in this series by Elin Hilderbrand. My book club read the first one in early 2019 and I was eager to read this second one when it came out in October. Now I'm ready for the third and final book. (Looks like it will be out next October.)
I loved the Millennium series of books by Stieg Larsson and decided to begin reading the follow-up books by David Lagercrantz. "The Girl in the Spider's Web" was good and my plan is to read the next one in 2020 – "The Girl Who Takes an Eye for an Eye".
I will admit I was a bit disappointed in "Educated". It's had such terrific reviews and according to Goodreads, is the most popular book I read in 2019. I think it bothered me to think there are actually parents like that and I didn't enjoy hearing more and more about the way they treated their children.
For some reason, Goodreads isn't giving me credit for my last book, so their stats show the following:
31 books read
11,199 pages read
Shortest book – "The Wife" – 224 pages
Longest book – "The Second Chair" – 624 pages
Most popular and highest ratings in Goodreads – "Educated" – read by 577,405 people – 4.46 average rating
Least popular – "Just When I Needed Her Most" – read by 1 other person
I really liked "The Turn of the Key" by Ruth Ware. She also wrote "The Woman in Cabin 10" which I read in 2017. Both very good books with suspense and twists.
We took four boxes of books to Half Price Books yesterday so we can make room for more!! I finally got rid of some of my work-related books and Tim took sports-related books. Not sure what they liked in our stash, but we made $42 which is the most I've ever gotten. Paid for the things we bought there and our lunch afterward!!
Cross Stitch Challenge
I don't have a large number of finishes this quarter, as most of my cross stitching focus was on the Christmas SAL. So, here's what I finished.

Since both of these projects were started before the 4th quarter, here are the total hours spent on each one.
Christmas SAL – 150.75 hours
Spode Bread Cloths – 28.25 hours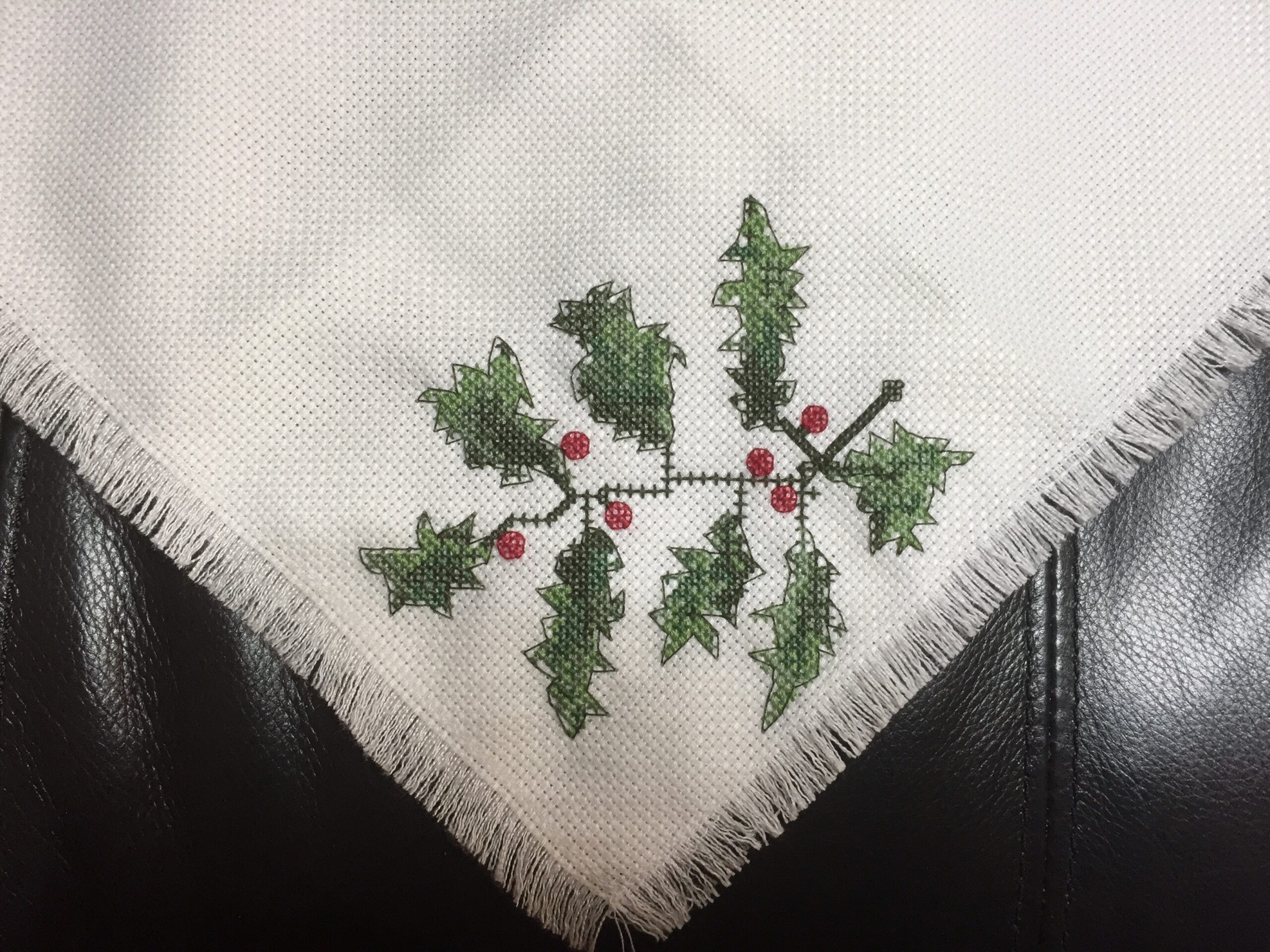 This is the first year I've ever kept track of how much time I spend on my cross stitch projects. It's been kind of fun and I intend to keep doing it. Here are some fun stats related to my 2019 stitching. Well, maybe not fun but interesting?
Total hours stitched – 642.25
Average hours per month – 53.5
Average hours per week – 12.4
Average hours per project – 37.8 hours
Shortest project – 8.25 hours (for two projects)
Longest project – 150.75
Other accomplishments
While I didn't have a knitting challenge per se, I did take on a couple of big projects.
If you follow me on Instagram, you've already seen the 12 pairs of mukluk slippers I made for Christmas presents. By the last pair, I could knit them in my sleep!! It was fun picking out the yarn for each person, although I think the type of yarn I chose might have been discontinued so it was tough finding all the colors I wanted.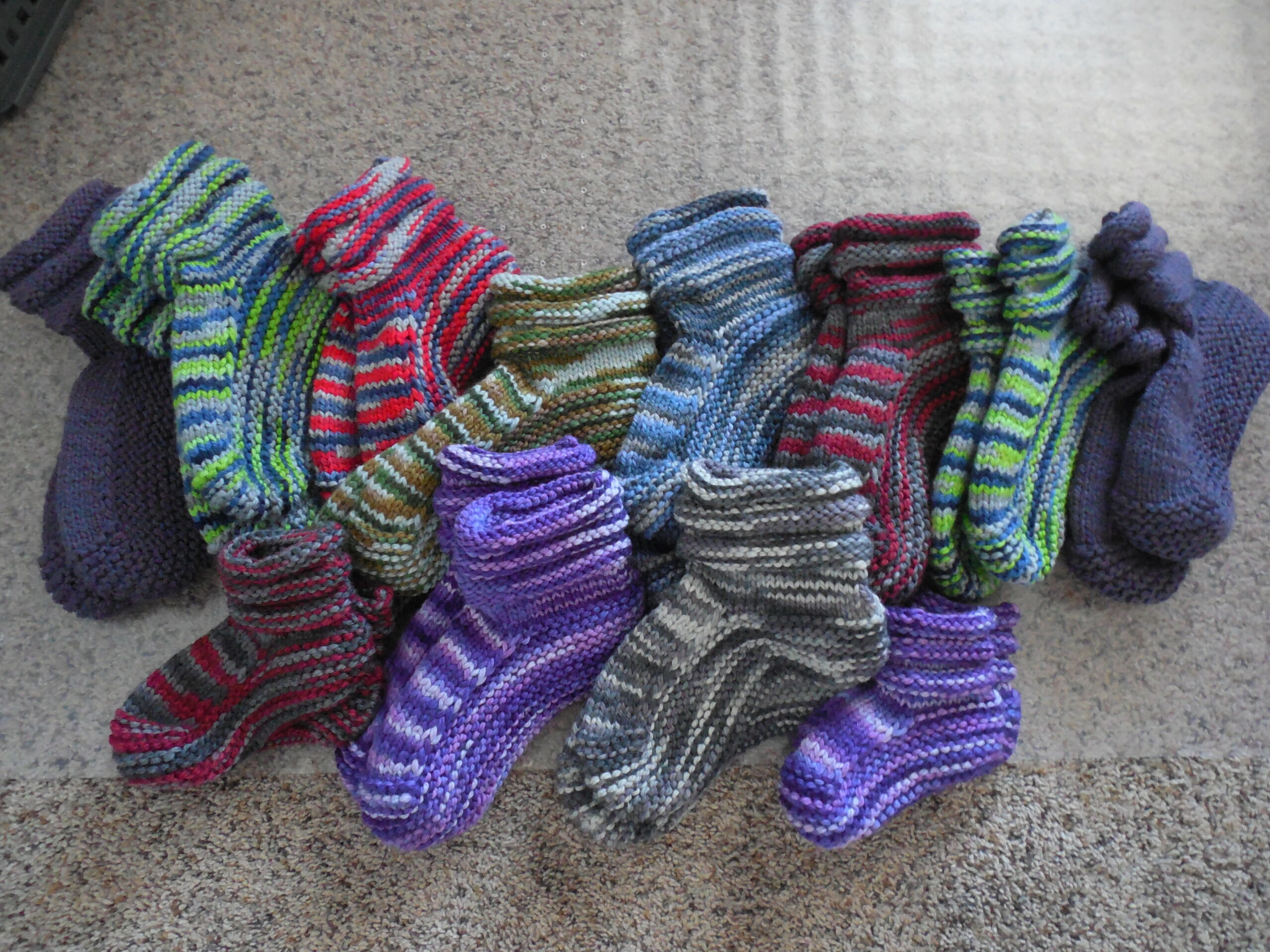 And then there's my knit-along. I finished the trim on one long side (after needing one more skein of black which I had to order online because my yarn store was out) and still need to weave in the ends and sew it together to form a poncho. Why is the finishing part so hard to get done?
I'm starting to wonder if I made it too big. 😫 It doesn't look that great laying on the floor and when I try to put it on like a poncho, it seems a little large.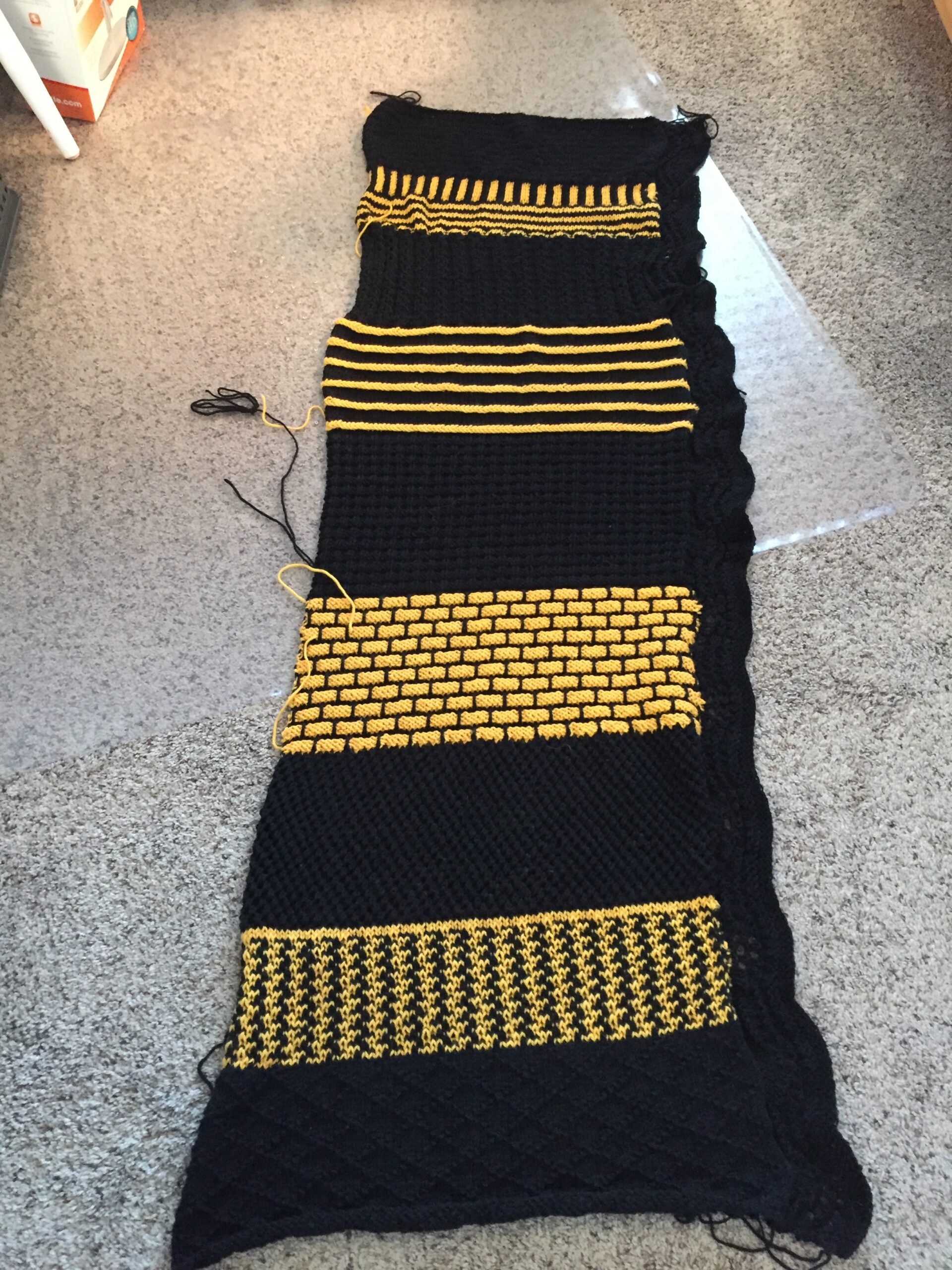 What happens in 2020?
I'll give you a short preview but I'll devote another post to more of the details.
I still have a reading challenge logged in Goodreads and I increased it slightly. I'm taking part in a year-long cross-stitch challenge and will participate in any of the three 24 hours of cross stitch marathons that I can.
I do have some sewing to do as well as card making. And a couple of knitting projects, with possibly others to come. It's so tough to try to do it all and I need to go easy on myself and be realistic. I'm the only one who cares about my progress on these goals and they provide me with the right amount of motivation.
And, I'm going to tackle a few baking challenges, making things I've always wanted to but was afraid to try. No baking in January, though. Tim and I both need a break from the sweets. Actually, all the bad foods!!
Other 2019 Quarterly Updates